Do Your Children Play Club Penguin?
This post is sponsored. I was given a Club Penguin Membership. The opinions expressed in this post are 100% my own and in no way influenced by the sponsor.
My son has asked to play in the on-line virtual world known as Club Penguin for over a year.  Up until last week, I told him no.  Do you know why I said no? I didn't like the idea of him playing an on-line game that interacts with other people when he is young age of seven. I didn't trust that he would be safe and I didn't take the time to educate myself on Club Penguin.
Then a press release came into my inbox.

My son LOVES Star Wars Rebels. I knew he'd enjoy finally having the opportunity to play on Club Penguin too, so I took the time to educate myself on Club Penguin. If you're child has been asking about Club Penguin too, and your hesitant to jump into their snow-covered world, I'm going to share with you what I found.
I was thrilled to find out that Club Penguin uses filtering technology and live moderators to ensure that it delivers a fun and safe entertainment experience for kids. Surprisingly, it's free for any child to play, but a paid membership allows for upgraded features, like cool clothing for their penguin and a wider variety of colors for their penguin's pets. When I set up my son's Club Penguin account, I was impressed to find an entire section dedicated to Parents!  In this section, parents can learn how to set a "Play Timer" to limit their children's time on Club Penguin, educate themselves on the Club Penguin's learning and development attributes and find out exactly what their children mean when they talk about their "Puffles", and there is a boat load of other Club Penguin knowledge to dig into. However, my favorite thing about Club Penguin is the "intuitive safe chat" feature.  This feature allows children to communicate to each other with a list of suggested words and phrases to select from in their chat. The dialog is appropriate to the game the kids are playing, while blocking all inappropriate language. I set my son's account to use this feature and I'm extremely happy with the results.
We played for over an hour last night and again this evening, trying to earn our, I mean HIS, Lightsaber.  It's tougher than I thought! We've really been enjoying it, so much so, that I have been asked, by my son, to step away from the decorating.  I'm sorry but I thought it was only appropriate to have two floor plants to balance out the room in his Igloo. Apparently purchasing more "Puffles" was more important to him…I understand, they are cute.
Needless to say, Club Penguin is truly a great experience for children. After visiting Club Penguin with my child the past two days,  I feel comfortable allowing him to enjoy the experience without me hovering around the entire time. Although I can see him getting "hooked" on the game and wanting to play for hours on end, I know with the Play Timer feature, Club Penguin will be a great alternative to TV time and one that maybe Mommy can join in the fun too!
 Now through February 4th, Club Penguin is transformed into the home planet of the Disney XD hit TV show, Star Wars Rebels.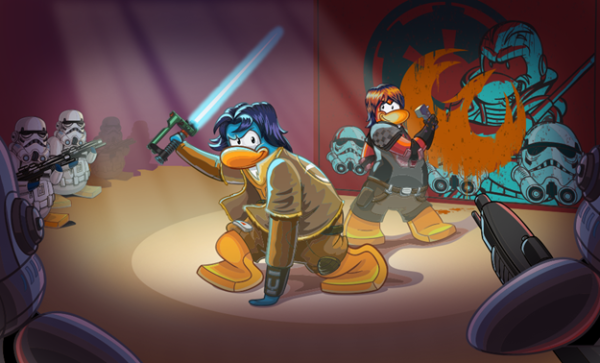 For a limited time, Club Penguins players can "Join the Rebellion" in a quest to save the island against the Imperial forces, all while stylishly dressing their penguins in Star Wars-themed outfits and decorating their Igloos with galactic furniture.  Members can even earn their penguin different color Lightsabers, after completing special missions from the Ghost crew. (We're working on it!)
Is your child ready to join the Club Penguin Rebellion?
Do you watch Star Wars Rebels as a family?
Star Wars Rebels airs Monday evenings at 9 pm (ET/PT) on Disney XD.