Are we having breakfast with Mickey?
For my family, every Walt Disney World vacation includes a breakfast with Mickey Mouse at Chef Mickey's.  The kids enjoy visiting, getting autographs and taking pictures with Mickey and his closest friends.  So when planning our trip to Disneyland Resort in California, Gavin and Victoria asked if they would have their traditional breakfast with Mickey.  After a bit of research I found that the only location at Disneyland Resort to offer breakfast with Mickey is at Disney's PCH Grill located at Disney's Paradise Pier Hotel. If you're planning a trip to the Disneyland Resort and you'd like to know more about this breakfast experience here's more information!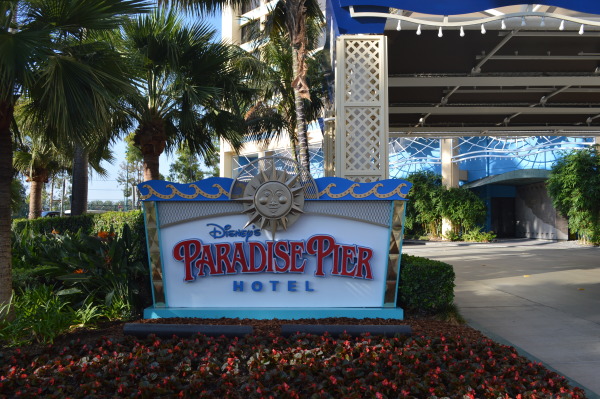 Disneyland Resort has three hotels, and each has its own character dining opportunity. Disneyland Hotel is home to Goofy's Kitchen, where Goofy hosts a fun-filled dining experience where a few of his friends (characters vary, but history shows usually Chip, Dale and Minnie ) join him for a goofy good time. At Disney's Grand Californian Hotel & Spa guests can dine with a host of furry Disney characters at Chip 'n Dale's Critter Breakfast located within Storytellers Café.  Last but certainly not least, guests can enjoy a tasty buffet with, non other than the king of the kingdom, Mickey Mouse and his closest friends (minus Goofy of course) at PCH Grill located within Paradise Pier Hotel.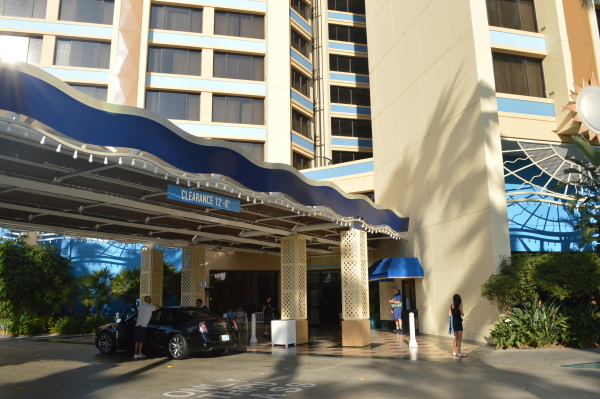 To get to PCH Grill you'll enter the hotel under the beautiful porte cochere and walk to the right.  You'll find Mickey in Paradise gift shop and just beyond the shop is the restaurant.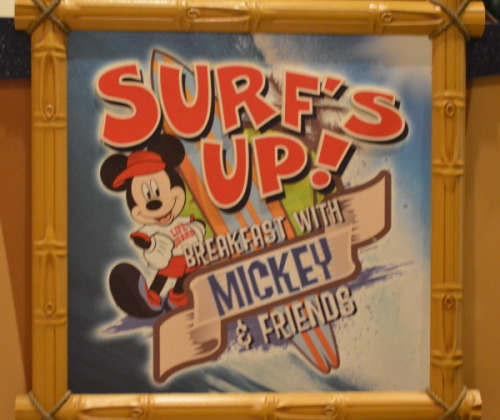 We had breakfast reservations for the first spot of the morning. Our party consisted of ten, so I made sure to have our reservations booked in advance. (Reservations can be made 60 days in advance.) I had never entered into a character dining experience just as it opened.  It was pretty cool to see the calm before the crazy storm of children and characters.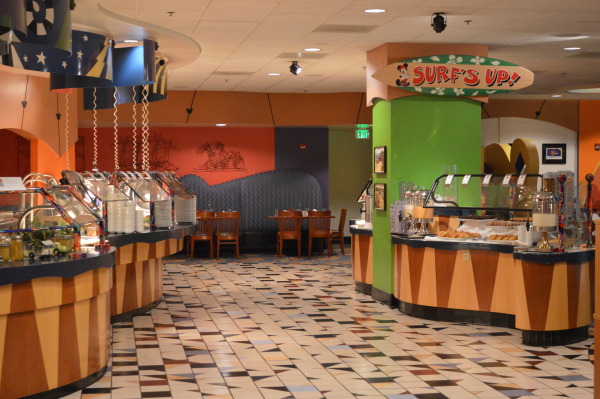 The décor of the restaurant was beach themed. Thatched roofs and surf board accents were found throughout PCH Grill.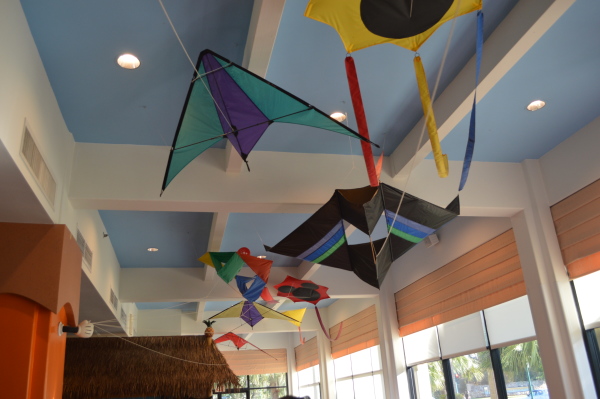 Let's go fly a kite on the beach! I especially loved the Mickey Mouse hand holding onto all of the kites that hung from the ceiling – so cute!
Character Experience Review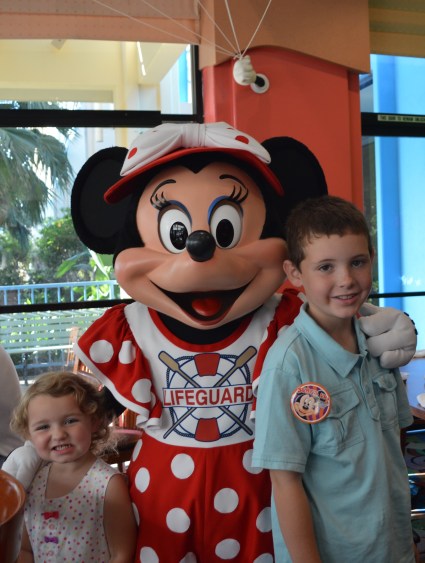 The characters were dressed for the beach! Minnie and Mickey Mouse looked adorable in their Lifeguard attire. In addition to seeing Minnie and Mickey we spent a few minutes with Stich, Pluto, AND Daisy Duck. Each time we eat at Chef Mickey's located in Walt Disney World, the kids are disappointed that Daisy Duck is not there. They were so excited to meet her this time!
Meeting the characters was a blast, but I do have to warn you that it took a long time to meet them all.  I quickly noticed a difference between the experiences at Chef Mickey's and the Surf's Up Breakfast with Mickey.  In California, character dining is much more laid back.  When we arrived our party of ten was all over the place. Gavin had to use the rest room and my nephew had fallen and had cut his lip so my sister-in-law was tending to him. They seated us anyways and told us to visit with Mickey Mouse whenever we were ready – which was really nice to not be rushed. In Florida, unless your entire party is ready with bells on, you're not getting in!
Mickey Mouse is stationed in front of a themed backdrop, waiting for you to visit and his friends wander about the restaurant visiting guests at their table.  Because it's so laid back we noticed each character danced, played with the children, and wandered about without a clear visiting route to the table.  Stitch and Pluto danced with the kids at the very beginning, but then Stitch disappeared and we didn't see him back in our section of the restaurant for our entire lengthy stay. My brother and his family, my parents, and even my husband left the restaurant before Minnie Mouse came to our table. I stayed with Victoria and Gavin while Cast Members cleaned our table off and eventually she found us!
Service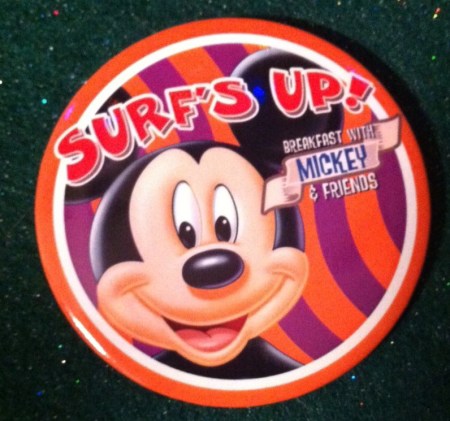 The Cast Member assigned to our table was wonderful!  He attended to our large party and all of our craziness with a smile and professionalism.  He even gave each one of us this super cool pin!
Food
OK- so I'm not a huge food critic but I have three words for you.  Banana-Carmel French Toast! It was yummy times ten. The other food paled in comparison.  All jokes aside, the food options get two thumbs up from me! The kids had a great big helping of fresh fruit. Gavin ate a ton of a variety of food~ so no complaints there!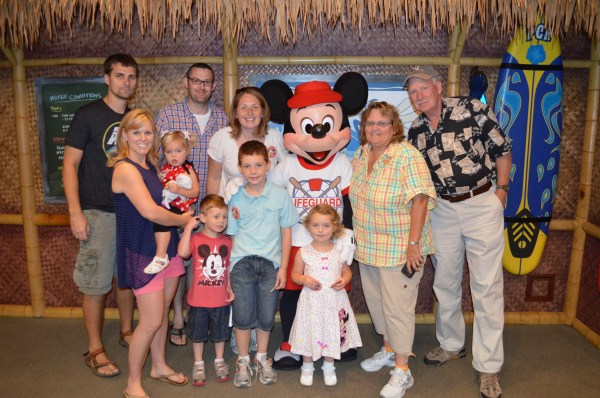 Surf's Up Dude!
The kids and I agree, if you're not in a rush, and you're looking for a laid back breakfast with character fun, Surf's Up Breakfast with Mickey and friends is a great choice!