A summer party that's "Under the Sea" couldn't get any better than this (according to Sebastian, of course!)
This summer my Little Mermaid Victoria celebrated her 4th birthday.  For months before the party Victoria told everyone she met that she was having an "Ariel Birthday Party – cake – chocolate on the inside and green on the outside." That was the line she told EVERYONE! Of course she was often asked "Why green?"  And when this happened, very dramatically her response was repeated "That's the color of Ariel's tail.  It has to be green!" Each time I heard her say that I chuckled inside.  Apparently my themed-party-planning gene was passed along to her!
Using Victoria's request of green as my starting point, the party planning for my princess went swimmingly.
I honestly had a blast planning, working with vendors and creating some of my own special touches for Victoria's Little Mermaid themed birthday party.  I'm excited to share the details with you over the next week. You can expect to see a post on Little Mermaid-themed food, a sponsored post about the most awesome party favor you could give mermaid guests and even a tutorial on how to make simple beach-inspired cupcakes. Today, I'll start by showing you an overview of the party's themed decor, activities, and party favors. Those three pieces of a party are entwined together in theming, so this post will be a long one. My goal is to show you how a few simple and inexpensive touches can give a back yard party enough pixie dust to make your mermaid and her guests swim with glee!
Decor, Activities and Party Favors
Although the party was themed around The Little Mermaid Disney princess, Ariel, the majority of our young guests were boys.  After a quick discussion with the birthday girl, we decided to keep the themed accents nautical instead of princess.  I used shells and starfish to decorate everything and the color scheme was hues of blue, green, purple, white and touch of pink.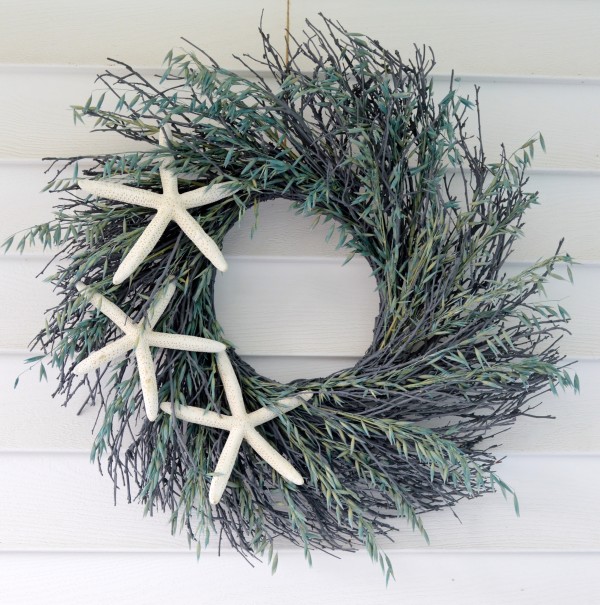 This pretty starfish wreath was hung above the adult guest favor table.  It worked perfectly to draw attention to the table and could easily be duplicated by hot gluing three starfish to a wreath you may already have.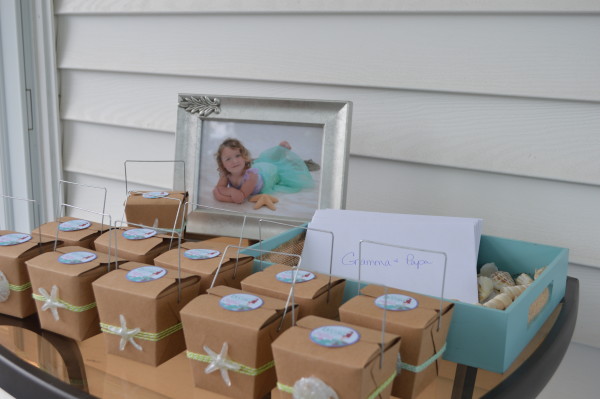 Placed below the wreath I used a small table to display the party favors given to the adults attending the party.  Inside hard-shelled milk chocolate seashell candies waited to be munched later in the day.  The blue tray held real seashells along with the thank you photo-cards from our little mermaid.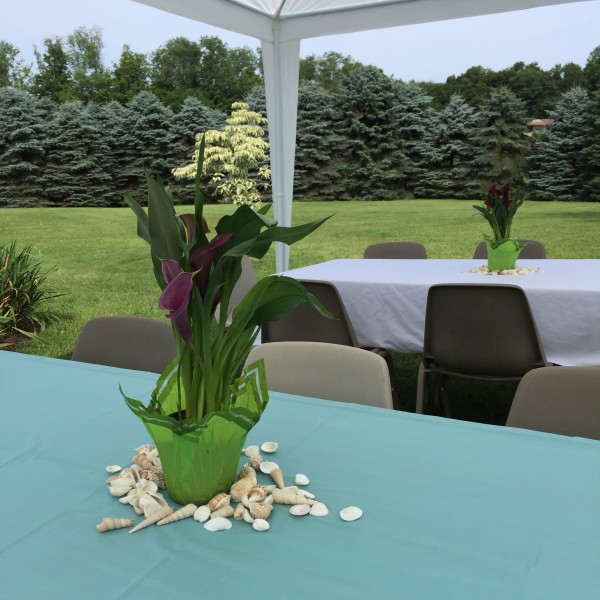 Table decor I kept simple by using purple calla lilies and seashells. I love the shape of the calla lily leaves.  They remind me of sea weed or mermaid fins popping out of the ocean, ok, so maybe that's a stretch but nonetheless, that's why I chose them.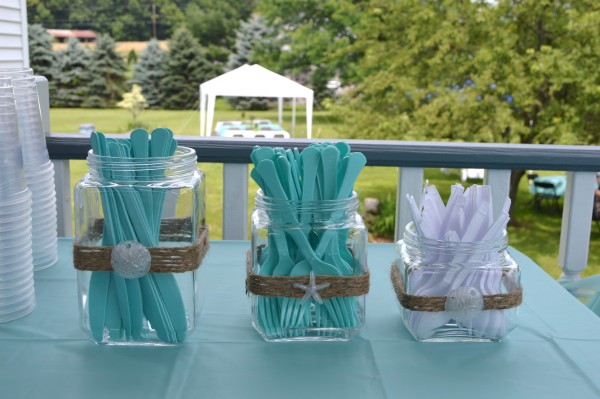 It the food area I used additional touches of seashells and starfish.
The glass container set you see in the above photo I re-purpose for every party.  It's so simple, a little hot glue and some Target $1 section ribbon or in this case rope and it adds a perfect party touch to the food table.  The sand dollars and starfish I made using Mod Podge molds.  They are so simple to make, I filled the mold with hot glue using my glue gun and painted a white shimmer glaze on them.  Once they dried, I hot glued them onto the rope on containers.  The best part is the glued items come off so easily when you're done and leave no residue behind.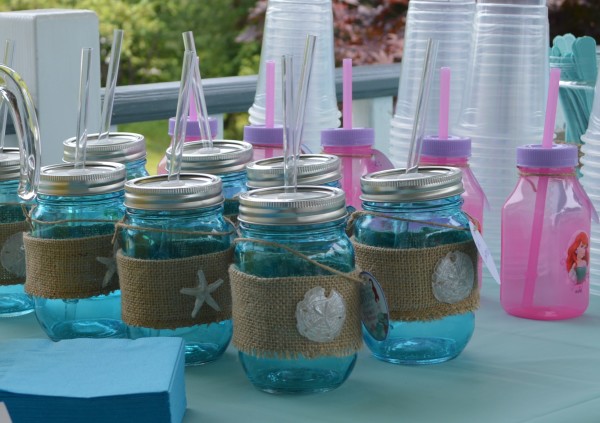 The pirates attending our mermaid party were given personalized drink glasses for them to use and then take home at the end of the party. I used the same molds and Target spot section supplies to embellish the pretty blue mason jars that I purchased from AC Moore Craft Store. The mermaids, who happened to be the younger guests at the party, were given Ariel plastic containers to use and take home as part of their party favors. The Ariel drink containers I also found in Target's spot section.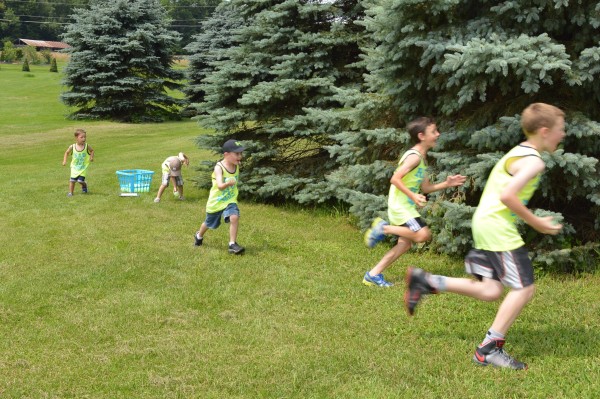 We had a bubble blower set up at the beginning of the party and the kids loved running through it, but the activity that these pirates enjoyed the most was the treasure hunt. The boys we tagged as pirates and the girls, of course, as mermaids.  The boys were given their own pirate shirts to get soaked in as this treasure hunt involved two parts.  The mermaids went on their own hunt for Human Stuff and the pirates searched out their treasure. When they found their treasure a second map was with it, which lead them to a battle. The mermaids and pirates had a water balloon fight to defend their finds. Ok, I know you're thinking- "Pirates? Where were they in the movie?" It's a bit off the Little Mermaid theme but the kids loved it! Maybe Disney should consider this plot for another sequel…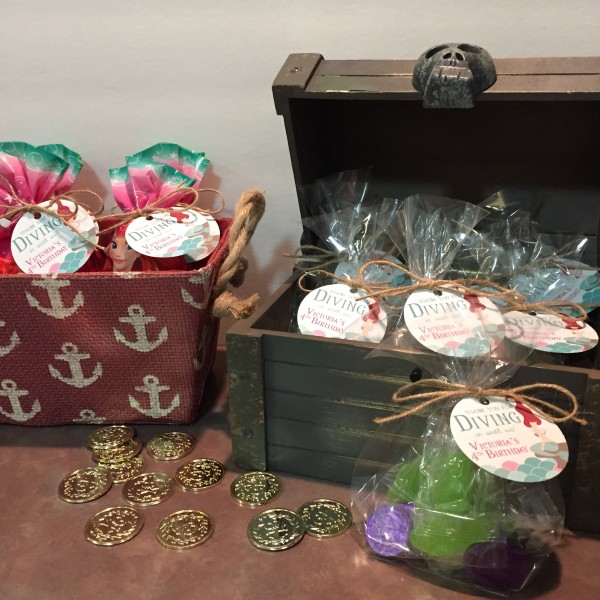 The mermaids found "Human Stuff!" (Ariel necklaces, change purses, pink chocolate coins and blue gummy fish) The pirates' treasure was purple chocolate coins, green gummy fish and pirate rubber band bracelets.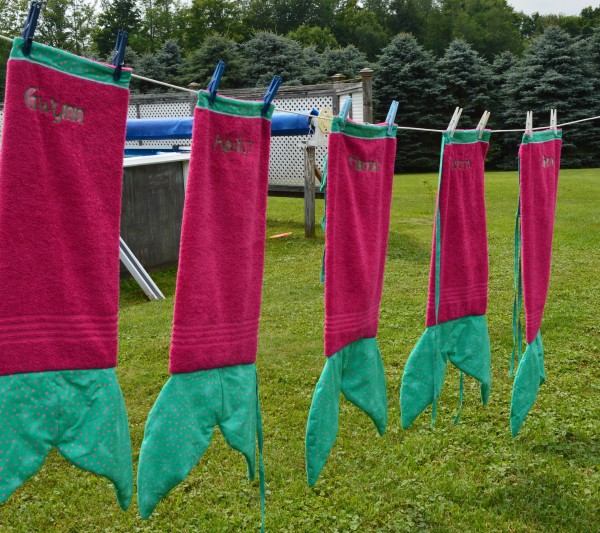 The party activities concluded with lots of splashes in the pool! Each little mermaid dried off in their very own personalized mermaid towel.  The towels were made by Kim Osborne, owner of Etsy shop ~ Sewjob. She did a wonderful job making them and I'll share more about them later this week.
If you're planning a Little Mermaid-inspired party this summer, I hope this post gave you a few ideas to help you along!  If you've already hosted a Little Mermaid-inspired party, please share the details!  I'd love to check out your party too!
Thank you for stopping by the blog today.  Until next time, I hope your days are magical!