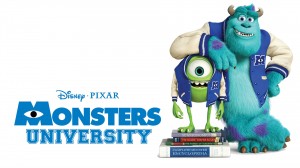 Monsters Inc. is one of my all time favorite films.  Twelve years after it's theatre release, one would assume that I would be ecstatic to see it's prequel, Monsters University.  Honestly, until last week, I had not an ounce of interest to see the film.
The Monsters Inc. character of Boo stole my heart from the moment she appeared on the screen in 2001.  I couldn't imagine a "Monsters" film made without her.  Why would the writers even consider a prequel when a sequel could include her?   Overall, I felt the original was perfect. Why not leave the "Monsters" brand alone?
Disney does a phenomenal job at Marketing.  As I'm sure you would agree, Monsters University "stuff" is EVERYWHERE!  There is TV advertising, on-line advertising, bus wraps, children's books in the grocery store check-out isle, toys that are front and center in every children's store, clothing lines that have our one-eyed friend plastered all over them, an entire food product line that Kellogg's released that is showcasing Monster's University's characters, and at a local park's children's event,  Disney even sponsored a Monster's University activity table.  Everywhere I turned, I was bombarded with images of Mike and Sulley.
One small question to my six year old son-  " What do you think of the new Monsters movie previews?"  and guess who was viewing Monsters University during it's opening weekend?  I'm thrilled to report it was wonderful.
The film's story line was as entertaining for my six year old as it was for me.  Being a mom, I was very happy with the lessons on friendship that were taught and the emphasis that was placed on being truthful, to yourself and others.  For those moms' of children under five, I do want to note that this film was a touch scarier than Monster's Inc., as there is a huge focus on the MU students attending the Scare Program.  The Disney Dork side of me, LOVED the many, many tie-ins with the original film and of course the guest appearance by John Ratzenberger.  I'm not going to spoil the film for you by telling you all the cool connections between Monsters Inc. and Monsters University but I will say to stay through the credits.  Pixar has a cute little ending that I was glad I had stayed to see.  It will give you an extra chuckle to take home.
Overall, I may not have left the theatre with tears in my eyes, as I did with the original film, but I did leave with a smile on my face and I was happy to have shared Monsters University with my son.