Ready, Set, Play!
Yesterday I was thrilled to be able to host a Disney Lego Duplo party for the companies House Party and Lego.  Lego provided me with their newest Duplo lines, which happen to be Disney themed sets!  How exciting it was when a huge box arrived at our home just a little over a week ago.  I have to admit, my kids and I felt like it was Christmas.  Inside the box we found six Duplo sets, three of the sets were themed Disney Planes and three sets were themed Jake and the Neverland Pirates.  In exchange for the Legos, I had to throw a Disney Lego Duplo play date party for all of our friends to play with them.  Can you imagine?  Me, throw a Disney themed party?  Just give me a reason and bring on the yummy party treats and warm up the glue gun!
Today, I'm excited to share with you some photos of our Disney themed Lego Duplo play date.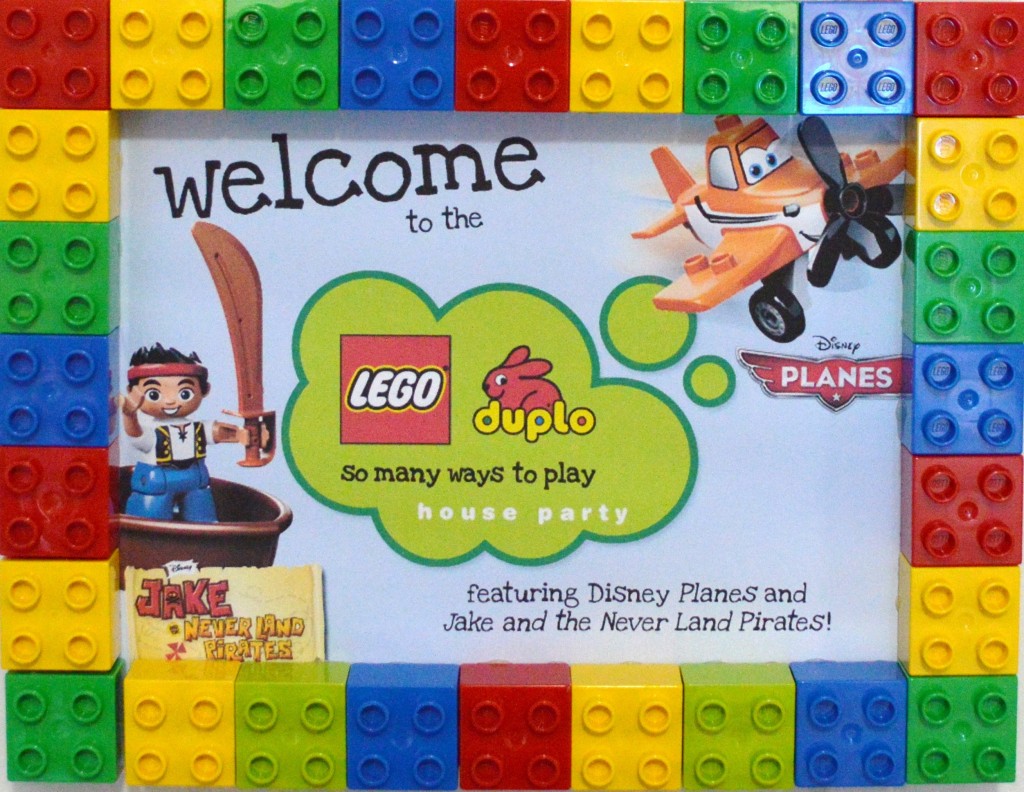 Welcome Sign
House Party provided me with an 8.5″ x 11″ digital file to print out as a sign to welcome our guests.  Featuring Dusty and Jake, the sign was adorable, but the simple print needed to be spruced up a bit.  I taped the paper onto foam core and hot glued Lego Duplo bricks around the edges.  To hang the sign, I hot glued a red ribbon to the back of the foam core.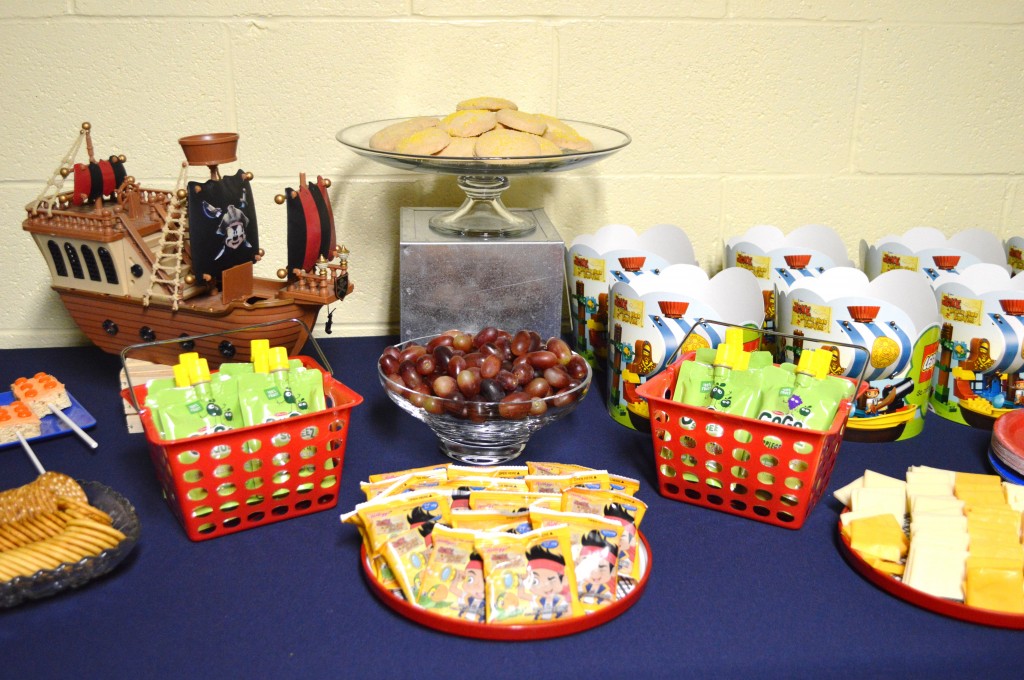 Snack Table
The little Disney Junior fans munched on Bucky's cannon ball grapes, Izzie's pixie dusted apple sauce pouches, Jake's gold doubloon cookies and chocolates, Skully's crackers and cheese, Jake and the Neverland Pirates fruit snacks and Lego Duplo themed rice treats.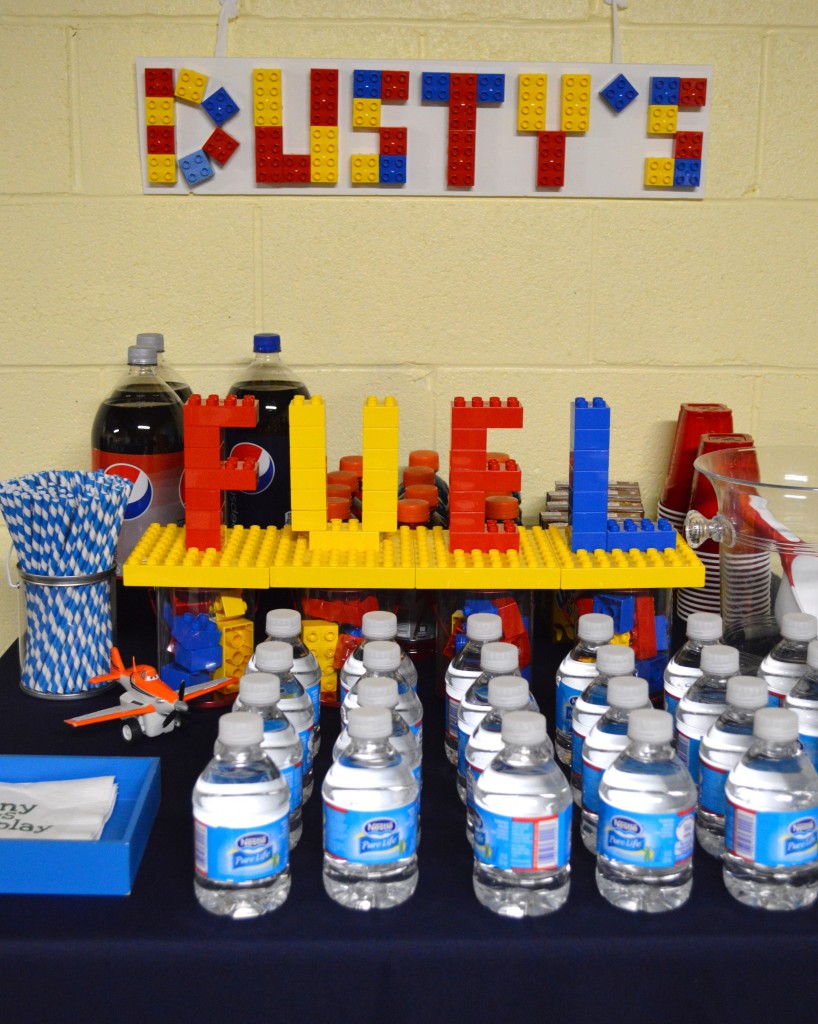 Dusty's Fuel Up Drink Station
I have to admit Dusty's Fuel Up Drink Station signage was fun to make.  My two-year old and six-year-old helped me build the "Fuel" letters the night before the party.
Play Time!
In addition to the six play sets, Disney sent us Jake's latest movie to watch while the kids played, Jake and the Never Land Pirates Never Land Rescue.  I think from this photo you can tell the kids were entertained!  Lego Duplo bricks are specially designed for children ages 1 and a half to five years old.  Many of the toddlers and preschoolers invited to the party had older siblings, so when planning for the party I designated a separate room for the "big kids" to play with age appropriate Lego bricks.  As you can see from the photos, the big kids loved Lego Duplo bricks as much as the little kids!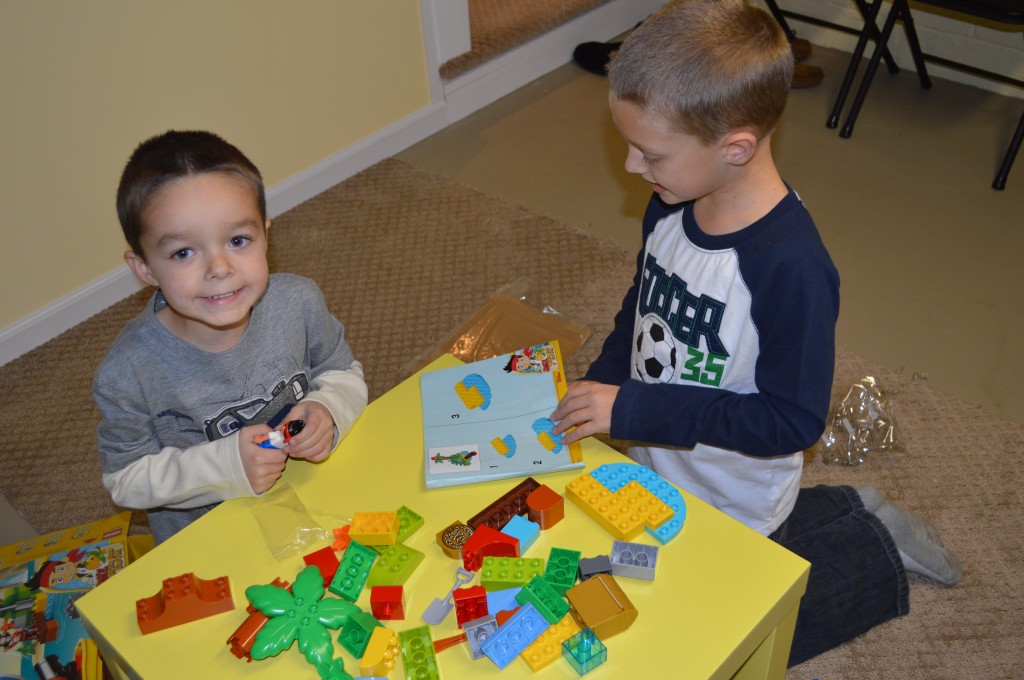 One of the cool things that the moms discovered during the party was that older siblings very happily helped their younger siblings build the sets, with no adult help or fighting.  There were 19 children at the party and it was great to see them all play together so nicely.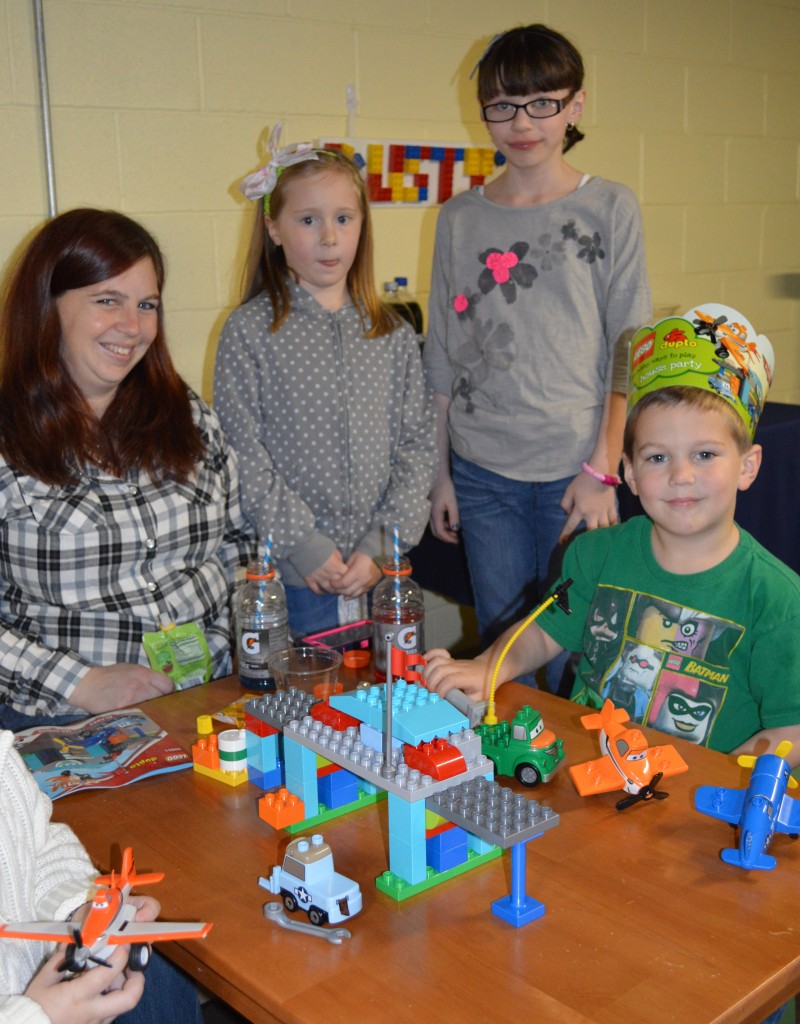 The kids were so proud to show off their finished pieces.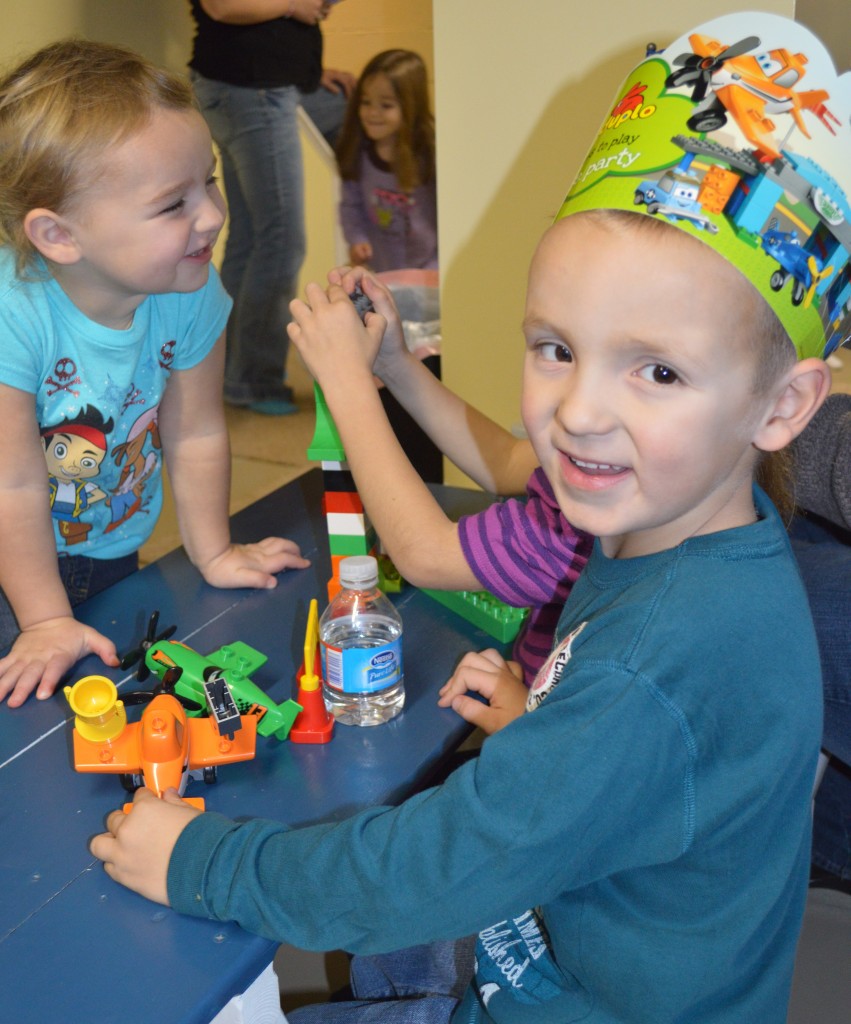 Once the sets were complete, they broke the bricks down and started creating again!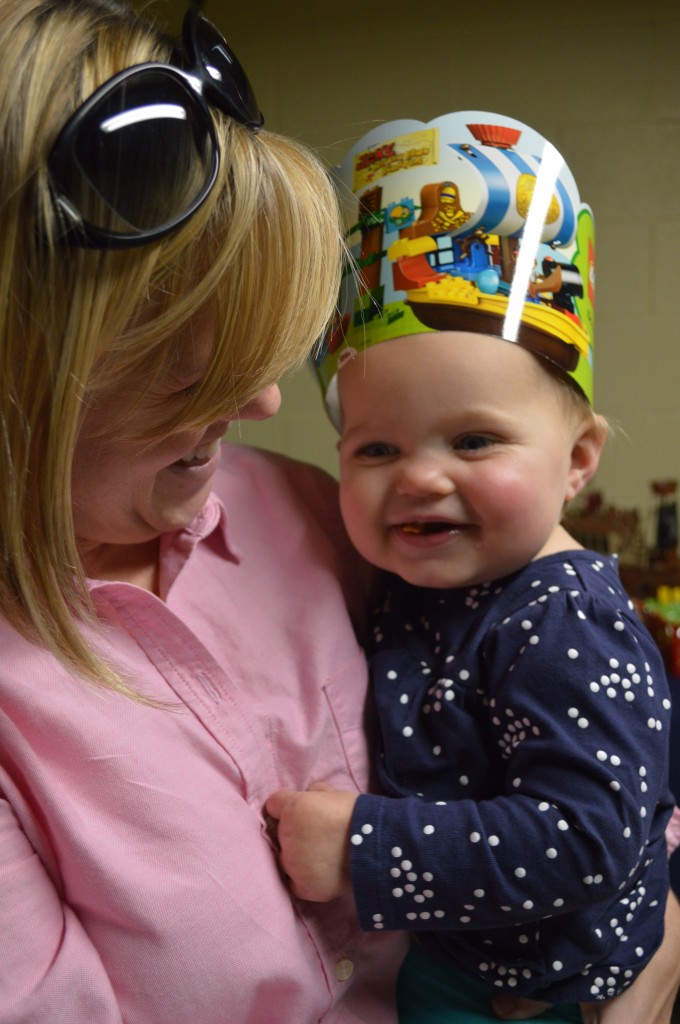 From toddling around, to playing with bricks, to fashioning a crown, the littlest ones enjoyed the day too.
Party Favors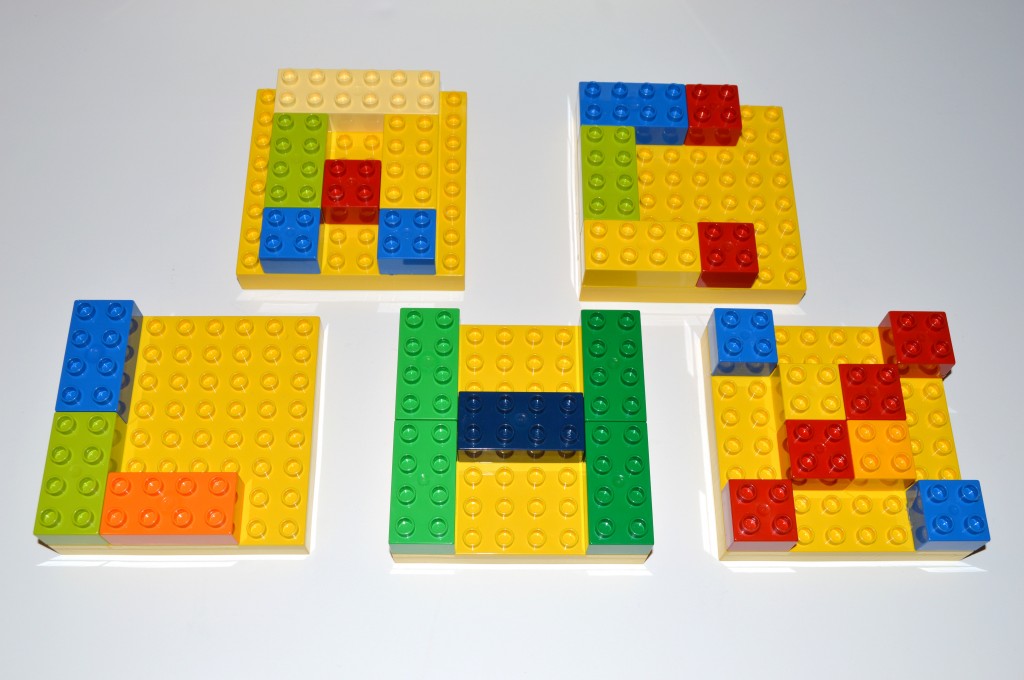 I was provided with 12 sticker sheets and 12 Lego Duplo Planes posters to hand out to the children at the party.  Unfortunately, that was not enough to give one to each child, so I decided to give the big kids the posters and the little kids stickers.  I also made each child between the ages of 1 and 5 years old a customized Lego Duplo brick set.  The small set consisted of enough bricks to make the child's first initial of his or her name.

Before the party ended, I attempted to get a group shot of all our Disney Lego lovers.  Unfortunately, a few could not be persuaded to leave the Legos for a picture. I'm sure you understand their reasoning.
Thank you to Lego and House Party for a fantastic day of fun!
Tomorrow on the blog I'll share a quick tutorial for Lego themed treats.  There wasn't a single one left by the end of the party!
If you are considering purchasing these Duplo brick sets for Christmas, you should stop by again.  On Wednesday I'll share my review of the Disney Planes and Jake and the Never Land Pirates Disney Duplo brick sets.
I hope everyone enjoys this special Monday.  If you're visiting Disney today make sure you tell Mickey Mouse Happy Birthday!