Decorating with Planes
Do you live with a little aviator?  If so, an airplane garland is the easiest and cheapest way to decorate his room with a touch of plane décor.    He can even help you make it!  All you need is cardstock, a hole puncher, ribbon and a pair of pinking shears.  To get the consistent airplane shape I used a Wilton airplane cookie cutter as my "template".  If you can't find this cookie cutter, I traced if for you.  Just click on the Airplane template link below and print it out.  I would recommend printing it on cardstock.  It'll make it easier to use it as a template.
Five Steps to Make an Airplane Garland:
Trace the airplane cookie cutter or template on to cardstock.
Cut out the airplane shapes.
Punch one hole on front of each plane and one hole on the back of each plane.
Cut ribbon.
Tie the planes together with the ribbon.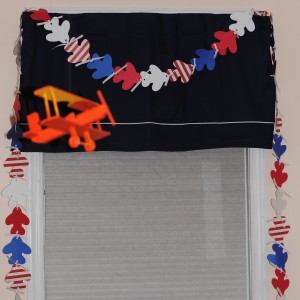 At Gavin's 6th birthday party, I used this garland on the front of the dessert table. His window valance is a dark navy, so the garland also worked perfectly in his room.  Since then, he's painted the orange plane you see hanging in this picture.
Now Gavin and I would like to make an Orange, White and Blue Airplane Garland for our new favorite Cropduster, Dusty!