"MAMO!"
This is the word that comes out of my now 2-year-old little girl's mouth every time she is near a TV.  Mamo is her name for Pixar's tiny clown fish, Nemo, the star of "Finding Nemo".  She absolutely adores Nemo and so, "Finding Nemo" was the theme for her second birthday party.
Finding ourselves in the peak of summer, I think a Nemo themed party would be a fun theme for not only a birthday party, but also a neighborhood pool party.  Today, I'd like to share some of the birthday party's styling highlights with you, so you and your family could splash up some Nemo fun too.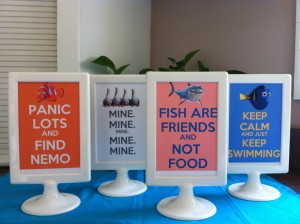 My daughter loves the outdoors, so we decided to rent out a pavilion at a local state park.  The pavilion had picnic tables for us to use, so the table top space was limited.  I chose to use a few of these small signs for centerpieces on about half of the tables. The sign holders are from Ikea and the signs are scaled down movie posters.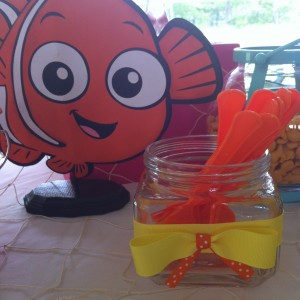 The other tables had orange, blue, white and pink (had to have pink for my little girl) balloons and various Circuit cutouts of Nemo, and his friends.  The Nemo cut out is pictured to the right with the plastic ware.  To spruce up your party plastic ware, purchase the spoons, forks and knives in the party's themed colors.  Place each type of utensil in a separate glass container with coordinating ribbon bows.  The polka-dotted orange and white ribbon shown in the photo to the right was used throughout the party.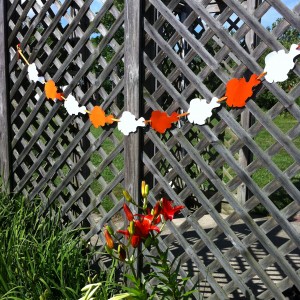 The Nemo inspired garland pictured on the left was used to decorate the front of the cake table although it's not pictured in the photo.  Later I repurposed the garland to decorate this spot. I made the garland by drawing a stylized version of Nemo on heavy cardstock.  Then I used the template to make more fish on orange and white card stock and connected them with the polka-dotted orange and white ribbon.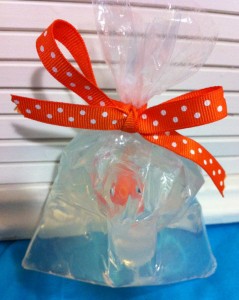 Since my daughter is only two, I kept the activities really simple.  I believe the kids had the most fun by running around chasing bubbles.  At the end of the day each big kid (2 years old and up) took home their own fish.  The bag was actually clear glycerin soap with a plastic fish in the center. If you would like to make one with your children, you can find a "How To" video on Martha Stewart's website.  The infants at the party took home a plush fish character from "Finding Nemo" instead.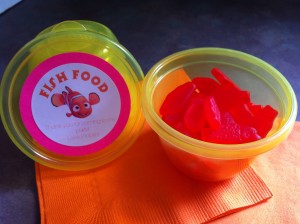 All the moms, dads and big people in general took home a container of fish food (Swedish Fish).  I'm not too sure how many actually made it home, since I was asked for refills!  I even heard a little seagull talk…
"Mine.  Mine.  Mine."
Happy Splashing Everyone!