Ahoy Mate!  Ye invited to a Pirate Picnic!
I'm so excited to start this week!  At the beginning of summer break, the kids and I sat down with the summer calendar and a sheet of paper.  On that paper we wrote everything we wanted to do before summer was over.  One item that was a weekly "must do" was a picnic.  Amazingly enough due to schedule changes, summer vacation is more than half way over and we haven't had a single picnic yet!  I decided this week we'd check off this summer wish list item with a bit of pixie dust.  We shall have a Pirate Picnic!
Both of my children, ages 2 and 6 years of age, are HUGE Pirates fans.  Gavin, the six-year-old, likes Peter Pan and the Pirates of the Caribbean franchise and Victoria, the two-year old, loves Jake and the Neverland Pirates from Disney Junior. This should be a boat load of fun planning and I'm happy to share the stops along the way with you.
Here's the Pirate Picnic Day Plan:
Gavin and Victoria will wake in the morning to find their official Pirate Picnic Invite.

Gavin, assisted by his little sister, will have to check off a list of tasks to located the  clues as to where to find the Pirate Picnic Map's location.  The kids will collect Gold Doubloons along the way as they complete the tasks, which will be items that Gavin usually does to get his weekly allowance.

After finding all the "clues", the kids will be able to guess the location of the map, which will be at his Grandparents house.
Once we arrive at their Grandparent's house, Grandma and Papa will give them the map to the picnic's location.
The Pirate Picnic will be set up in the yard, where Gavin and his sister will find a pirate themed feast of yummy treasures.  One of the treasure treats will be the Captain Hook cupcakes that are pictured above.
Throughout the week I'll share with you other items that I have prepared for this Pirating day, in hopes that you might be able to use them to create your own Pirate Picnic!    To get you started, check out Disney Junior's site for Pirate Party printable items, like Gold Doubloons.  They have a bunch of ready to print items that I plan to use for the picnic.  Here's the link: http://disney.go.com/disneyjunior/parties/birthday-party-ideas/jake-and-the-never-land-pirates-birthday-1825356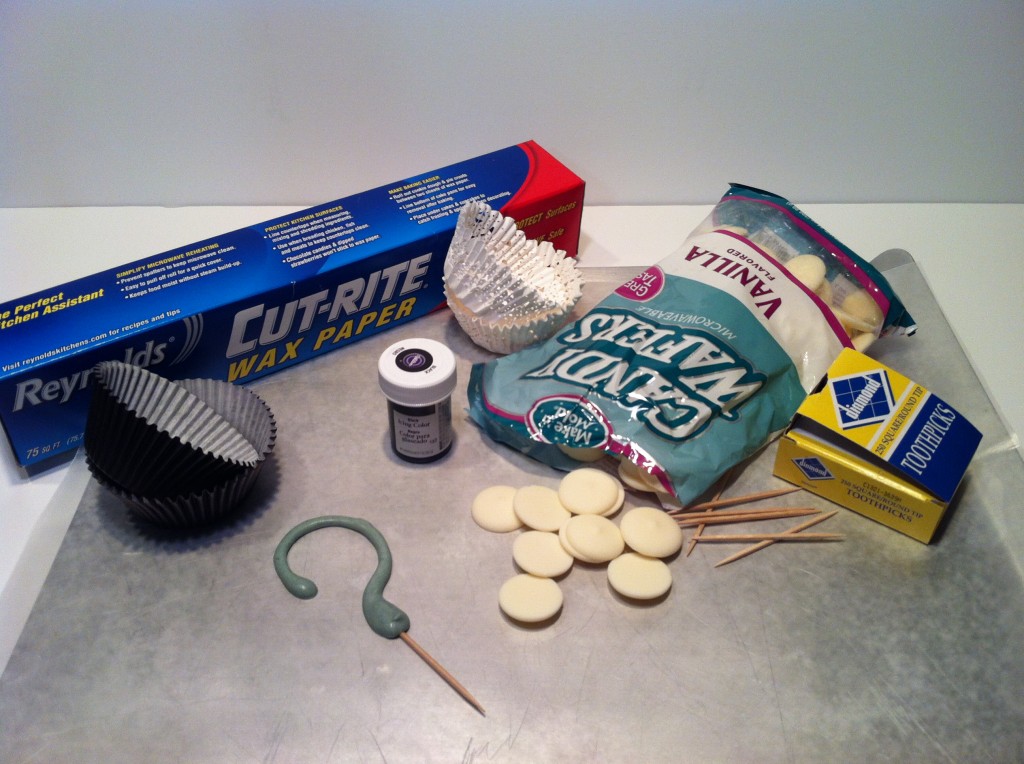 To make my Captain Hook inspired cupcakes that are pictured above, you'll need the following items, which are pictured: white chocolate melts, black food coloring, toothpicks, wax paper, and a cookie sheet to make Captain Hook's hook.  Simply draw your hook on a piece of white paper and slide it between a layer of wax paper and your cookie sheet.  Then take your melted white chocolate and add a small amount of black food coloring to turn it silver.  Once the chocolate is ready, use your paper drawing as a template to make the hook, slide a tooth pick in the bottom of the hook and if need be, add a dab of chocolate on top of the toothpick to secure.  Chill in the refrigerator while you make Hook's cuff.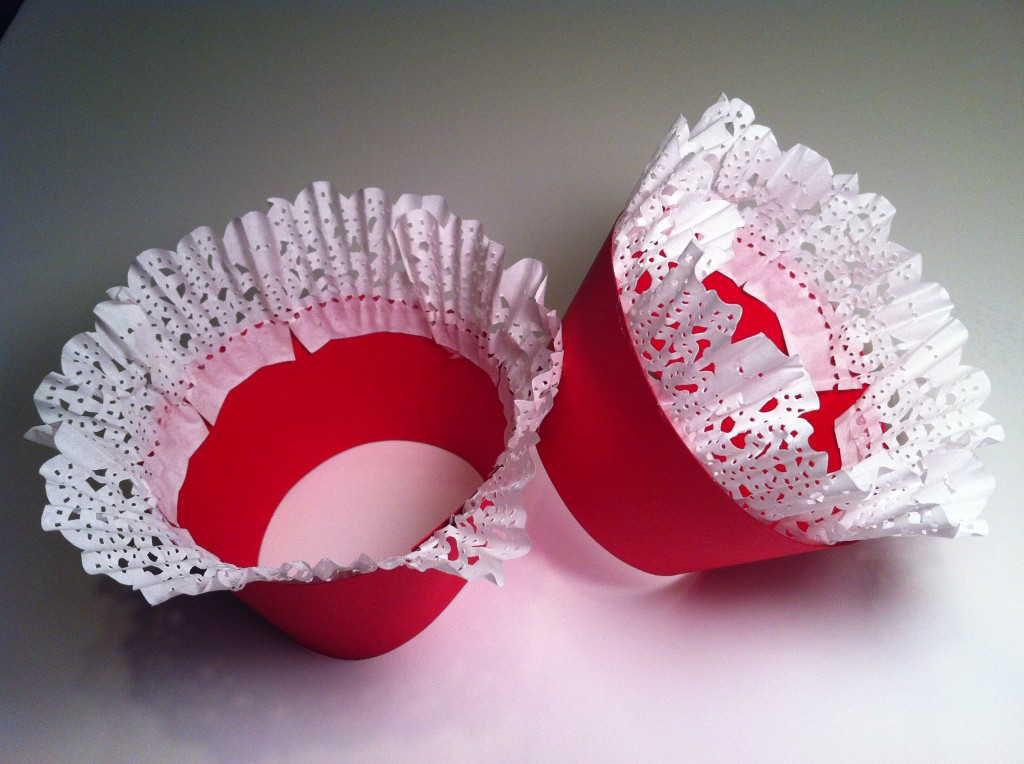 To make Hook's cuff you will need red card stock, glue gun and a doily.  Wilton makes a baking cup kit called Black Doily that I found really easy to use for this project.  The kit comes with the black and white baking cups shown in the supply photo above.  I used the black cup to bake the cupcakes in and the white doily I used as the trim to his red cuff.  I took a picture of them close up so you can see that I cut the base of cup out and cut slits into the doily every inch. This made it easier to glue the doily to the card stock.  I used a little over one doily cup per cupcake.
Last but not least, ice your cupcake with black icing, place the cupcake in Captain Hook's cuff and gently push the toothpick hook in the center of the cupcake.  Now we are both well on our way to a feast fit for a Pirate!
Have you partied with Pirates before?  I'd love for you to share any Pirate Party photos with Mouse Ears Mom and I'll share as many as possible on our Facebook page.