The Pirates found Gold, Well, Golden Cookies.
The idea of having a Pirate Picnic came to me last week.  I'm a planner, so the idea of pulling the Pirate Picnic Plan together in a matter of a couple of days was a bit scary.  I usually start planning for my children's birthday parties months in advance!  I love to go over the top with my ideas.  Focusing on the little details, making lots of things for décor and gifts for the party attendees is part of the fun for me.  For this picnic/ mini party, I knew I wasn't going to be able to go all out with décor and that bothered me a bit.  I could visualize how beautiful a treasure chest would look filled with jewels overflowing out of it, a hand-made pirate banner hanging from the table and a giant Pirate Flag just had to be flying at the "treasure" location.  Yep, I had an entire buffet in my mind, but I had to hold back.  Instead I focused on designing a day of adventure for my children, that I believe all moms or dads can do with their children with very little planning involved.   In the end what made this picnic our best picnic ever was that I didn't plan for months and my son is still talking about how much fun he had and asking to do it again!
Today I'd like to take you on our adventure with us by showing you some photos of our special day.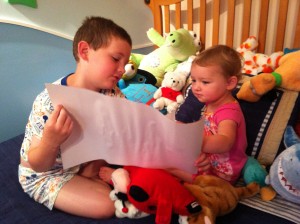 Gavin and Victoria woke in the morning to find their Pirate Picnic Invite.  This invite explained to them that they needed to find the Pirate Picnic Treasure Map.  To do this, they had to complete six tasks.  After completing each task they would receive a clue.  Once they collected all six clues they would be able to guess the map's whereabouts.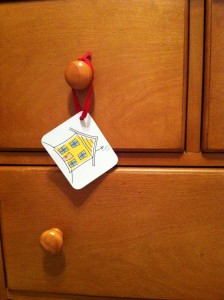 While the kids were asleep the night before, I put a clue at each of the six locations where a task would take place.  For example, this clue, which is a picture of a house, was on the knob of Gavin's sock drawer.  One of his tasks was to get dressed and pick up his clothing. All the tasks were things that the kids normally did, but sometimes with an objection.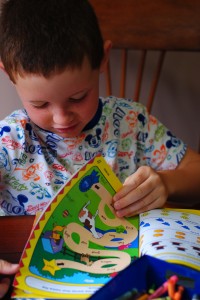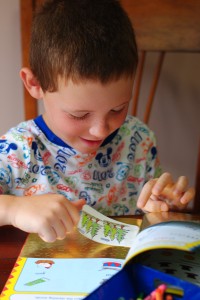 Before that day, Gavin had never completed his school prep work with a smile on his face!  I truly enjoyed this part of the morning.  He couldn't wait to do his tasks.  Once he was done with his school work, he found his first clue.  I love how this photo catches that moment.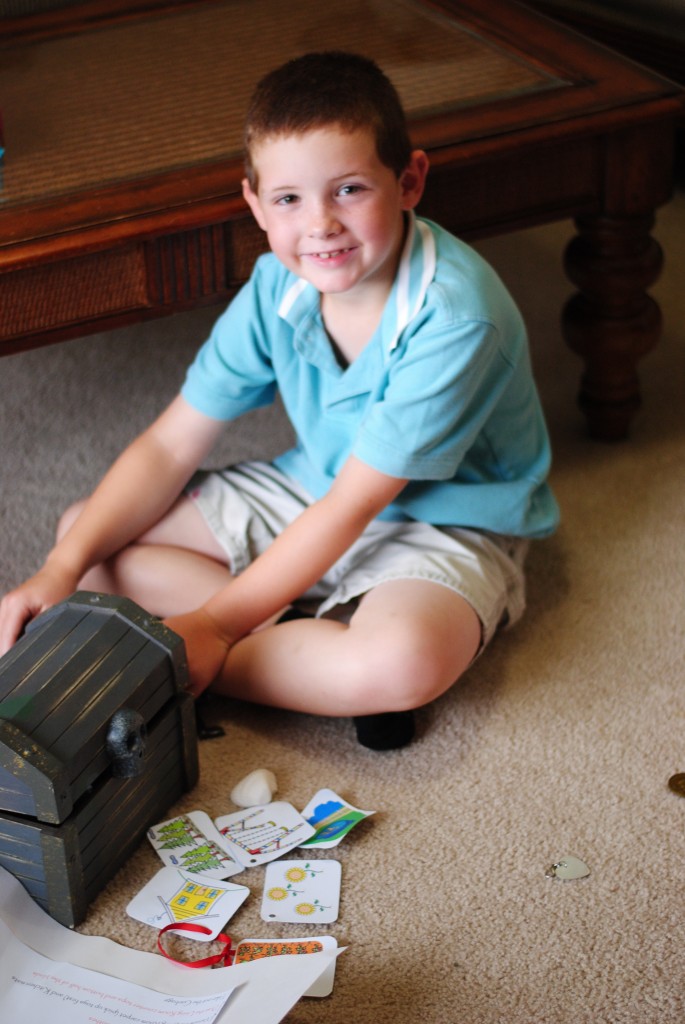 Once the clues were all gathered, Gavin guessed that the Pirate Picnic map was at Grandma and Papa's house.  He was right.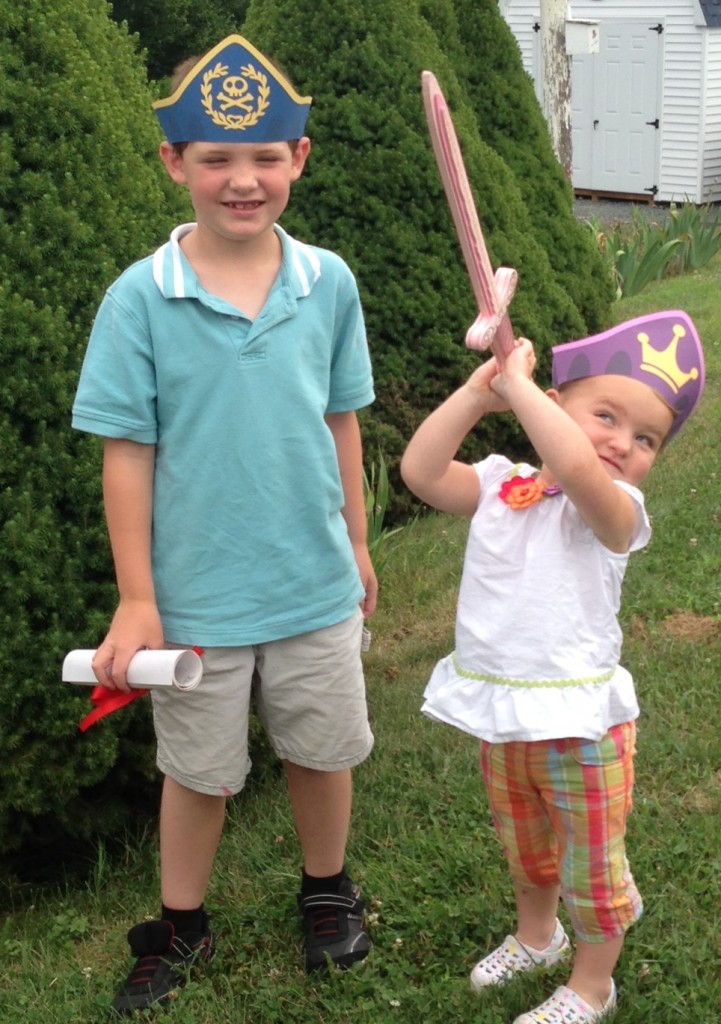 Sporting Pirate hats printed from Disney Junior's website, Gavin now had the Pirate Picnic Map in hand and Victoria was equip with her sword to fight anything that got in their way.  The Treasure Hunt was on!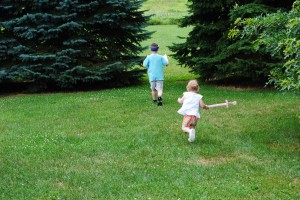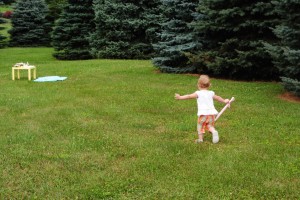 Victoria spotted the treasure first!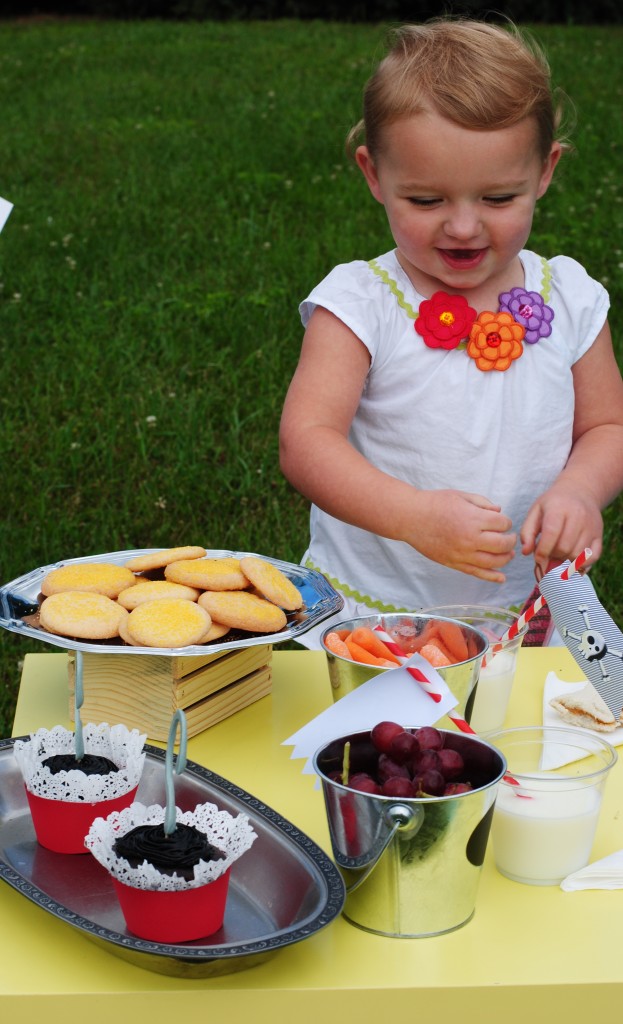 Here's an overview of the Pirates' Feast.  It's menu was simple, as I mentioned in a previous post, but there was plenty for two small children and still a bunch of extra grapes, carrots and cookie snacks for the adults to eat.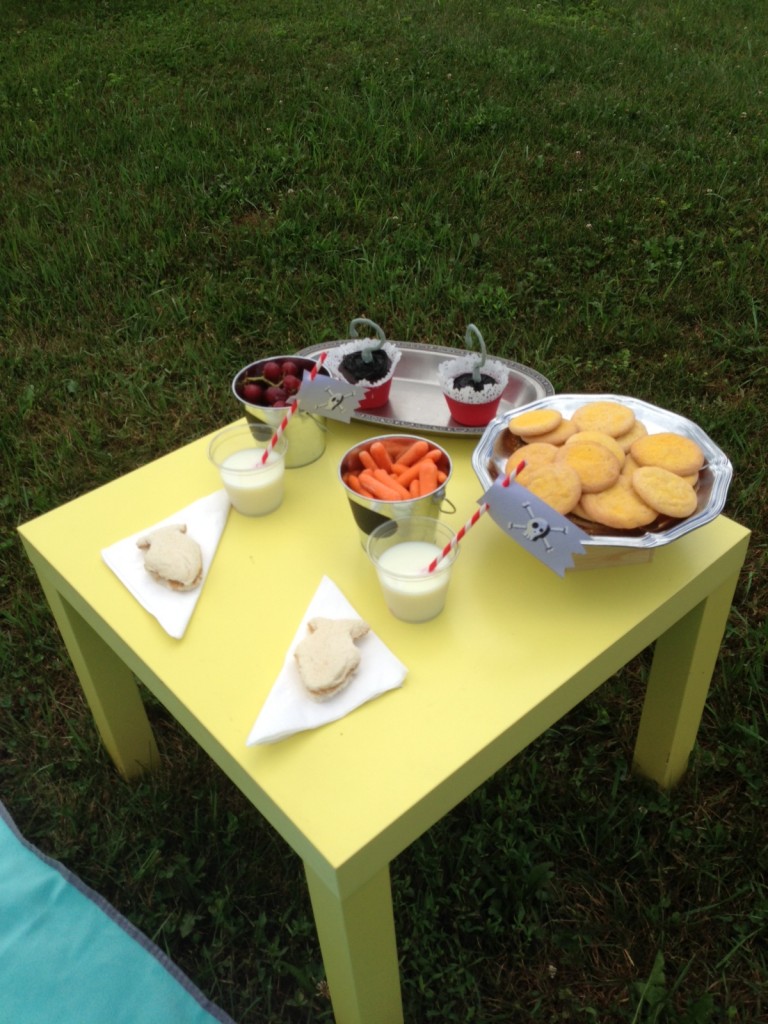 My mom, so lovingly, put everything out for me before we arrived that afternoon.  Thank you Mom!
Here lies the treasure we left behind… 
If you are planning on having a picnic lunch with your children this summer, turn it into a picnic they won't soon forget.  Have a Pirate Picnic!