Monsters University Favorite, Mike Wazowski makes a perfect Monstrous goody bag.Put these little goodies in the Mike bag and little monsters will be screaming happy.
This year for my son's 1st grade classmates,  I wanted to make a Halloween treat that wasn't super scary, could be for a girl or a boy and it had to be easy to make since there are 19 little "Monsters" in his class.  I made this little treat bag in less than 10 minutes and the goodies were staring at me with one big eye.
If you'd like to make your child's classmates this one-eyed monster bag, here's what you'll need: white, black and blue scrapbook paper, a 3″ hole punch, a 1″ hole punch, a dime, glue stick, everyday hole puncher, twine, scissors, and lime green paper sacks.  I found these treat bags at Michael's Craft Store.  They were only $3 for a bag of 12. The bag dimensions are 4.7″ x 2.8″ x 8.9″.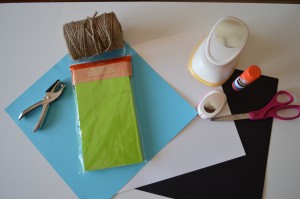 Start the project by using hole punches.
You will need a 3″ punch in white and a 1″ punch in blue.  I didn't have the right size hole punch for the black of his eye. I used a dime as a template. Trace the dime on the black paper and cut it out.
Then glue Mike's eye together.
Glue the eye to the middle of the bag.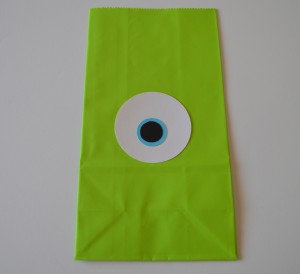 Fold back the top of the bag.
Hole punch the corners of the top through the fold.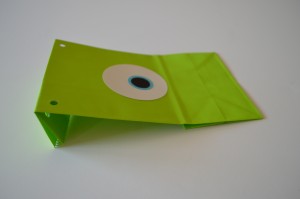 Open your bag up and fill it with Monster treats.
I chose to stay true to my one-eyed friend and purchased Monster University Juicy Juice Apple Juice Boxes and Monsters University themed Kellogg's Fruit Snacks.  In one part of the Monsters University movie the monsters were afraid of spiky balls.  I found these mini spiky balls at Target.  They come six in a pack for $1.  The matching pencil in Mike's lime green color was also from Target's Halloween section, $3 for a pack of 24.
After adding all your treats, the final step is to tie each side with the twine.  I knotted each side on the back and cut the ends short.
I hope my son's 1st grade class of little Monsters enjoy!