Looks inviting, doesn't it?
Disney's newly designed Treehouse Villas opened at Disney's Saratoga Springs Resort & Spa in 2009. The Treehouse Villa's floor plan is fantastic.  There are three bedrooms, two beautiful bathrooms and a large open-plan living/dining/kitchen area.  The living room area has a full size pull out bed sofa and chair that pulls out into a twin size bed.  The dining area has a large dining room table that seats at least six and a bar off of the kitchen area, which seats three.  Knowing how gorgeous these spaces are, why you might ask, did it take us four years to finally stay an evening in a treehouse?   The reason is that we LOVE to stay at Disney's Bay Lake Tower at The Contemporary Resort, which coincidently also opened in 2009.  It was hard parting ways with our beloved BLT to stay in another resort, even if it was only for one night.  However, being a family of rebels, we were ready for this adventure and of course, extremely curious about sleeping in a tree!  The Treehouse Villas sleep nine people, so my brother, sister-in-law and niece shared this journey with us.  This "review" of the Treehouse Villas is totally and completely my opinion of our experience during our short stay.
The common area inside and outside of the Treehouse Villa is abundant.
The number one benefit of the villa is that it's an awesome place to entertain.  The layout of the floor plan optimizes the space to allow a large area for families to gather and enjoy each other's company.  Although we had 8 people checked into our villa, my parents, other sibling with his family of four and a close family friend with her daughter spent time together socializing together that evening.  That's a total 15 people using the inside of the villa and outside deck space to have a wonderful time and we didn't feel cramped at all.
Cosmetics
Before staying in the treehouse I googled images of the units.  I can honestly tell you that the photos that I saw, and the ones you're seeing in this post, do not do the place justice.  They simply can not capture the rustic, but yet contemporary feel of the space.
Master Bedroom's Bathroom

Second Bathroom, separate from the second and third bedrooms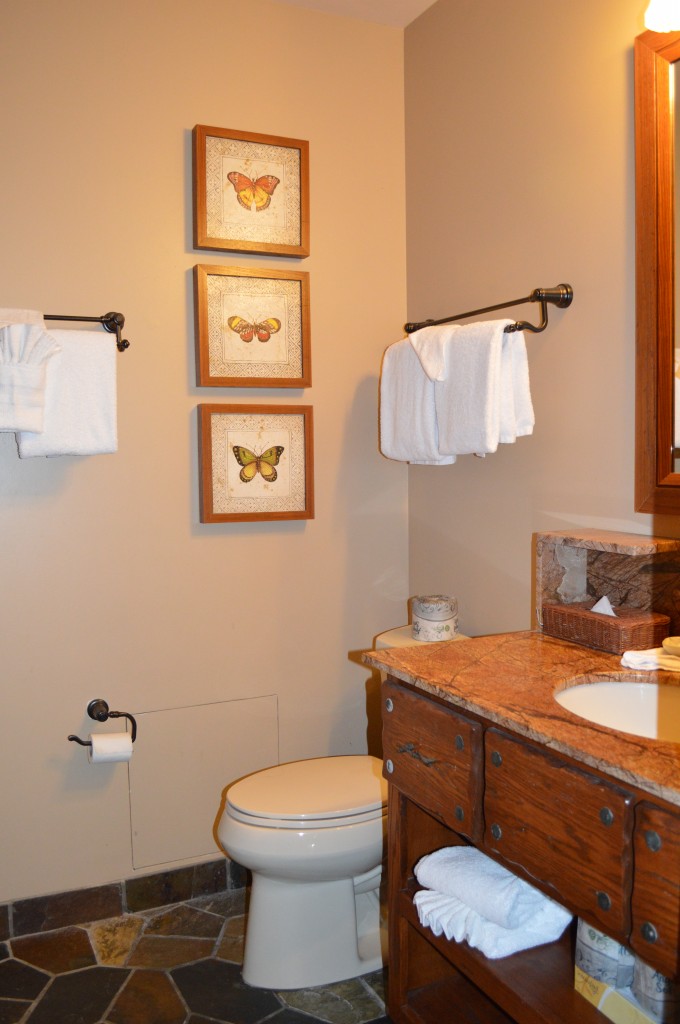 There is a total of two bathrooms and three bedrooms.  If we had nine adults staying in this villa, we would have needed three bathrooms to feel comfortable, but since we only had four adults in our party, the two bathrooms suited our needs.
Master Bedroom
What you can't see in the below photos is that each room has a flat screen TV, making a total of four flat screen TVs in one treehouse.  The ceiling is also vaulted in the Master Bedroom and the bathroom is behind the door directly to the left side of the bed .  It's an amazing room!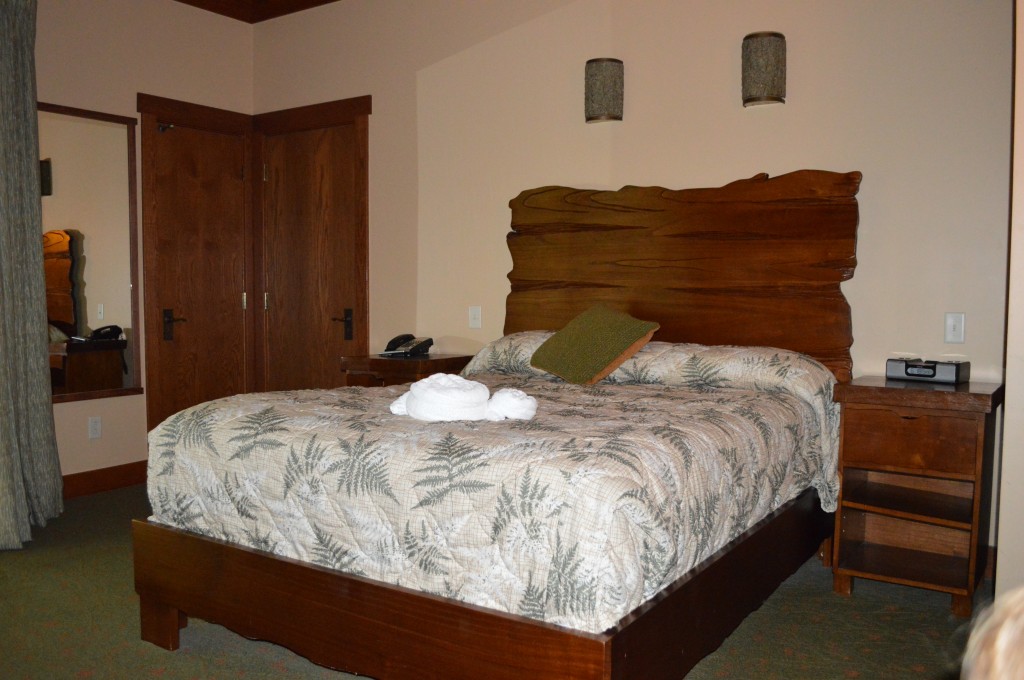 The Second and Third Bedrooms
Each room sleeps two people.  One room is equip with a queen size bed and the other room has bunk beds.  These rooms are smaller than the master bedroom but acceptable for our family.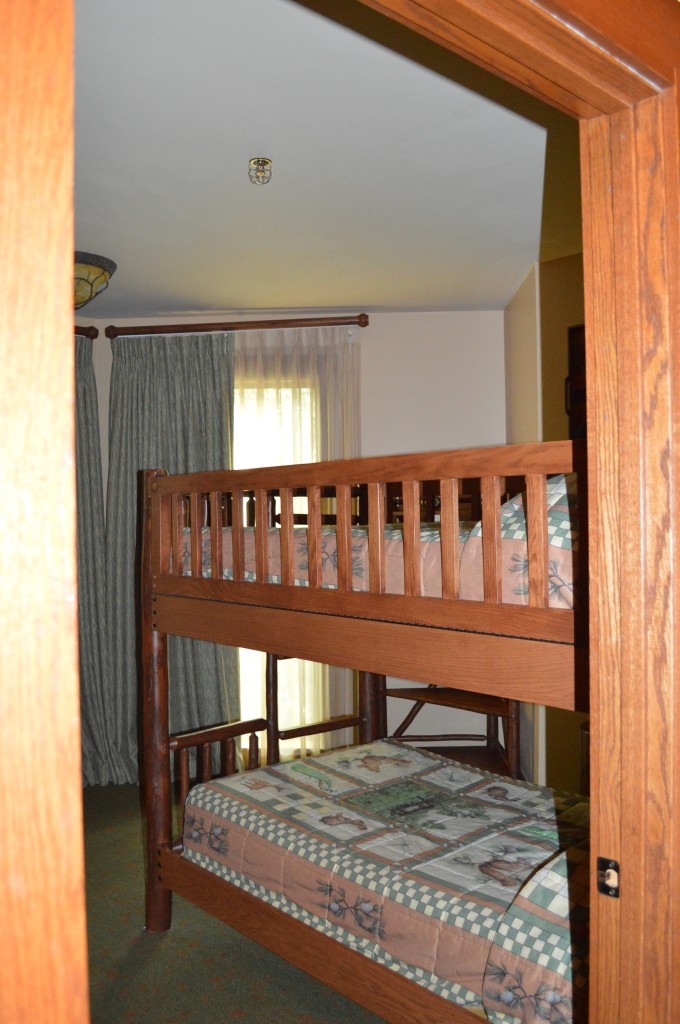 Overall Review of the Villa
Sleeping "with the birds" was a peaceful experience.  Waking up in the morning, there were no sounds of buses going by or other families running around above or outside of our room.  We couldn't even hear my brother and his family, and they stayed in the same treehouse villa!  If you're family would like to stay in a somewhat secluded getaway, the Treehouse Villas is a beautiful option.
Would I recommend this resort for a family's first trip to Walt Disney World?
Absolutely not.  Disney's transportation system for the Villas is horrible.  There's one bus route that travels throughout the Villa section of Saratoga Springs.  You have to take this bus to the main building at Saratoga Springs to then get another bus to take to any park.  Plan on waiting ALOT.  Getting to any of Disney's four theme parks will take close to an hour of your precious vacation time.  If you rent a car while on vacation, your travel time will be better, but do you really want to take your car everywhere you go?
Location, Location, Location
Disney's Saratoga Springs Resort & Spa is located in the Downtown Disney District.  There's a walking path that leads you to downtown Disney and also a water ferry that can take you there.  It's a pretty walk or boat ride, but again it takes time.  It took us about twenty minutes to walk to the Downtown Disney West Side.  Of course, your walking time will depend on where your Treehouse Villa is located in the treehouse section of the resort.
In addition to the travel time, we experienced a bit of a bug problem outside as soon as the sun went down.  The treehouses are located in a wetland area, so of course it should be expected.  Unfortunately, we weren't prepared. So although our little boat ride to Downtown Disney was beautiful, the boat's passengers were actually part of a buffet for mosquitoes.  Our poor children's legs were a mess with bites.  The inside of the villa wasn't full of bugs, but I did see an extra-large bug scurry out of the sink drain.
 Would My Family Ever Stay in a Treehouse Villa Again?
Possibly.  As I mentioned earlier, the villas are a perfect choice to have a large group of people gather.  If multiple families or friends decided to meet at Walt Disney World for a family reunion, I'd chose this resort option.  Honestly, that's the only reason we'd return there.  As you may have guessed by this point, our next stay at the Walt Disney Resort will be back in our home away from home, Bay Lake Tower.  We miss it already!
Does your family have a favorite Disney Resort?   I'd love for you to share why it's your favorite resort in the comments below.
If you'd like more information on Disney's Treehouse Villa's, stop by Disney's site.  Here's a link that will take you straight to Saratoga Spring Resort's page.  https://disneyworld.disney.go.com/resorts/saratoga-springs-resort-and-spa/rates-rooms/