"Our Building"
Bay Lake Tower at Disney's Contemporary Resort is my family's favorite resort at Walt Disney World. We stay there so often that my six year old son, Gavin, refers to Bay Lake Tower as "Our Building". From the monorail, to Chef Mickeys, to the background sounds of a steam train's whistle blowing nearby, to the side walk leading to the Magic Kingdom's gates, to the beaconing boat dock by Bay Lake, every corner of the Tower leads to adventure. For my family, it's the tower of our own Disney castle nestled nicely next to Cindy's!
Today I'll share with you the many magical reasons that my family choses to stay at Bay Lake Tower at Disney's Contemporary Resort. You'll read about the convenience. You'll read about the fun. You'll read about the potential money savings. And of course, you'll read about the Magic!
Convenience
My husband and I have two small children, 6 years old and 2 years old. The Magic Kingdom is our most frequented park during each vacation. Our mornings are as close to stress free as could be possible. There is no rushing to the bus stop in hopes that we don't miss the next bus to the Magic Kingdom. We simply take the elevator downstairs, walk out our door and stroll along our side walk which leads us straight to the Magic Kingdom . Then, as the evening comes to a close and our feet are tired of walking, we hop on a monorail and get off at the first stop, The Contemporary Resort.  BLT (Bay Lake Tower) is connected to the Contemporary by a walkway located on the Concourse Level of the main Contemporary building.  The Concourse level is where you'll catch the monorail and it's also home to the famous Chef Mickey's Restaurant and Contempo Café, a quick service dining option. So to get to our room all we have to do is roll our stroller off the monorail, walk across the walkway, hit the elevator button for our floor and we're home.
Chef Mickey's is the 2nd most popular character dining experience at Walt Disney World. Each year we kick off our first full day of our Disney vacation by having breakfast with the characters at Chef Mickey's. We leave our room fifteen minutes before our reservation time and moments later we're at the check-in desk of the restaurant. If you are not staying at a Magic Kingdom Resort, getting to the early morning breakfast reservations for Chef Mickey's can sometimes be challenging, especially if you do not have a vehicle. There are no direct buses to the Contemporary from other Disney Resorts. With small children, mornings are stressful enough without adding the pressure of lengthy transportation ordeal to get to the Contemporary. For example, if you're staying at the Coronado Springs Resort you would take a bus to Downtown Disney then transfer to a bus to the Contemporary, or take a bus to the Magic Kingdom and walk over to the Resort.
Another convenience of BLT is that Epcot is an easy and fun ride to the Transportation and Ticket Center and then a skip over to the Epcot Monorail. Traveling by monorail is massively convenient if you have an infant or a young child. Little ones love riding the monorail. It's not out of the norm to hear that the monorail is a little Mouseketeer's "favorite ride at Disney"! Also, strollers do not have to be collapsed for you to ride this mode of transportation. This is especially convenient if your child is taking his or her nap at the time.
Most importantly, Bay Lake Tower is a Disney Vacation Club Resort. Since it is part of the DVC family of resorts, all rooms have extra amenities, such as a kitchenette in the studio rooms and a full size kitchen in the one, two and three bedroom grand villas. Although this is a DVC Resort, you do not have to be a Disney Vacation Club member to stay at Bay Lake Tower.
Bay Lake Tower offers a variety of fun adventures.  In this photo my husband and our son wait on the boat dock for a boat to take them to Fort Wilderness Campground where we'll check out the playground and animals.
Fun Adventures
An entire post could be dedicated to fun adventures to be had while staying on property at any of Disney's resorts. However, today I'll share the fun adventures that my family enjoys while staying at BLT.
After checking into our resort, the first thing we do is drop off our carry-on luggage in our room, check out our view of the castle and monorail, and then head to the monorail platform for a ride. Due to travel, our first day at WDW is often a half day, so we try to do some fun things that don't require using a full day's park ticket. Although the monorail is used to get to two of Disney's four main theme parks, it also stops at three resorts, Disney's Polynesian Resort, Disney's Grand Floridian Resort & Spa and Disney's Contemporary Resort. We enjoy stopping at each Resort to explore their gift shops, restaurants and entertainment.
Another fun exploration that's a must do for my family is riding a boat from our boat launch over to the Fort Wilderness Campground where we let loose and explore. Our son loves to play at the beach, then move to the playground, followed by checking out the animals and he's even frequented their arcade. The Fort seems to move at a much slower pace. They have less crowds in the middle of the afternoon, so it makes for a great place to go for a brief escape from the over stimulating environment that children are in while at the parks.
Once we return back to "Our Building" we stop in at Community Hall to check out the week's special events and projects. The Community Hall is usually very quiet when we stop in during the day, so our son has the place to himself, pick out coloring pages, check out their movies and games. One great activity that is preschooler friendly and that they seem to do often, is make your own pillowcase or pirate treasure bag. We also note the movies that will be playing that week at our resort.
Having a young children that have an early bed time, we haven't yet taken advantage of the following fun adventure, but I thought I would mention it, in case you have an older child that could enjoy the event. During the evenings, outside of Bay Lake Tower and the Contemporary, located in a nice open area, between the two buildings and close to the boat launch area, a Disney movie is shown on a huge screen for families to watch. I look forward to the future when I can take our children to one of those showings. I'm certain they will think it's pretty cool.
And we can't forget the awesome slide at the pool!  Not pictured in this photo is a wonderful splash area separate from the pool, perfect for toddlers and preschool age children.

In the above photo Gavin intently watches the monorail while finishing up breakfast in our 2 bedroom villa at BLT.
Money Saving Potential
Since Bay Lake Tower at Disney's Contemporary Resort is a Disney Vacation Club Resort, many of the conveniences of home can be found at the Resort and some even in your room. The resort has four types of rooms, Deluxe Studios, One Bedrooms, Two Bedroom, and Three Bedroom Grand Villas. The Deluxe Studio is the type of accommodation that we have recently chosen, since our family consists of four. In previous years, we have stayed in the Two Bedroom when we stayed with additional members of our extended family. Both types of accommodations at Bay Lake Tower were fantastic. In regards to saving money, the Deluxe Studio and the Two Bedroom saved us a lot of money when it came to purchasing food in the parks.
The Deluxe Studio at Bay Lake Tower has a kitchenette, which we used everyday. It includes a small refrigerator, a kitchen sink, microwave, coffee pot, toaster and a pull out pantry. The kitchenette area is stocked with plastic utensils and paper products, including paper plates and bowls. Other than the morning that we eat at Chef Mickey's, we eat our breakfast in our room before leaving for the parks. It's so nice to sit on the balcony and watch the park come to life in the morning. You can see the Monorails start zipping on their rail, hear the whistle of the steam engine warming up for its day, and watch as the astro-orbiter prepares for approaching passengers, all as you munch on a bagel and sip your tea. With the close proximity to the Magic Kingdom, we would eat one other meal at our resort each day. The short walk or monorail ride back to the resort allowed us to do this without missing too much of our day. On occasion, we would sneak in a quick nap for everyone.
The One, Two and Three Bedroom Villas all have full size fully equip kitchens with a small dining area and a spacious living room. It's wonderful to have that extra space if you have a large family or are traveling in a group.
In addition, they have a washer and dryer within the one, two and three bedroom villas. The Deluxe Studios do not have the washer and dryer but there is a laundry facility at Bay Lake Tower and it is free for guests to use. I find that this has saved our family money. We usually travel by plane, so when we do we have to watch how much stuff we pack. Checking luggage can really add up to a large expense with multiple people in your family needing to check bags. We make sure that we take only enough clothing to cover three or four days, then we do laundry on our day off, usually the middle of our week.
As I mentioned many times earlier, Bay Lake Tower at Disney's Contemporary Resort is a Disney Vacation Club Resort. Our family members are DVC members. We use our membership to the fullest and know that it has saved us a lot of money. Honestly,we would not be able to afford to stay at this magnificent resort without our ownership. If you are a Disney Fan and love to travel to Walt Disney World and stay on Disney property, take the time to look into the membership. The DVC tours, that are done on Walt Disney World property, are stress free and fun. It could save you thousands too.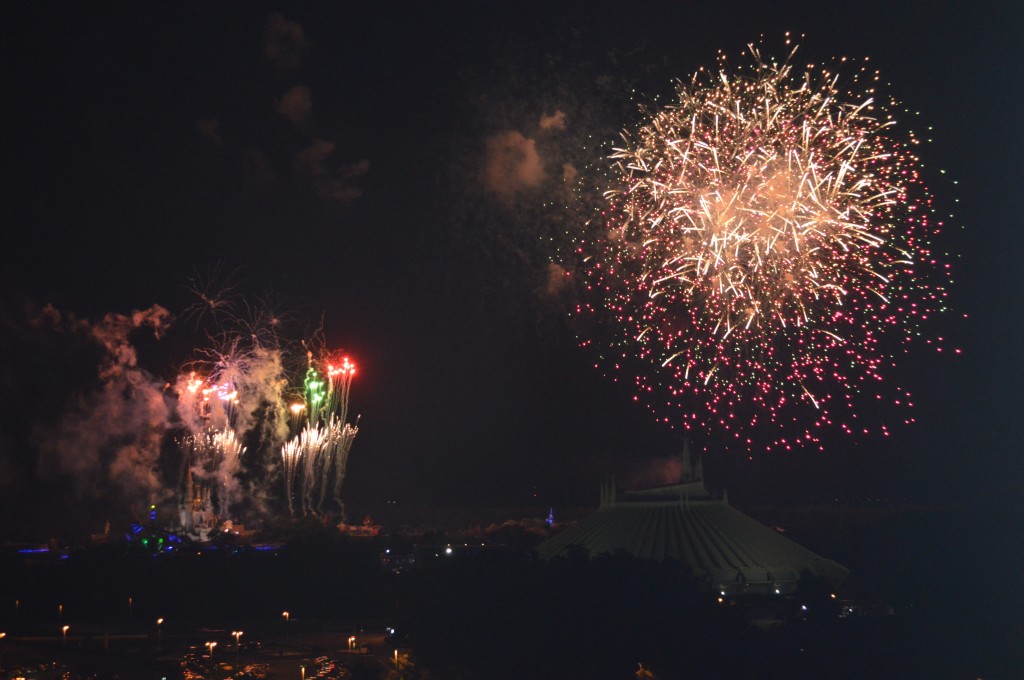 Magic
The one word to sum up staying at Bay Lake Tower at Disney's Contemporary Resort is magical. Each night the resort is in the middle to two special evening events, Wishes and The Electrical Water Pageant. Since there are several types of views at Bay Lake Tower, each room experiences a different view of the events.
The resort rooms are booked under the following "views", Theme Park View, Standard View, and Bay Lake View. I've come to find out that there is another view labeled "obstructed" but this is not an option to book. The resort rooms are broken down into the following percentages, 25% of the rooms are considered Theme Park View, 25% are Standard View, and 50% of the rooms are Bay Lake View. On one occasion, we booked a Bay Lake View and were given an Obstructed View. This view was fantastic for us. We had a view of the Magic Kingdom but also some of Bay Lake.
The theme park view in a Studio Villa during the day.
Most of our stays have been in a Studio with a Theme Park View. We enjoy staying in our room and using the balcony to view Wishes. The kids' favorite part is seeing Tinkerbell fly!   After my children and husband are fast asleep, I enjoy a silent moment, soaking in the sight of Cinderella's beautiful castle lit up for the evening. It's simply breath taking and a site that I wish I could capture with a camera.
One or two evenings during our stay, my husband or I take the kids with us as we walk over the Skyway Bridge to The Contemporary Resort. Gavin's tall enough that he can see over the railing of the bridge to view the Electrical Water Pageant. Of all the parades he has seen, this is favorite. The only down side is that the pageant stops at the resort a bit late for little ones, so he doesn't get to see it every night.
For those Disney Vacation Club Members not staying in a Theme Park View but wanting to see Wishes at the resort, they are in for an extra magical treat. At the Top of the World Lounge located at the rooftop deck of Bay Lake Tower, DVC members staying at the resort are able to take in the sights of Wishes while listing to the music of Wishes in sync with Magic Kingdom firework display. The view is amazing and one of the most magical on property.
From rooftop to balcony, no matter what room we may stay in at Bay Lake Tower, my family believes "Our Building" is the most magical in the "World". We hope you enjoy your next vacation to Walt Disney World and hope you get the opportunity to discover for yourself the magic at Bay Lake Tower.
If you have any questions regarding Bay Lake Tower, I'd love to answer them!  You can leave them in the comments section, or email me at info@mouseearsmom.com .
I hope you have a Magical Day!