Did you know that Mickey Mouse got his start on Broadway?
Today, Disney Theatrical Group is known for its fantastic Broadway productions.  From Beauty and the Beast, to The Lion King, to Mary Poppins, and The Little Mermaid, Disney on Broadway is hugely successful by retelling popular Disney story-lines developed for this special form of live art.  Opening this past March, the latest Disney production to take Broadway by storm is Aladdin.   The new Disney musical can be found at The New Amsterdam Theatre, a theatre leased by The Walt Disney Company and considered to be the flagship location for Disney Theatrical Productions.  I guess it's logical to say that Disney is at home on Broadway.
Did you know that our favorite little mouse, Mickey, found his way to stardom by starting his career in a Broadway theatre?
Those first nervous little squeaks were made at the Colony Theater in New York City.  The Colony Theater, located on 1681 Broadway between West 52nd and 53rd Streets, opened as a movie palace on Christmas Day in 1924.  Just a few short years later, Steamboat Willie premiered at the Colony Theater on November 18, 1928 and Mickey Mouse was born.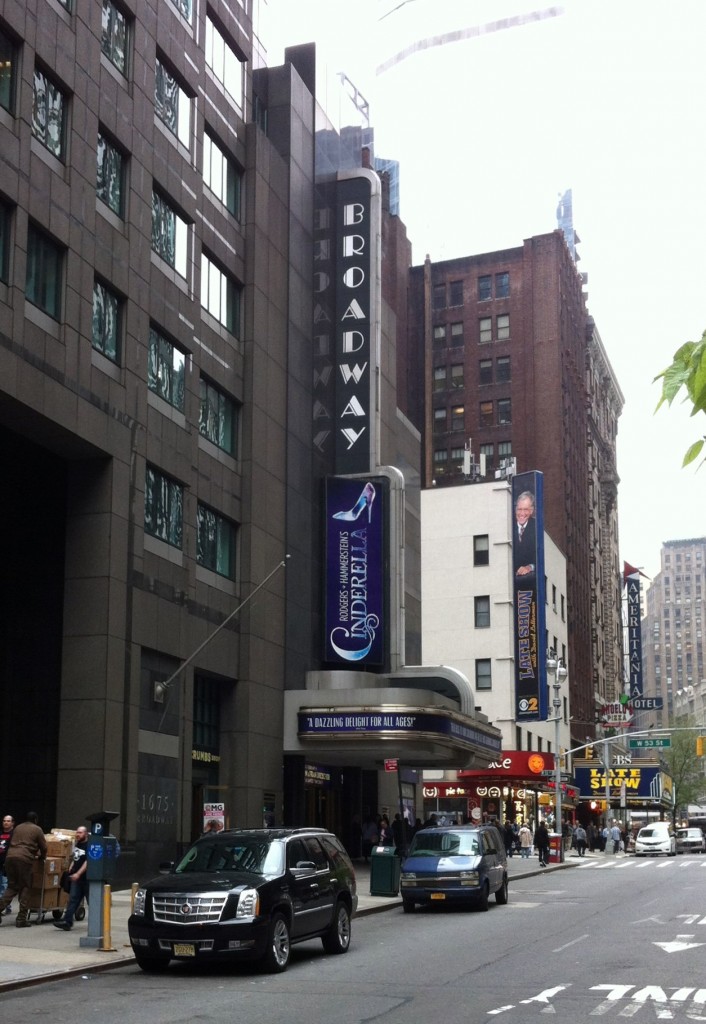 The Colony Theater's name was changed in 1930 to the Broadway Theatre, as the theater moved away from showing films and began staging plays.  In 1940 Walt Disney returned to this rather large Broadway Theatre (seating 1,761 people) to premiere his labor of love, "Fantasia".  In addition, Disney's "Dumbo" premiered at the Broadway Theatre in 1941.

Today the Broadway Theatre is still operating on Broadway!  The current production to call the Broadway Theatre home is Rodgers + Hammerstein's Cinderella.  Although this isn't produced by the Disney Theatrical Group I think it's quite fitting for this important historical building.
Walt Disney's dreams did come true.  One might say it all started with a Mouse on Broadway…
I'm so excited to be a part of the Fastpass To History Blog Hop hosted by Frontier Station ! Each week this blog hop provides access to a variety of Disney history facts, photographs, and more – giving us all a Fastpass to history!  If you love Disney history, you'll love Frontier Station!  It's filled with many wonderful Disney history posts!  Here's the link to take you straight to their home page.  
http://www.frontierlandstation.com/