It's shocking, I know.  How could a three-year old little girl chose to celebrate her birthday with Princess Belle over Queen Elsa from Frozen?
If you read my blog posts over the past week, then you know my daughter had a Princess Belle themed party to celebrate her third birthday.  She had a wonderful time and is still talking about it this week.  Yesterday on the blog, I had a lovely guest comment on the birthday party simply stating that she wishes her nieces would choose a party theme like Beauty and the Beast.  However, her nieces are obsessed with the film Frozen, so that's going to win for the party theme this year.
I get it.  My daughter is crazy over the Ice Queen and her sister too.  She sleeps with both an Anna and an Elsa doll.  She wears a different Frozen-themed t-shirt to match her Frozen-themed underwear just about every day.  The Frozen soundtrack is on repeat in my SUV.  So what's up with the birthday party choice?
Magic!
Walt Disney World is an amazing place, filled with real-live Princesses, dancing mice and giggling bears.  HOWEVER, by themselves, whether in a storybook, on a movie screen or even walking around in a park, they fall short of true MAGIC.  True magic is the stuff you feel when your toes twinkle, your heart soars, and you know something special is happening.  True magic happens with an experience.  My daughter experienced a few precious moments with Princess Belle at Walt Disney World within the Magic Kingdom's New Fantasyland.  In those moments she fell in love with Belle's dress, her gloves, her twirl and of course her kindness and beauty.  This was all before she ever saw the film Beauty and the Beast.  And to think, we almost "skipped" this moment.
Enchanted Tales with Belle
I should clarify.  We almost "skipped" this attraction experience.  My son, Gavin, is seven years old.  For seven years, my husband and I have looked for Captain Hook, Peter Pan, Handy Manny, Mickey Mouse and the gang, and a few other classic characters.  Not once did we give a thought to stop and visit a Princess.  Then along came the Fantasyland Expansion project, complete with Enchanted Tales with Belle.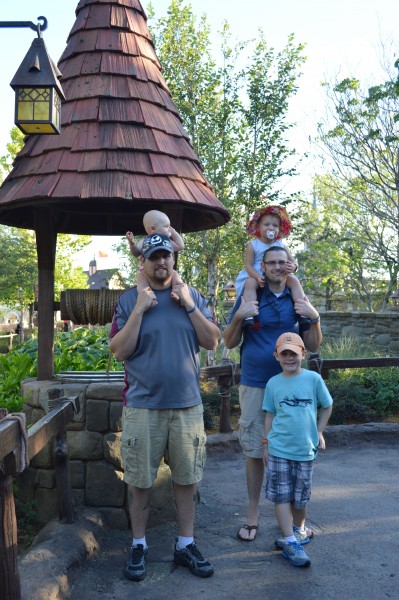 Enchanted Tales with Belle opened its doors to the public in December 2012 and I admit that during our first trip to the Enchanted Forest we skipped right over this attraction.  Maybe it was out of excitement for the Voyage of The Little Mermaid attraction or eagerness to eat at the Be Our Guest Restaurant, or quite possibly the thought, "I'm not waiting in THAT line to see Belle ", regardless we walked right on by Maurice's cute little home.   Luckily my parents, whom had taken the time to experience the attraction, scolded us and ushered the entire family of 13 to visit Maurice's cottage during our following trip in the fall of 2013 and then again in January 2014.  Our first visit was spectacular and Belle became a quick favorite.  However our last visit was unsurpassable.  What an experience it was!
Today, I'd like to share with you a brief overview of this attraction in hopes that you take the time to plan into your vacation schedule this opportunity to create an amazing magical memory.
When entering the Magic Kingdom's New Fantasyland, you'll find nestled among welcoming trees and surrounded with creations by a true inventor, Maurice's cottage.  Take time as you walk along the path leading into the cottage to notice the many special touches that remind you that you're heading to one unique man's home.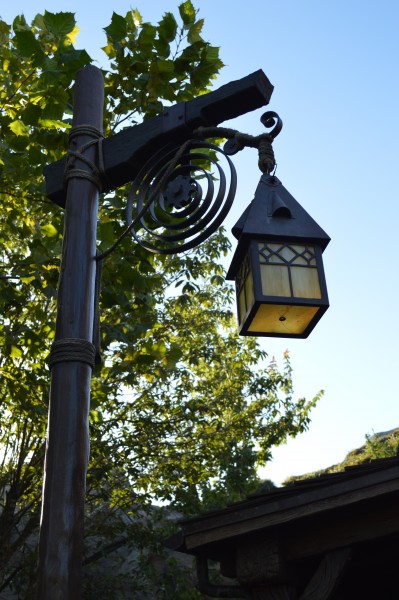 When you enter the cottage, you'll find yourself in the main room, which is a waiting area for the main event.  Now's the time you'll want to check out Belle and Maurice's home.  My favorite find in the room is a portrait of Belle as a young child with her mother!  Soon a cast member will usher you into Maurice's workshop complete with gadgets and gizmos of plenty! (a nod to Ariel that I couldn't resist)  A few moments later you'll be magically transported to Beast's castle, where children and adults take part in performing a story for non other than Belle.
Madame Wardrobe will BLOW YOUR MIND!  She'll fool any adult into believing that she's a living, breathing wardrobe.  She interacts with the guests in the room and helps the new performers prepare for their big moment.  Once the actors are spot on in their roles, all the guests walk into the Beast's library to get in place for Belle's big surprise.  Now if you agree that Madame Wardrobe is pretty amazing, you'll be in shock when Lumiere shows up.  You have to meet him!  You'll spend a least a portion of your time trying to figure out how he works.  For a few adults I have to say he stole the show!
However, for the children ready to strut their stuff when Belle enters the room, a bit of stage fright can occur in a mere second.  Nonetheless, the lights turn on and it's showtime!  Here's where magic is made.
A little Chip hops up to Belle…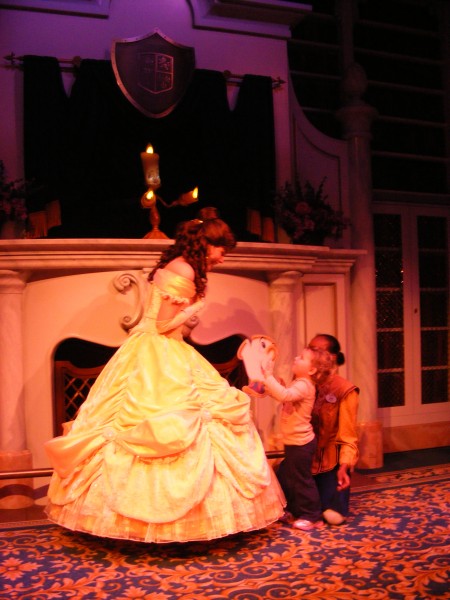 That was it!  That was the moment where magic happened and Belle defrosted the Ice Queen and took the throne in my daughter's heart.
It happened in just a few seconds, but what a few seconds there were!  Shortly after, Belle posed with each child for a photo and gave them a bookmark to remember their meeting.
Let me just say, she didn't need a bookmark…
You never know where Magic will happen.  It seems to be that these moments happen when you least expect it.  If you're planning a trip to Walt Disney World, live in the moment, slow down, take your eyes off your map and phone. Look around you.  A moment of Magic can strike at any moment!  I hope you make time on your Walt Disney World vacation to visit Maurice's cottage.  It's an experienced you won't forget!