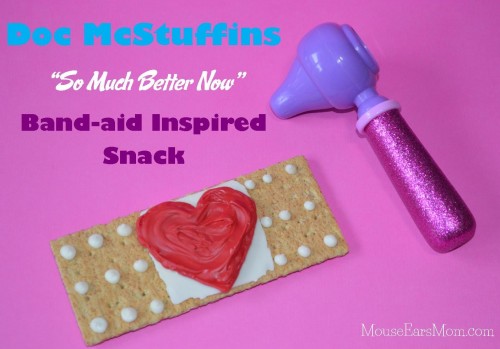 Do your kids love to watch Doc McStuffins?
My daughter has finally let Frozen GO and moved on to her new "favorite" Disney show, Doc McStuffins!  We start every morning with at least one "check-up", followed by the request to watch "Time for a Check-up!" and then back to giving anything within a mile radius a check-up.  I have to admit, I think she's adorable when she sings the Doc McStuffins theme song as she runs around with her "doctor tools" and I can't help but love that she says she wants to be a doctor when she's bigger. So last week, I decided to make her a Doc McStuffins inspired treat to share at a play tea party with her little cousins.
Graham crackers are a popular snack in our family, so I used a graham cracker sheet as a base to make a band-aid that's "so much better" to enjoy than a real one!  If you have an aspiring doctor in  your home and would like to know how I made the treat, here is a step by step tutorial!
You'll need the following supplies.

Red chocolate melts

White chocolate melts

Make and Mold small squeeze bottles

Graham crackers

Paper and wax paper
Create a Band-Aid Template

Using a graham cracker to trace, create your band-aid template on a white sheet of paper. Once you're done, place a sheet of wax paper on top of the drawings.  I placed both the wax paper and the white paper on a cookie sheet.  The cookie sheet made it easy to transfer the hot pieces of chocolate into the refrigerator for cooling.
Create the "cotton" white center of the band-aid.
Melt the white chocolate.  Using the melted chocolate, create a white square. I used a knife to smooth it out.  Once the chocolate has cooled and hardened, flip it around so that the smooth side is up.  To adhere the square to the center of the graham cracker use a few dots of hot white chocolate.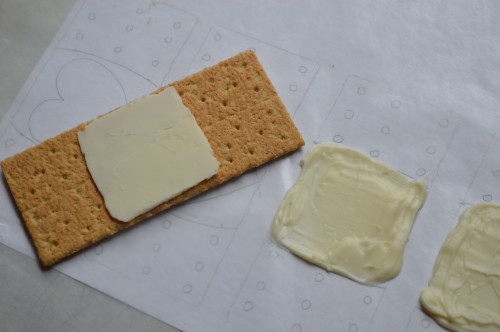 With the remaining melted white chocolate complete the bandage look by using the squeeze bottle to create the dots.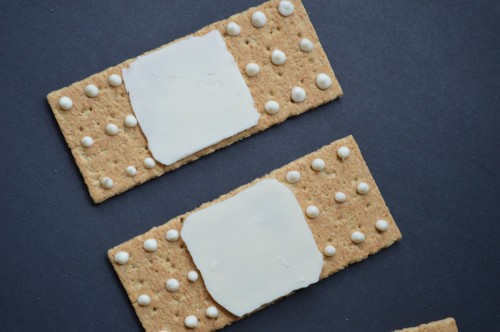 Create a red heart with red chocolate melts.
Add red chocolate candy melts to the second squeeze bottle and melt them in the microwave.  Once the chocolate is completely melted, make a read candy heart with the use of your band-aid template.
My daughter, Victoria, shared these treats with her brother and cousins.  Since we were making them for boys and girls, she had me add sugar sprinkles to the girls' hearts!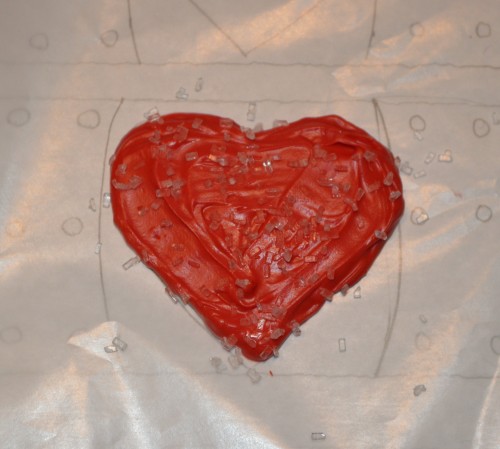 After hardening, secure the red heart to the white chocolate square with a few drops of red melted chocolate.
That's it!  I hope your aspiring doctor enjoys the treat too!
Do your little Mouseketeers love Doc McStuffins too?  Have you made any themed treats for Disney Junior shows?  If you created one for your blog, please feel free to add your Disney Junior treat idea post's link in the comments below!