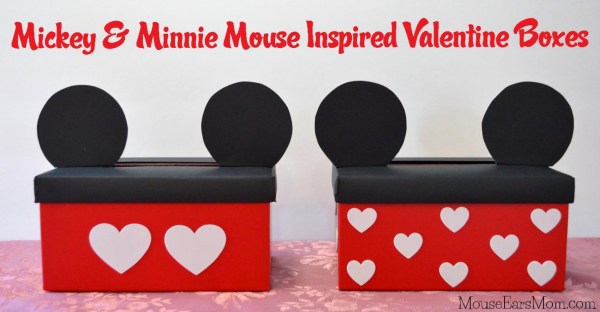 During this past Christmas season my kids loved counting down to Santa's big arrival using various advent calendars.  They quickly hopped out of bed each morning and the opening of doors, boxes and pulling little plush characters from pockets began. But now it's over and depressing January is upon us.  Victoria has resorted to asking me daily when Santa will be returning.  So to combat the January blahs, I made these Mickey and Minnie Mouse Inspired Valentines Boxes to use each day as we celebrate the days counting up to Valentine's Day.
Yay! Valentine's Day is only one month away!
The idea is that each day the kids leave a special note to each other each night for the first two weeks in February and Mommy and Daddy leave them each a small Disney surprise inside their boxes. Last weekend, I shopped at Dollar Tree store and found a ton of great Disney branded items, including Valentines! Here are a few of the things I found. I was thrilled to find all of the Frozen-branded, Princess-branded and even Star Wars-branded items!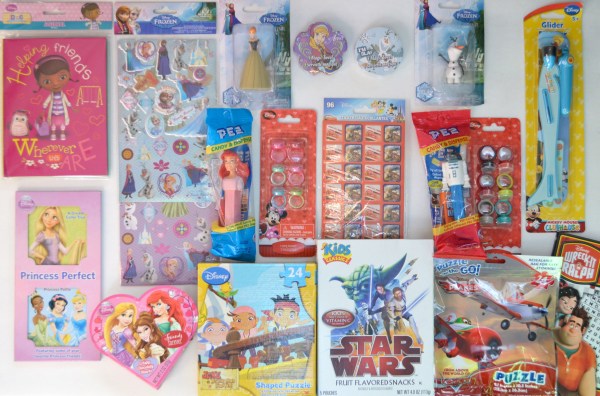 Every one of these items fits nicely in the kids' surprise boxes too!
If you'd like to join in on the fun and make your own Mickey and Minnie Mouse Valentine boxes, here's how I made them.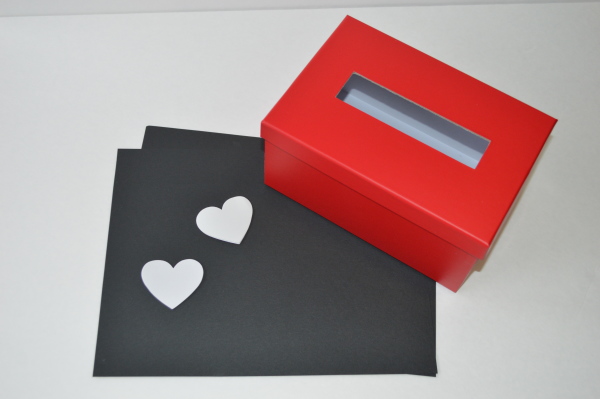 Supplies for Mickey:
"Celebrate It" brand mail box (Or any red box that has a lid you can cut a slot in.)
2 sheets of black card stock
2 heart stickers (Part of a bag of stickers that included the small hearts used for the Minnie Mouse box. I purchased the sticker bag for $1 at Dollar Tree.)
Glue Gun
Scissors
Since the box I chose to use was already red, all I had to do was wrap the lid in black card stock.  To make sure that the wrap was tight, I used a hot glue to keep the card stock in place.
Next to make Mickey and Minnie inspired ears, all you have to do is trace the top of an average drinking glass, but flatten the bottom of the ears by adding a little flap to fold over. Wanting to make sure they stay put, I hot glued them onto the top of the box. (See photo below.)
Add the stickers and you're done!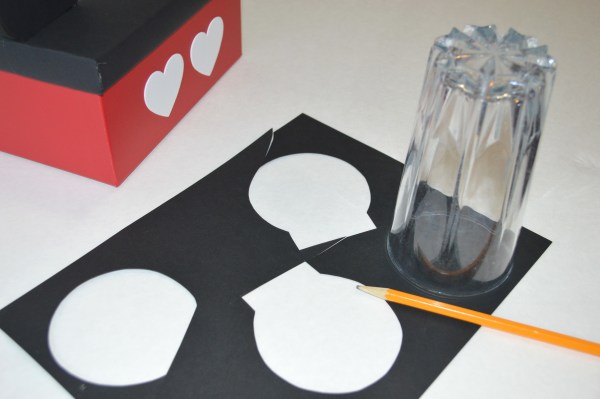 I'm hoping the kids will enjoy this daily celebration of our family's love for each other.  I'm certain the kids will enjoy the daily Disney treats but personally I'm looking forward to reading Gavin's kind hand-written "nice" notes to his baby sister and Victoria's "surprise" valentines to her big brother. Victoria has started making her Valentine's already!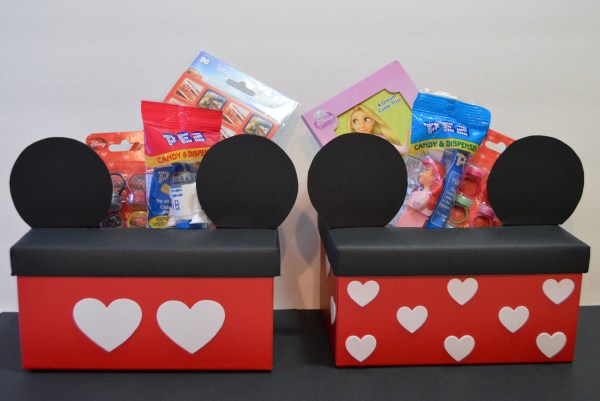 Have you started celebrating Valentine's Day yet?