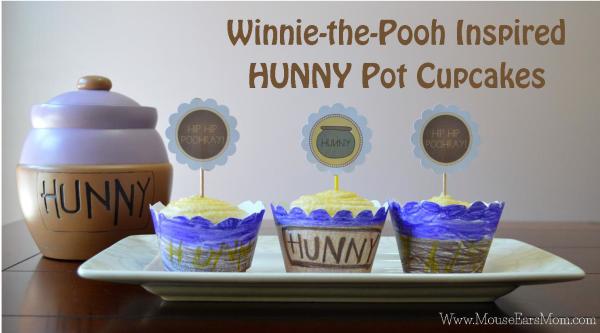 Today's National Winnie-the-Pooh Day!
On January 18th, in the year 1882, A.A. Milne, the creator of our beloved "Silly Old Bear" was born. Across The United States, we honor his birthday as a celebration of his most cherished character, Winnie-the-Pooh.
Is there a better way to do that than with a "Smackeral" of HUNNY Pot Cupcakes?
This weekend the kids and I are watching a few of our favorite Winnie-the-Pooh movies (Pooh's Heffalump Movie is my personal favorite!) and celebrating his birthday with not just any old piece of cake. Victoria and I baked Honey Cupcakes with Honey Cream Cheese Frosting!  Sounds yummy, doesn't it? The recipe is by Lauren Kapeluck and can be found on The Cake Blog.com.  Here's a link to take you directly to her recipe for both the cupcakes and the frosting!
With any good party, you need to have a fun activity! The kids and I made "HUNNY" pot cupcake wrappers to give the special treats a proper presentation.
I came up with the idea to make them with Victoria (my 3 years old daughter) while her big brother, Gavin (7 years old) was at school.  I was thrilled when he came home, saw what we were doing and wanted to make a few cupcake wrappers too! Being a "big" school boy now, I wasn't sure how our latest theme for family weekend movie night would go over. Surprisingly, he enjoyed it as much as his baby sister!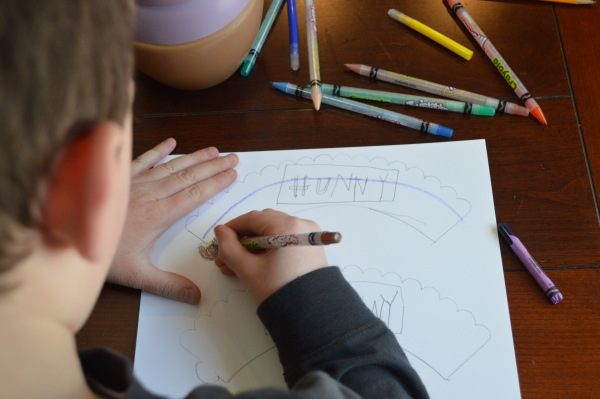 Here's a template for you to design your own "HUNNY" pot cupcake wrappers with your children!
Cupcake Toppers
Stacy, the author of the Fancy Shanty blog, created the adorable cupcake toppers we used on top of our cupcakes.  She has a full line of free Winnie-the-Pooh party printables that are PERFECT for any Pooh Bear party!  Visit her blog to check out the adorable movie tickets, banners, cupcake toppers and honey pots!  Here's the link to her printables:
Fancy Shanty's Pooh Printables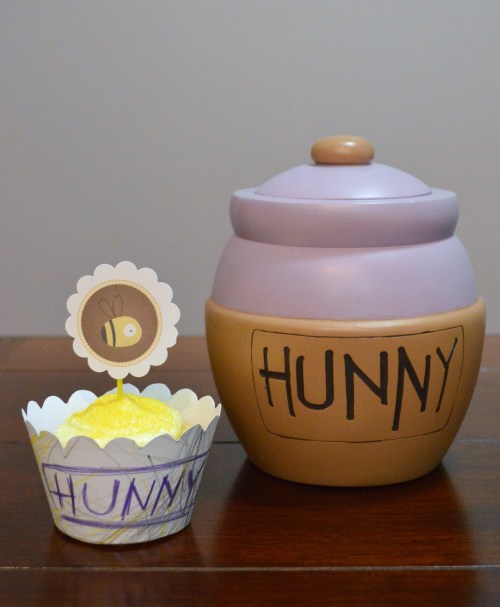 Before you run off to start baking your own honey cupcakes and planning an adventurous day full of smackerals and such, I'll leave you with a bit of wisdom from our friend, Pooh.
"When you go after honey with a balloon, the great thing is not to let the bees know you're coming." – Winnie the Pooh
Happy National Winnie-the-Pooh Day Everyone!