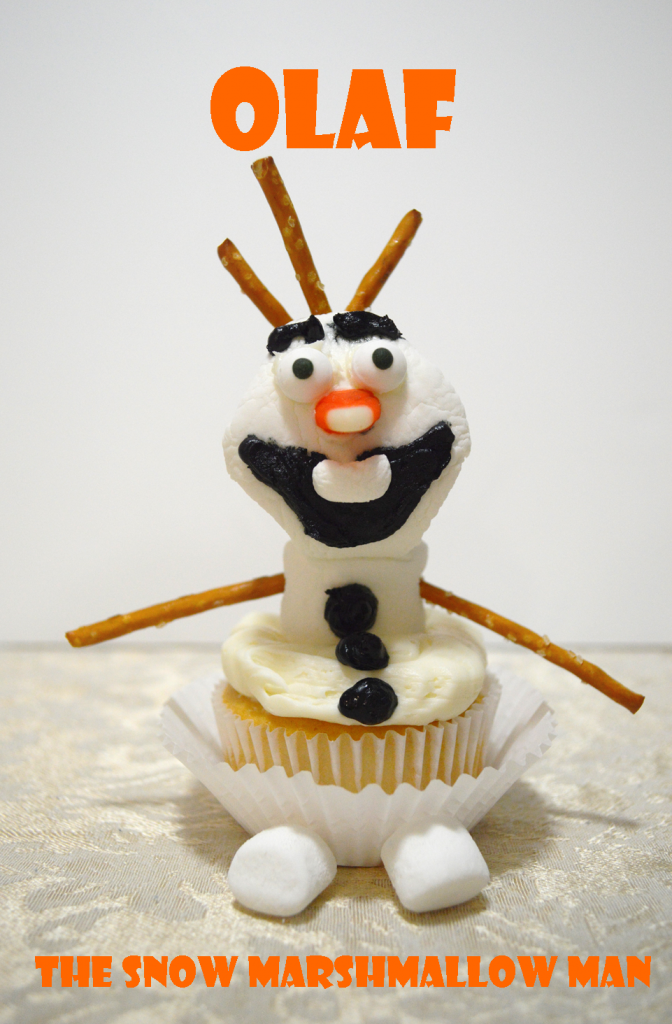 Olaf Welcomes Winter
Last night the weather was a mess in Pennsylvania.  We started to get rain in the afternoon which led to sleet and then snow.  Needless to say, we decided to stay inside where it was cozy and warm.  The kids love watching the snow fall outside and at the sight of a single snowflake they ask if they could build a snowman.  Even if there isn't enough snow to cover the ground yet, the kids want to rush outside to get to work.  As a wonderfully warm alternative the kids and I made snowmen inside!
My six-year-old little man, Gavin and I went on a movie date to see Disney's Frozen on opening day. If you haven't seen it yet, there's an adorable little snowman in the film named Olaf.  Warning, he's going to steal your heart! Olaf was Gavin's absolute favorite character in the movie, so of course he wanted to build an Olaf snowman.  He was so excited about the idea of a cupcake marshmallow snowman, that he completely forgot about the snow falling outside!
So, I made some white cake cupcakes.
Then I set up a snowman making station on our dining room table.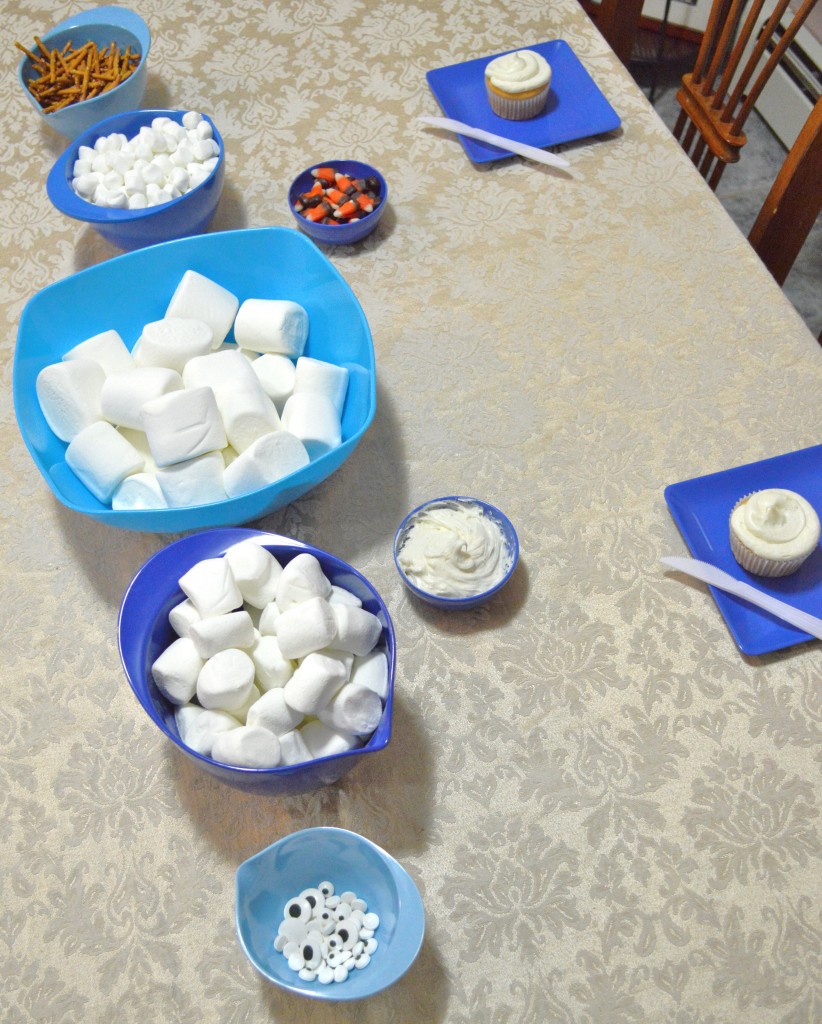 It included miniature marshmallows for his feet. We used cupcakes for his snow ball bottom.  Regular sized marshmallows for his belly and oversized marshmallows for his adorable oversized head.  I had some leftover eyes from our Monster cupcake making station.  Check out our Monsters Inc. Inspired cupcakes here:
http://www.mouseearsmom.com/2013/06/21/monsters-university-cupcake-creations/
We also used pretzel sticks for arms and hair and left over Halloween candy corn for noses.  To stick everything together we used icing and pretzel sticks.
Gavin got straight to work.  He absolutely loved making his Olaf.
Victoria promptly began eating snowman building parts and had no interest in building.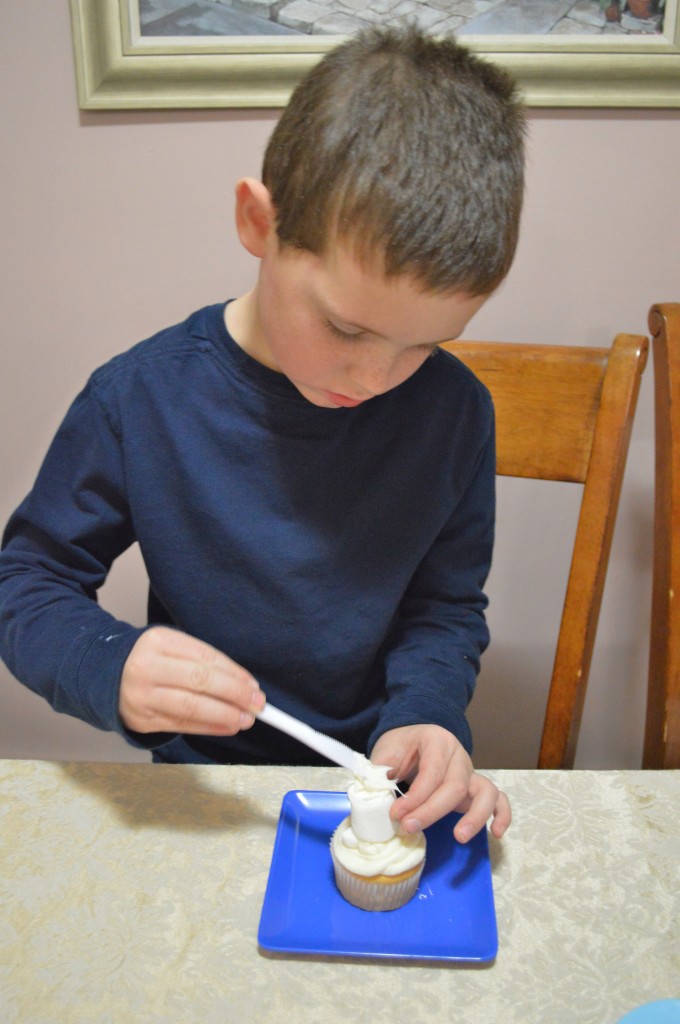 This is Gavin's Olaf inspired cupcake before he was partially eaten.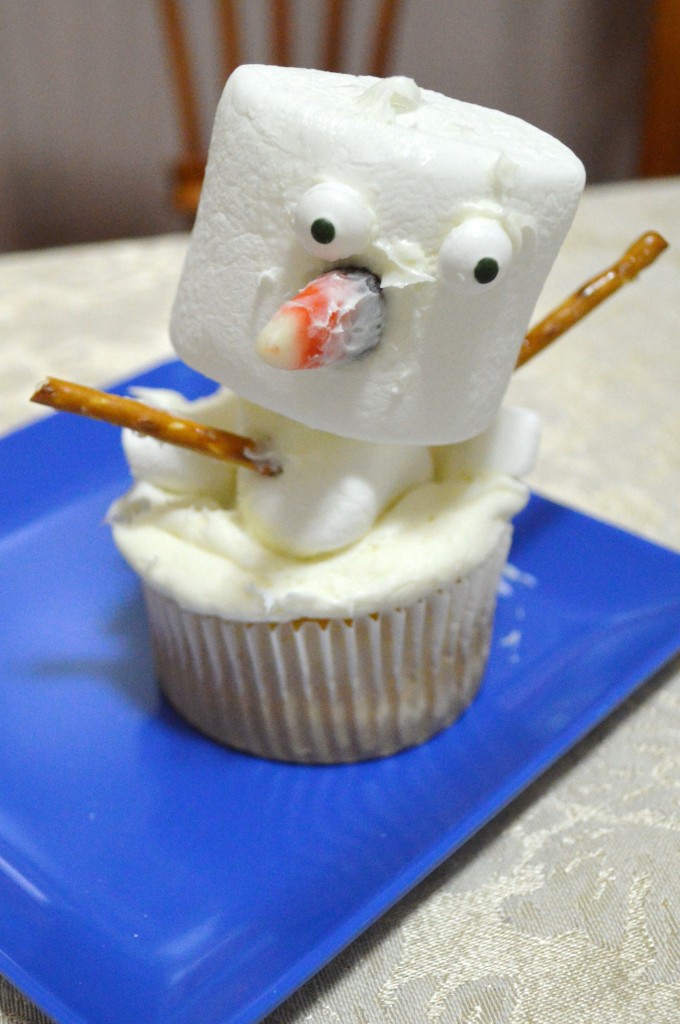 Marshmallow Cupcake Olaf was quite a sugary snack so I limited Gavin to only eat half of his Olaf.  My Olaf Inspired cupcake is at the top of the page.  Neither of our Olaf cupcakes look exactly like they walked off the movie screen, but we sure giggled as we challenged his marshmallow pieces to stay together.
If you're having yucky weather this weekend, but wish you could be outside playing, consider making an indoor Olaf snowman with your kids.  Just mention the idea to your children and I promise their eyes will light up like magic and Olaf induced giggling will soon follow.
If you haven't seen Disney's Frozen yet, you can check out my review here:
http://www.mouseearsmom.com/2013/11/28/a-moms-review-of-disneys-frozen/