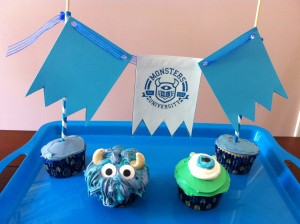 As school came to a close this June, we couldn't be more excited to jump into a new semester at Monsters University!  My son, Gavin and I decided to design some cupcakes to look like students we might meet at MU.  Off to Wegman's bulk candy department we went to collect our supplies before making our creations.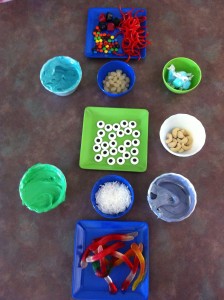 With licorice, M&M's, candy eyes, jelly beans, cashews and lots of blue, purple and green icing in hands, we were ready to create Monsters University's newest students.  My Sulley inspired cupcake was created using cashews for horns, Wilton candy eyes and lots of blue and purple icing.  Mike's cupcake was made using green icing, a large squirt of white icing, topped by a small squirt of blue icing and a mini brown M&M to complete his eye and his little horns were made by cutting a Jelly Belly Cream Soda jelly bean in half.  I don't think decorating a cupcake could be any easier!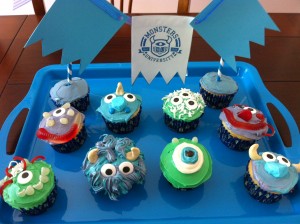 Disney Pixar movies are the most creative and inspiring films to watch.  I hope these inspired monsters will inspire you to go out and make your very own Monstrously sweet cupcakes!