To some they're just scribbles…to others they are works of art.
I love to see my children creating.  I encourage any little creative spark I see within them at that very second I notice them reaching for a crayon.  I try my best to display and not throw away any of their artwork, but coloring sheets can be overwhelming.  Victoria, my two-year old, can go through three sheets in a sitting.  I have to admit that not all of them have made it to the refrigerator display.  Today I decided to channel her love of coloring into creating cute little Easter gifts for members of our family that I know will appreciate them as "Works of Fine Art"!  Here's how we made them…
Victoria and I began by getting out her Mickey Mouse Clubhouse coloring book.  She picked her favorite coloring sheets of Minnie Mouse and got straight to work.  If you'd like to try this too, any coloring book will do.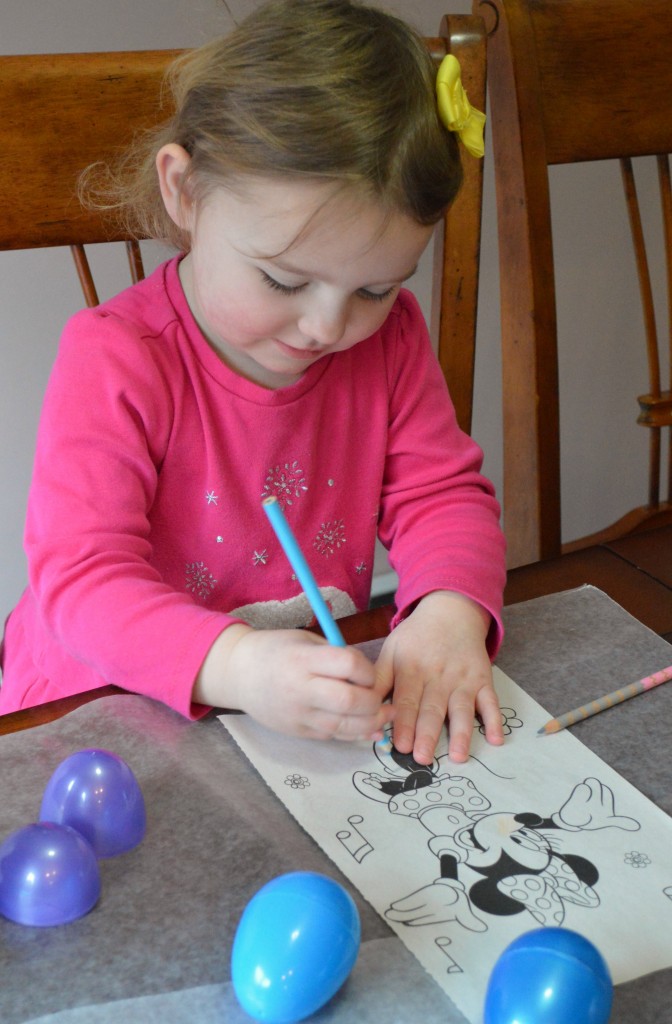 Once she finished coloring her sheet, I cut the paper down to 4.5 inches from top to bottom and kept the width at its original size.  We used extra-large eggs for this project so the eggs used the entire width of the paper.
Before we used the Mod Podge, I cut slits into the top and bottom of the sheet.  This allowed the egg to be covered a tiny bit easier.  Then the messiness began, aka Mod Podge.  Victoria took this step very seriously.  Finally the yuck factor became too overwhelming for her and she announced "Mommy, you do, I watch" for the remaining egg. 
And that's it!  After the eggs were dried, I hot glued a little pink bow on to each.
I hope that you enjoyed reading about our Easter Egg craft.  This craft was perfect for my little two-year old, Minnie Mouse fan, but I think it would be a great project for older elementary education kids too!  The ideas for Mod Podge on plastic eggs is endless!
I hope you enjoy your weekend and it's full of creative fun!