"You're a Grand Mickey Flag…"
Here's a fun Mickey inspired way to celebrate Independence Day!  Below you will find the five easy steps, with photos, to make this pennant just in time for your 4th of July party.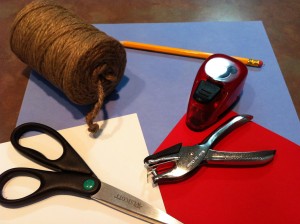 1. Gather all your supplies.  You'll need, red, white and blue card stock, a pencil, scissors, standard size hole puncher,  a Mickey Mouse craft punch, jute twine and your favorite form of adhesive.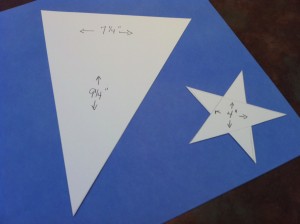 2. Create a template to use for each triangle shape flag and star.  You could easily do this using the computer, but that takes ink, so I chose to make them by hand.  The triangle is 7 1/4″ wide, by 9 1/4″ long.  The star is 4″x4″.  Once the flag template is cut, use it to make four red flags and four blue flags.   Then use your star template to make four white stars out of your white card stock.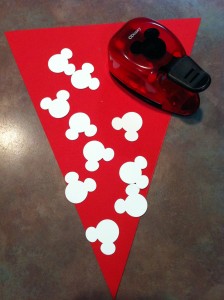 3.  Each red flag will need ten white Mickey Mouse craft punches, so  you will need forty Mickey Mouse punches.  To make the Mickey stripes on this flag, start by measuring down from the top and marking each red flag at the following measurements: 1″, 3″, 5″, and 7″.  The top of each Mickey ears row will be in line with each mark.  Lay the Mickeys out as follows- 4 Mickeys at 1″, 3 Mickeys at 3″, 2 Mickeys at 5″ and 1 Mickey at 1″.
4.  Now is the time to start adhering the Mickey's to the red flags and the stars to the blue flags.  For placement of the stars, measure down from the top 1″ centered.  Make a small pencil mark at that spot, prepare the star to line up with the mark.  I like using my son's craft glue stick for projects like this.  It's a lot less expensive the scrapbooking tape and I love how it dries clear and cleans up with a little bit of water if I get it on the table.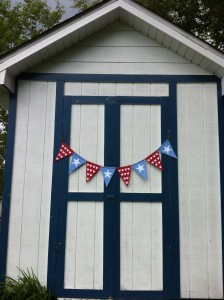 5. Last but not least, using your hole puncher, punch a hole on the top right and left side of each flag.  Then string your twine, through the holes to connect the flags together.
Now just hang where ever you chose!  I hope you and your family enjoy a happy and safe Independence Day!