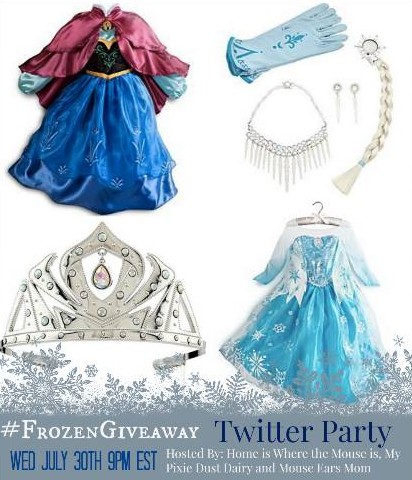 Queen Elsa has Frozen the blog today, so I'm heading over to Twitter tonight to help host a #FrozenGiveaway Twitter Party!
You're invited to join my favorite Disney-Inspired blogging friends and I tonight, Wednesday July 30th at 9:00 pm Easter Standard Time for a Frozen Twitter Party!  Is this your first time invited to a Twitter party?  Well, here's the details so you're in the know!
Lynn from My Pixie Dust Diary and I are going host this fabulously frozen hour full of fun Frozen conversation, questions, and Frozen themed prizes!  To participate, simply follow Lynn and me on Twitter.  When you are tweeting in conversation with us, make sure to use the hashtag #FrozenGiveaway.  Lynn will be asking Frozen related questions throughout the hour.   When answering her questions, you'll send your answers directly to me by including me in the response (@a2zdisney).  I'll be picking the winners of the fun Frozen themed prizes!  Sounds fun, right?
If you have any questions, please let me know!  I'd love to see you at the party!
As a reminder, if you haven't entered the "Frozen-in-Summer Wardrobe Giveaway" yet, here's the post with the enter to win details!
http://www.mouseearsmom.com/2014/07/27/frozen-giveaway-is-your-daughters-wardrobe-frozen-yet/
Have a Magical Day!