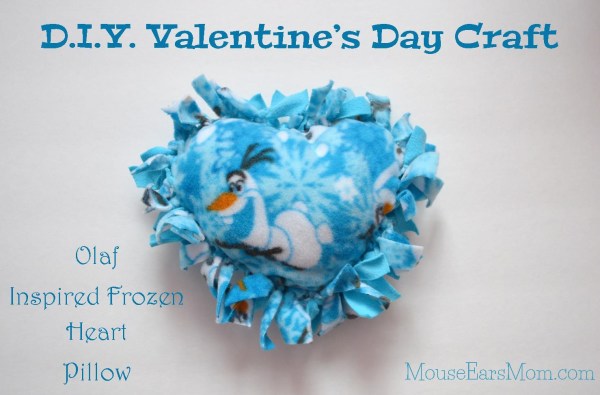 Looking for a fun and inexpensive Frozen-Inspired Valentine's Day craft to make with your children?
At JoAnn Fabrics this past weekend I found adorable Frozen themed fleece on sale for 40% off! With Valentine's Day just around the corner I thought it would be cute to make a miniature (5.5″ wide x 7″ high) "Frozen" heart pillow with the kids.  After completing this one, Victoria, my three-year-old daughter, snatched it up for her Bitty Baby doll to use and Gavin, my seven-year-old son, immediately wanted to make one "all on his own." How could he not? Don't we all love this warm hug-loving little snowman?
I'm not the first person in the world to come up with the idea of a "no-sew" heart pillow. In fact, a quick Google search of "no sew heart pillow" will give you a ton of tutorial options to read. Regardless, I've included my tutorial in this post to give you some insight on how we made our pillow.
Supplies
Disney licensed material of any type is significantly more money per yard than your typical run of the mill fabric. So for this project I decided to use the licensed character fleece on one side and a generic blue on the opposite side.  In addition, if you're planning on following my directions for this project to make more than one pillow, note that you'll need more of the Olaf print than the blue fleece. Why? Due to the character placement on the fleece, you will end up with a pillow that doesn't have Olaf's face represented and instead you'll have Olaf's feet or a partial face. It's important to decide what images you want shown on the pillow and measure out from there before you start cutting.
Here are the exact sizes and supplies I used for making one pillow.
8″ x 7″ hand drawn heart template cut out of card stock
Measuring tape
Fabric scissors
Marking tool – I used a fine tip marker but a fabric pencil would have been easier.
18″ x 14″ piece of fleece "Olaf Winter Snowflakes Scene by Disney for Springs Creative Products Group, LLC. (NOTE: This material is for noncommercial home use only.) Why this large? If you are choosing to make multiple pillows, I found that allotting this size piece will guarantee at least one Olaf image as a focal point for the pillow.
14″ x 13″ piece of complimentary-colored solid blue fleece
Polyester Fiberfill
10 Simple Steps Tutorial
1. Using the heart template that you drew out of card stock, decide how you'd like the pillow to lay out. Below is an example of how I started. (However I chose to go larger as the original cookie cutter idea was way too small.)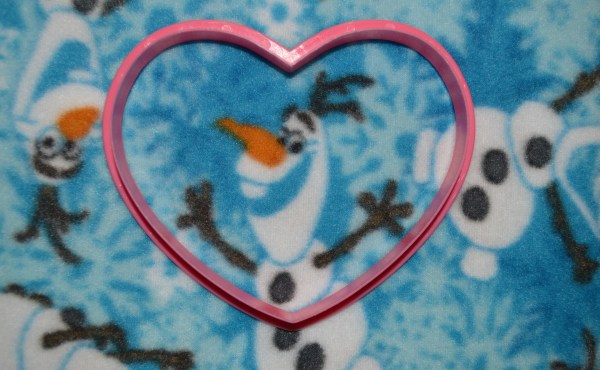 2. Draw your heart outline onto back side of the Olaf fabric using your template.
3. Measure three inches from all sides of the heart to create an outside heart image around the originally drawn heart.  (This three-inch border will be the area that you'll need to mark and then cut for knotting.)
4. Cut an equal size heart out of the solid blue fleece. I did this by tracing my Olaf fabric heart after I cut it out.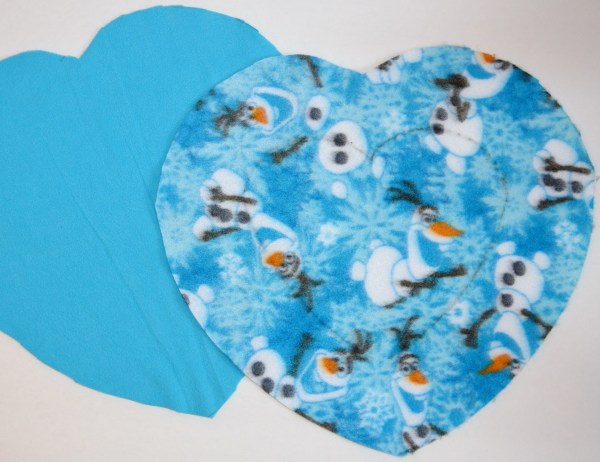 5. Using your measuring tape and marking tool, mark off 3/4″ to 1″ pieces around the perimeter of the heart. They will act as guide lines to follow when creating your fringe to later knot.
6. With the two pieces of fleece fabric placed on top of each other, cut three-inch strips into both layers of fleece at the same time.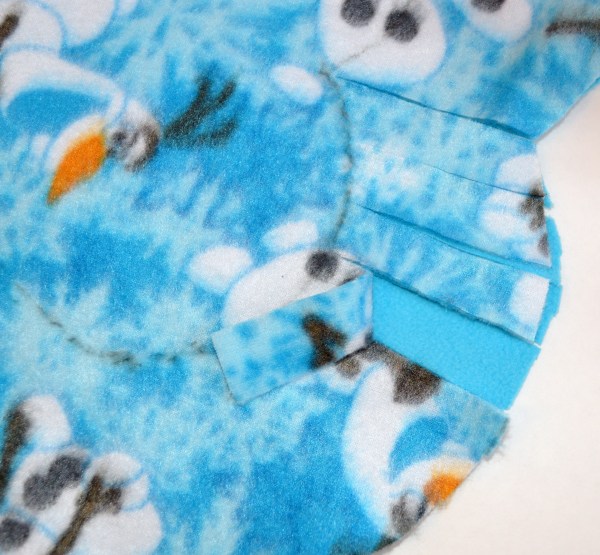 7. Continue to cut three-inch strips from the outside of the heart to the center heart marking until you've cut the entire outside heart.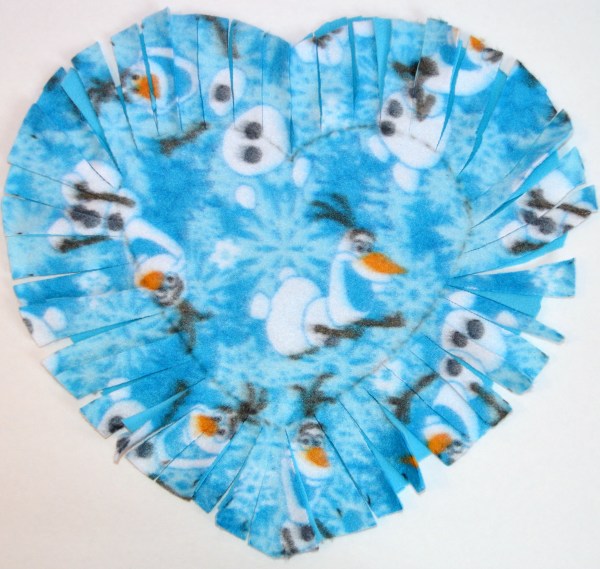 8. Start knotting!  Making sure that the correct side of the fabric is facing outwards, double knot each strand from the top fleece to the bottom fleece, stopping only when there is a about four or five strands left to knot.
9. Stuff the heart with Polyester Fiberfill.
10. Double knot the remaining strands and you're done!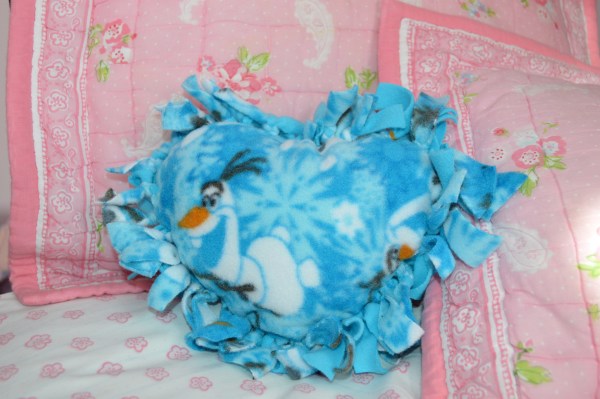 Although this little Valentine heart is frozen blue, I'm sure the hug-loving snowman on the outside will warm up the heart of your child this Valentine's Day.
Have a great day and thanks for stopping by!