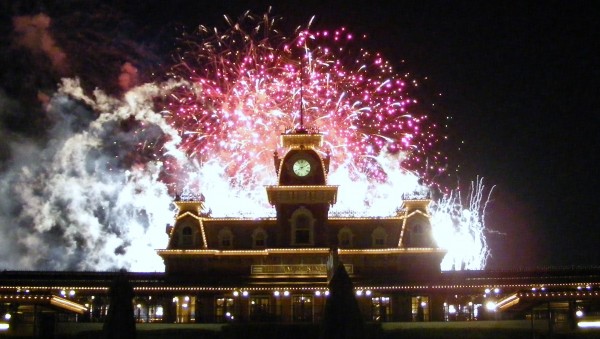 This is a photo of the train station at the Magic Kingdom.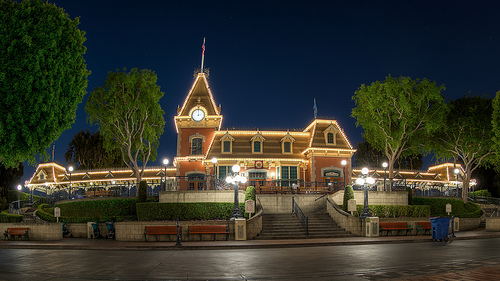 This is a photo of the train station at Disneyland.
Notice the differences in the stations? Well, that's just minor compared to these major planning differences I've stumbled upon while preparing for my family's upcoming Disneyland vacation.
This Top 10 post is designed to help Walt Disney World fanatics as they start to plan their Disneyland vacations.  Planning a trip to WDW is a piece of cake for these "special" people.  The matriarch of a Fanatic Family will walk into any one of Disney's four Florida theme parks and reach for a map for the sheer purpose of seeing the latest fun graphic on the front and then stashes a few in her bag just because they're pretty.  The members of these families do not need maps.  The attractions, parade routes, restaurants, shops and even the rest rooms locations are already etched into their brains.  It is for these families, like my own, that I write this post.
Does this sound like your family?
As I mentioned, my family is included in this group.  We LOVE Walt Disney World and vacation there at a very minimum, once a year.  HOWEVER, our curiosity got the best of us and we booked a DISNEYLAND Resort vacation for the fall…for all 13 of us.
I'm the planner of my family.  For a typical WDW vacation, I make lists, upon lists and I've even made lists that included bringing lists.  I love planning!  I worked for a few years at The Walt Disney World Resort and know the place backwards and forwards.  Honestly I don't need to do that much planning or list making for a WDW trip, but I believe that it's part of the fun!  Needless to say, I'm having a blast planning for a trip to a kingdom I know very little about.
One thing I learned quickly was that there are many differences between the East Coast and West Coast Resorts.
Here are my Top 10 Disneyland Vacation planning differences that a Walt Disney World Fanatic must know to be prepared!
Transportation to the resort:  If you are flying to Disneyland plan on taking care of your own ground transportation.  The Disneyland Resort does NOT offer Magical Express.
On Disney Property Hotel Options: If you prefer to stay on Disney property when you visit a Disney theme park, be prepared that there are only 3 Disney owned hotels to choice from at the Disneyland Resort.  All of these hotels, I believe, would be listed as deluxe resorts at Walt Disney World, so expect a high price tag for these rooms.
Tickets: Ranging from 1 day to 5 days maximum, these tickets will all have an expiration date printed on them.  Once you use the first day on the ticket, the remaining days will expire in 13 days.  Multi-day tickets also include "Magic Morning" options.  Magic Morning allows early admission into the Disneyland Resort Parks, meaning this is not a perk that is exclusive to on-property hotel guests.  In addition, at this point, Disneyland Resort does NOT use MagicBands.  Paper tickets are in use.
Property Size & Layout: The Walt Disney World Resort is located on 42,000 acres. The Disneyland Resort is located on 510 acres.  To compare park size- Disneyland Park is 85 acres and Magic Kingdom is 107 acres. The other attraction areas are as follows:  Disney's California Adventure Park is 67 acres and Downtown Disney is 20 acres. As you can imagine, this changes planning quite a bit!
Transportation within the Resort:  Due to the property size, when staying within The Disneyland Resort, there are no buses or boats to take you to the parks.  You simply walk out your resort door and walk to the park entrance!  Talk about a time saver!  Disneyland does have a monorail and it has two stops: Downtown Disney and Tomorrowland within the Disneyland Park.  Be Prepared! You must have a valid theme park ticket to ride the monorail!
Bringing Food into the Parks:  The Disneyland Resort offers a picnic area outside of its theme parks for guests to use if they chose to bring food from home.  Disneyland has clearly defined it's stance on bringing food into the parks with this printed paragraph found within each Disneyland theme park guide-map:  "A picnic area is located west of the Disneyland Park Main Entrance for your convenience.  We request that no food or beverage be brought inside either Theme Park."   I have read on-line that guests carrying small snacks into the park have not been turned away.  So use your best judgement when bringing food.
 Advanced Dining Reservations: An ADR can not be booked until 60 days before your arrival date, quite a difference from Walt Disney World's 180 days.
Parking Costs: Parking is NOT FREE at The Disneyland Resort.  Regardless if you are staying in a Disneyland Resort Hotel, you have to pay parking fees and they're hefty.  Currently self parking costs $17 per vehicle per night ($25 Valet) for a hotel guest.
Theme Park Entry Time:  On select days (unannounced) Disneyland does something called Rope Drop.  What this means is that they allow guests into the park a half hour earlier than the stated park opening time.  During this half hour time period, guests are allowed to explore Main Street before cast members drop the rope that is being held at the end of Main Street, which allows guests to flow into the attractions part of the park.  The suggestion that I have read is to always arrive at least a half hour before park opening, in case Disney decides to make that day a "Rope Drop" day.
Walt Disney History: Walt Disney had his hands and heart deep within the planning of every detail of his Disneyland.  To this day, there are still original details that were hand-picked by Walt and even his wife that are part of each guest's vacation experience.  For example, The Plaza Inn, an eatery that opened 1955 during the park's grand opening, still offering guests tasty options to this day.  It was one of Walt's favorite places to dine and his wife, Lillian Disney, handpicked the Victorian furnishings herself.
Planning a Disneyland Resort vacation is definitely a new and challenging experience that has my family and I super excited for our journey to the west coast.   I can't wait to share it with all of you through the blog. I hope if you've vacationed at Disneyland, that you'll share your planning advice with me.  I'd love to read it and I'm sure you'd help other too!
Thanks for reading the blog today.  I hope the rest of your day is magical!
Disneyland photo credit: Justin in SD via photopin cc