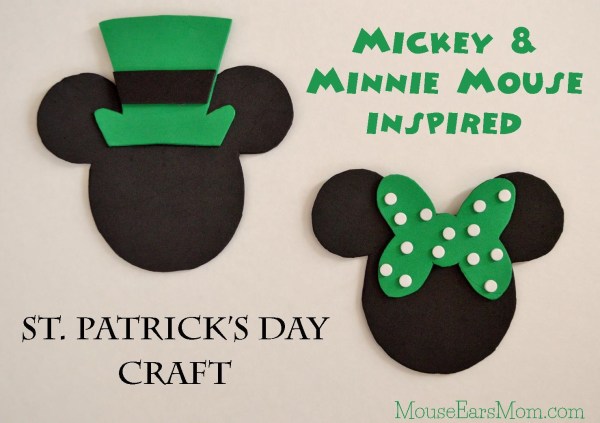 Looking for a simple St. Patrick's Day themed craft to make with your little Mouseketeer?
This week I made these Mickey and Minnie Mouse inspired over-sized magnets with a great group of 1st and 2nd grade students. The kids proudly constructed their projects in just over a half hour and I'm thrilled to report that their was little clean up left behind! With the use of glue dots and adhesive-backed foam, there were no sticky tables, fingers or clothing!
Today I'll share with you the simple craft tutorial, including a list of supplies and a printable template for you to use with your children.

Supplies:
One 8 1/2″ x 11″ sheet of black craft foam (This will be enough for two sets of Mickey and Minnie magnets.)
One 8 1/2″ x 11″ sheet of green craft foam (You'll only us about a quarter of this sheet.)
One sheet of adhesive-backed white craft foam (the smallest size sheet you can find will work)
Glue Dots Adhesives (I purchased the above package for the class to use and each child used one sheet to make the two magnets.)
Hole Punch
Four 1/2″ self adhesive round magnets (two for each mouse)
Template ~ Here's a PDF of the template I made for the kids to use.  It was drawn quickly by an unsteady hand, so no judging people.
 St. Patrick's Mickey and Minnie Template
Tutorial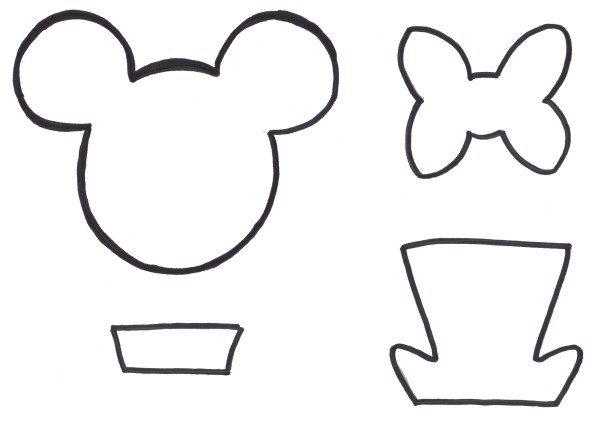 Print out the template on card stock.
Cut the four images out
On the black foam, trace the rectangular image once and the Mickey image twice, then cut them out.
On the green foam, trace the bow and hat image and cut them out.
Using a standard hole punch, punch approximately 15 pieces of the white foam.
To create the Mickey inspired magnet, attach the hat onto the Mickey by using a few of the glue dots.
Add the black rectangular piece to the green hat with two glue dots.
To create the Minnie inspired magnet, stick the fifteen white foam punches onto the green bow simply by peeling the backing off of the white foam.  Don't you love self adhesive!
Secure Minnie's bow onto her black foam head with the use of a few glue dots.
Flip Mickey and Minnie over and add a magnet to each ear. Again, just peel the paper off and stick them to the foam.
That's it! Throw away the peeled away paper and you're done cleaning up!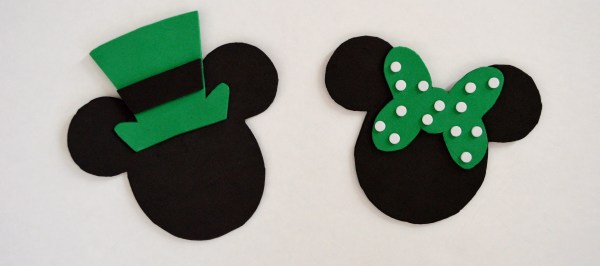 Happy St. Patrick's Day!