A Royal Baby Shower Inspired by the Disney Princesses
Last fall I had the honor of planning a Disney Princess-Inspired Baby Shower.  Of course this was immensely fun and I'm thrilled to share some of the Princess touches with you!
The Princess Shower Invitation with Insert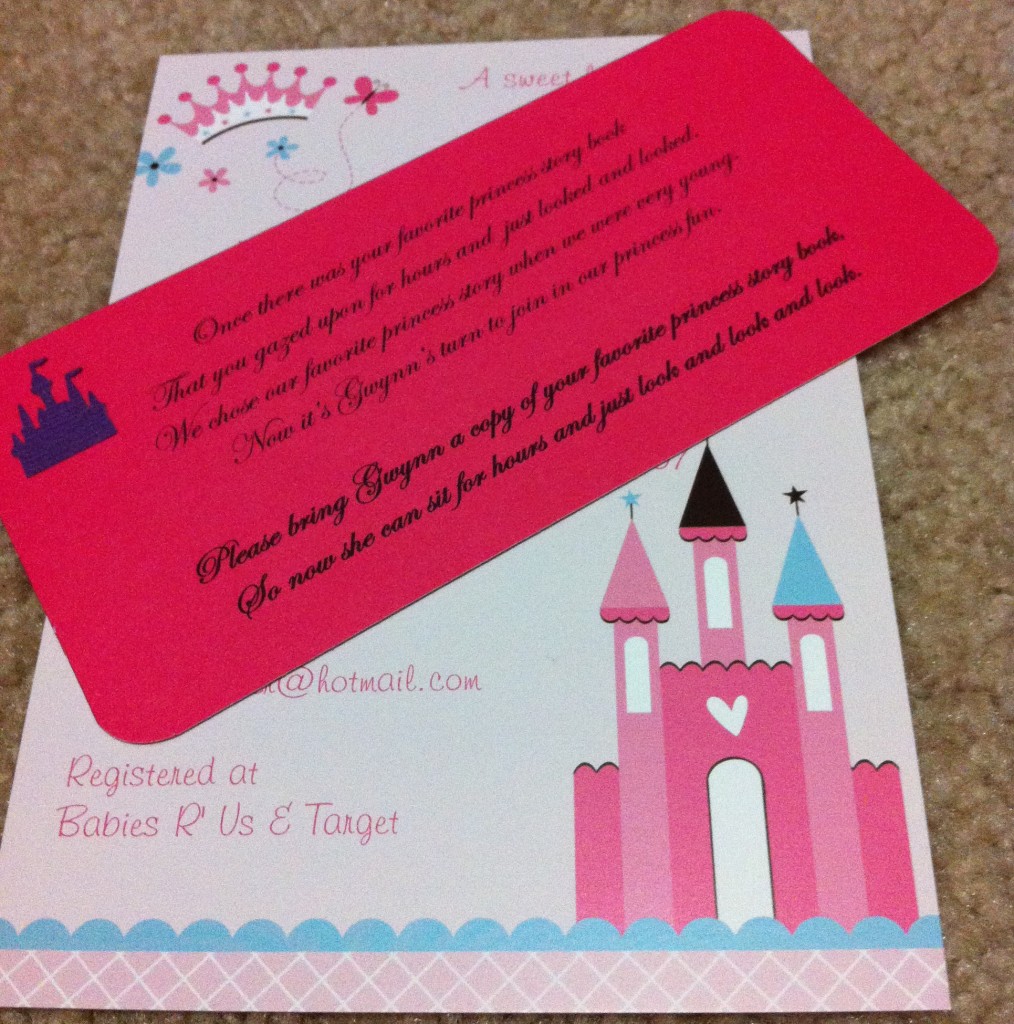 Each envelope  held a party invitation and an insert requesting each guest to bring their favorite Princess storybook.  Here is the wording of the storybook request, if you'd like to use it in the future.
Once there was your favorite princess story book;
That you gazed upon for hours and just looked and looked.
We chose our favorite princess story when we were very young.
Now it's Gwynn's turn to join in our princess fun.
 Please bring Gwynn a copy of your favorite princess story book,
So now she can sit for hours and just look and look and look.
Party Details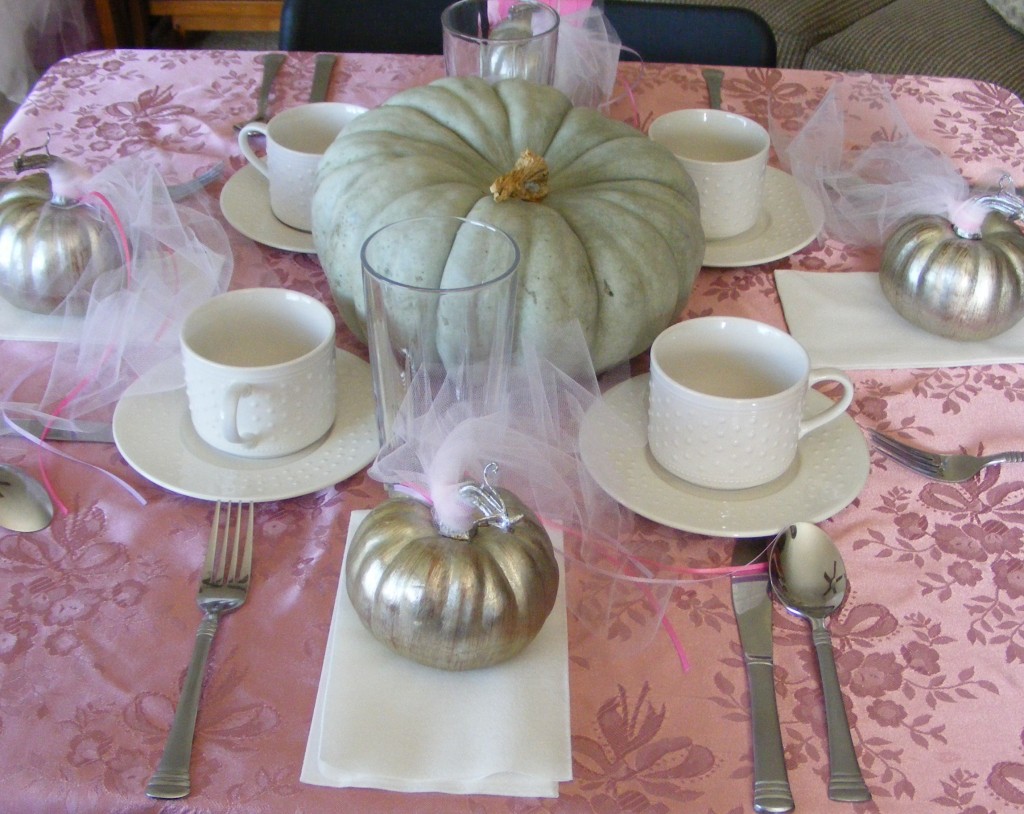 What could be a better centerpiece at a Disney Princess Shower than a Cinderella Fairytale Pumpkin? I found this beautiful centerpiece, along with multiple other white pumpkins at a local farmers market.
With the shower being held at the beginning of the Fall season, the pumpkin icon of Cinderella's coach was used for the party favors.  Guests were also given a box to gather the Princess themed sweets of their choice from the Royal Dessert Table.
Royal Dessert Table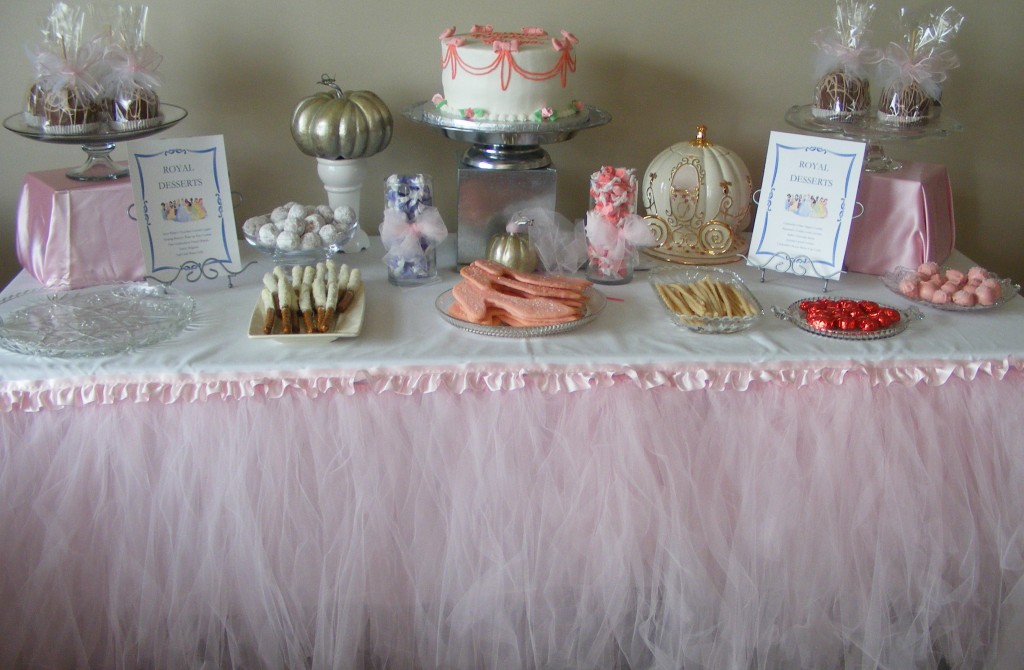 The two menus on the table told of how each treat was themed after a Disney Princess.
The Baby Princess Shower Cake
The Princess Shower Games

Onsie Upon a Time Decorating Contest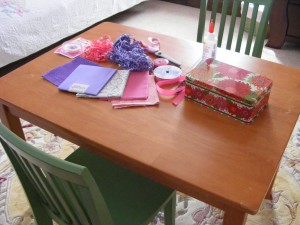 The shower took place within my little Cape Cod Cottage, so space was limited.  I decided the perfect place to host this "Game" was in my daughter's nursery.  I purchased a few different sized white onsies, added some royal scripted material to cover classic wooden clothes pins and used ribbon as a clothes line to set up the game.  Took my children's very sturdy Pottery Barn table and chairs and placed them in the center of the room.  Guests of the shower were teamed into two and given 10-15 minutes to create a "Onsie Fit for a Princess."  They used scissors, ribbon, fabric squares in the color scheme of the baby's room, some images that I had cut out ahead of time for those not wanting to start from scratch and of course Iron On material and fabric glue to make it all stick.  The Mommy-To-Be then chose the winner!
Talk about Princess Couture!
In addition to the Onsie Upon a Time Game, we played a game of Disney Princess Charades.  Ahead of the shower, I made a small personalized Princess notepad for each guest.  On the last page of the notebook the guest would find a picture of the Princess they were to act like.  Just in case the guest did not know whom this princess was, I included a little wiki about each in the notepad.  The guests totaled eleven, each being a different princess.  For about 15 minutes, guests role played as if they were their given Princess name.  This was hysterical to watch them try to communicate.  At one point one woman dropped to her hands and knees and started to pretend she was cleaning my kitchen floor!  At the end of the 15 minutes, they gathered their notes on each other.  And I announced each Guest's Princess name.  We actually ended up with than one person who knew every Princess present at the shower!
Princess Party Favors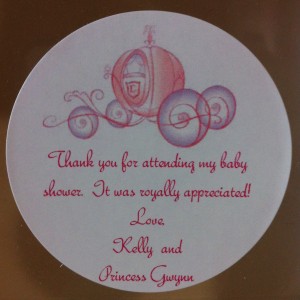 Each guest took home a silver or gold princess pumpkin, perfect for the fall season.  Adorned with a Royal Princess thank you sticker, the shower guests' treat boxes were also filled with their choice of Disney Princess Themed treats, destined for those Princes at home waiting for a snack!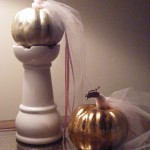 Now that Princess Gwynn has arrived, I wonder…will she be requesting a Royal Gala for a future birthday party?  I hope so!