"We're walking right down the middle of Main Street U.S.A"…and sweat is already rolling down our faces when an oasis suddenly appears- The Plaza Ice Cream Parlor.
1. The Plaza Ice Cream Parlor, located at the end of Main Street USA, calls you in with is alluring smell of freshly made waffle bowls and a promise of a cool scoop of creamy ice cream.  It's menu is simple; offering ice cream sundaes, hand-scooped ice cream cones, a delicious ice cream cookie sandwich and ice cream floats.  However, if you have special dietary needs, the Plaza does offer Tofutti and Rice Dream, also No Sugar Added Raspberry Sorbet and No Sugar Added Butter Pecan.  In addition, if you are simply watching your fat intake, you could purchase their Fat-free Chocolate and Vanilla Swirl.  The purchase cost per item ranges from $4.29 to $5.29 for adult portions.  For little Mouseketeers, a Mickey Mouse Kid's Cone is around $3.00.  My favorite thing about the Plaza Ice Cream Parlor is the outdoor setting area with stunning views of Cinderella's Castle.  It's also a fantastic location to view The Main Street Electrical Parade and the night-time fireworks show, Wishes.  Just remember to go to the ice cream parlor before the parade begins, because the seating fills up fast.

Deep in the heart of Adventureland, where there is danger lurking around every corner, you'll find nestled quietly, golden treasures hidden behind a window at the Aloha Isle .
2.  Aloha Isle.  OK, so I'm being dramatic,  if you simply cross the bridge from Main Street USA into Adventureland ,then walk a short distance past a small merchandise area, you'll find the Aloha Isle Quick Service order window across from The Swiss Family Robinson's Treehouse Attraction.  This is my ALL TIME FAVORITE place to cool down with a special treat.  The Aloha Isle is often referred to as the Dole Whip stand, since it is famous for its Dole Whip Pineapple products. From its Dole Whip Soft Serve Pineapple or Orange Swirl to the Pineapple Juice Float, this location is a must try once and I guarantee you will be going back for more. If you don't enjoy pineapples or oranges, the Aloha Isle also offers Coca-Cola or Barq's Root Beer Floats. The purchase cost per item ranges from $3.79 for the soft serve ice cream to $4.99 for the ice cream floats.  This is also a great location if you are simply looking for a location to purchase Apple Juice, Orange Juice or Pineapple Juice for the kids.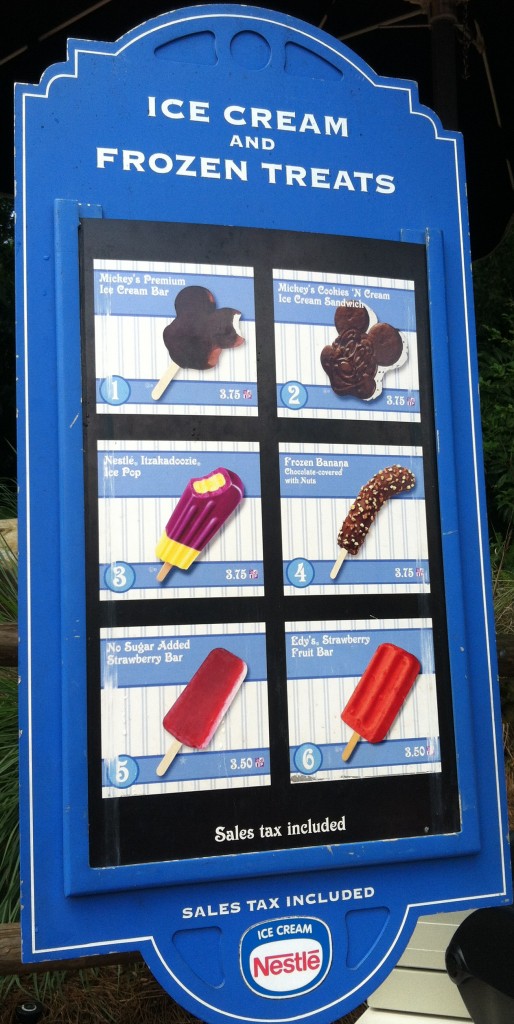 3. Ice Cream Carts-Home to Mickey's Premium Ice Cream Bar.  My final "Hot Spot' for cooling down is actually found in 11 location throughout Magic Kingdom Park's Six "Lands".  The Ice Cream Carts offer a variety of frozen treats that vary at each cart.  There is one classic item that is a favorite of most Walt Disney World guests, the Mickey Premium Ice Cream Bar.  Moms and Dads, the bars are extremely yummy and enjoyed by children of all ages, but I do want you to be aware of the nutritional values on this set of Mickey Ears.  One Mickey Premium Bar is  330 calories with 22 grams of fat.  It's a rather large ice cream bar and most little mousekeeters will not be able to finish one.   That said, you may want to have smaller children share one or even opt for the Strawberry Fruit Bar, which is a fraction of the calories,
What is your favorite "cool" snack at The Walt Disney World Resort?  I'd love to know! Please feel free to post them in the comment section below.