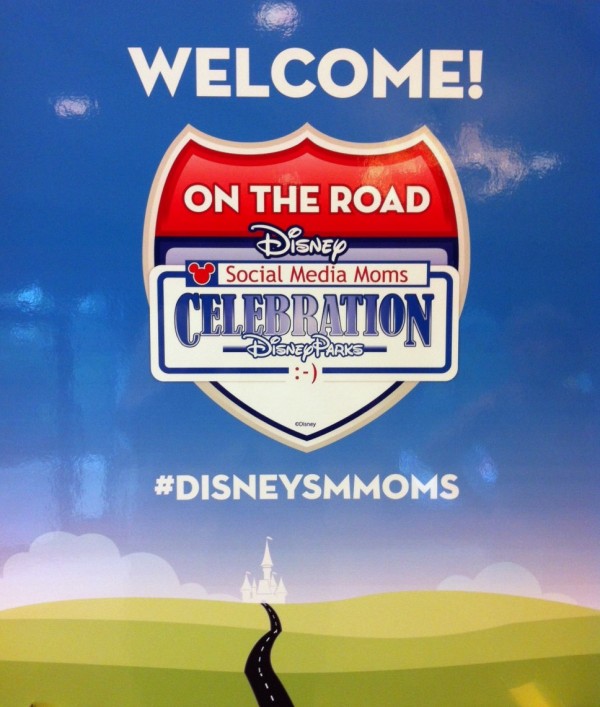 Today is the my one year anniversary of blogging!
It's been a wonderfully fun year of creating Disney-Inspired treats, crafts, planning parties, sharing vacation tips and reviewing Disney products.  I found out very early on that the best thing about blogging is getting to know fellow Disney fans and bloggers!  Thank you to each and every one of you that have stopped by my blog and taken the time to read a post or two.  It's because of you that last week I was invited to a special event that many bloggers dream of attending.  This pixie dust filled event was called the spectacular On The Road Disney Social Media Moms Celebration!  OK, I added the spectacular, but it truly was over-the-top wonderful!
During one week in June, the On-The-Road Disney Social Media Moms Celebration had moms and a few dads showing their Disney Sides in three cities across the U.S.– Chicago IL, Philadelphia PA, and Phoenix AZ.  I was lucky enough to attend the celebration in Philly.  It was a day full of Disney details, Disney knowledge, outstanding blogging tips, inspirational stories and just as importantly, Disney Blogging Friends.  Today I'm honored to share this day with you through photos and by passing along a bit of information that I took home with me that day.
It was Thursday, June 19th and my alarm went off at 3 am.  I jumped into the shower,  belly full of butterflies doing flips worthy of the US Olympic gymnastic team, and head repeating, "You will NOT be late. (If you know me, then you know that I'm habitually late.  I really do try to be on-time, but it just never seems to happen.)  Successfully, I made it on the road by 4:15 am ready to fight the rain and fog but couldn't be more excited to travel to my destination!  I carpooled with THE "Disney Pinterest Queen" Linda Stevens Jones.  We had a lovely drive talking Disney and family.  You really should check out Linda's boards.  She has 47 Disney themed boards with a total of over 9000 of the Greatest Disney pins.  Don't believe me?  She has over 45,000 followers to back me up on that statement.  Here's a link that will take you straight to Linda's pins.
http://www.pinterest.com/greatwdwtips/
Before we knew it, Linda and I had arrived!  We eagerly entered the Crowne Plaza hotel and scouted out the registration table.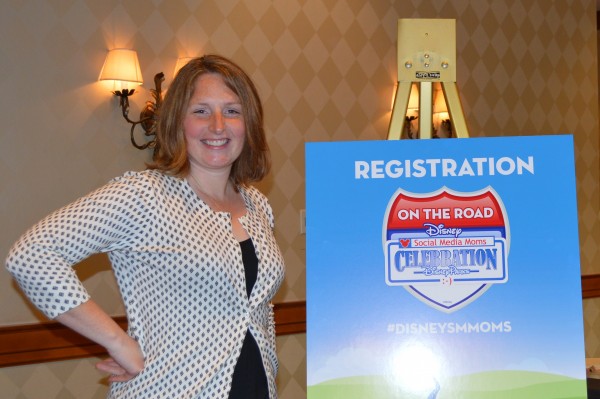 At registration we were given an official Disney Social Media Moms lanyard and a cool DisneySMMoms bag with all sorts of goodies inside!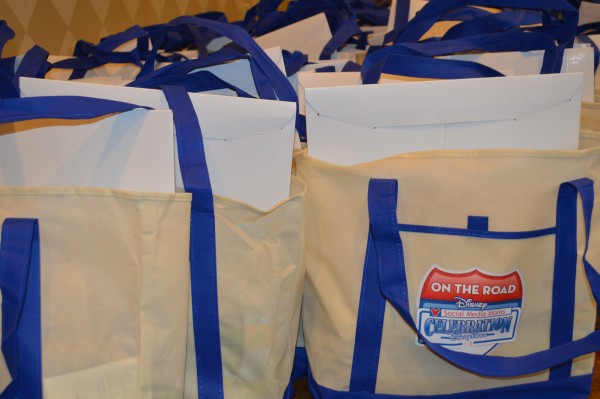 The event room was decked out in true Disney fashion!
From the balloons…
To the presentation stage…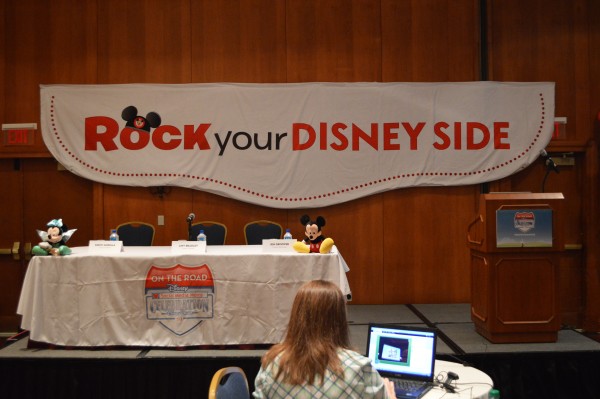 To the table settings… (How stinking cute was our table setting!  Get it?  Character Limit 140 )
Everything and EVERYONE was rockin' their Disney Side!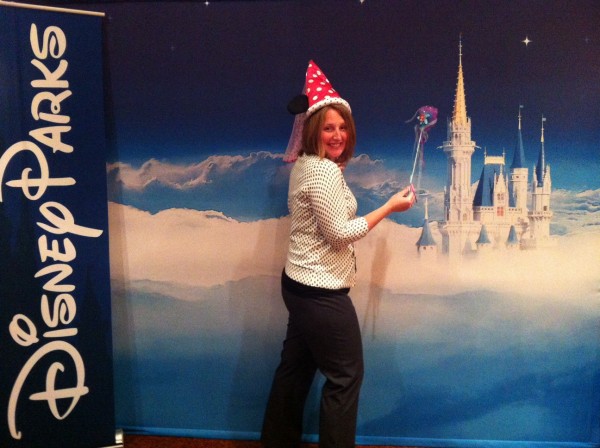 Yep, my Disney Dork, I mean Disney Side, really came out at this event.
I think everyone was having so much fun getting to know each other that they had to resort to food to get all the moms back to their tables!
Doesn't a Mickey Mouse Rice Crisp Treat make breakfast even better?
It was just too cute to eat.  I had to take it home for the kids!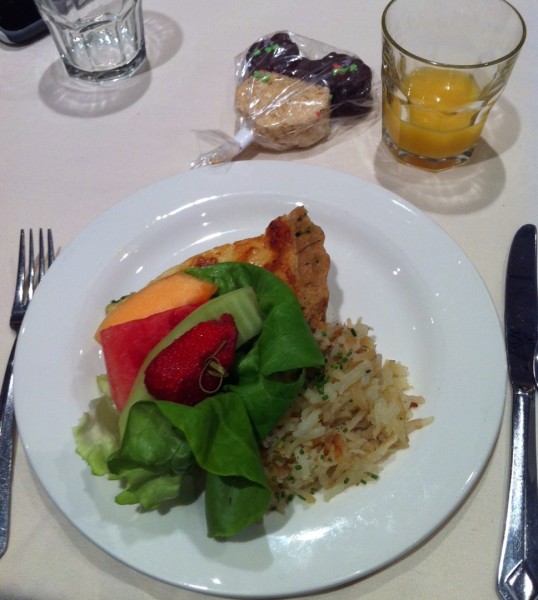 The core part of the event started and things got even better!  I mean, take a look at the first speaker, Gary Buchanon.  Would you expect anything short of entertaining?  Gary's the Social Media Managing Editor of the Disney Parks Blog and he knows how to show his Disney Side with the best Disney Bounding people.  Not only did he get us up-to-date on the latest craze, Disney Bounding, (if you don't know what Disney Bounding is then check this out: http://blogs.disney.com/disney-style/fashion/2014/04/09/leslie-kays-top-10-tips-for-disneybounding/ )  Gary and Jennifer Fickley-Baker, also a Social Media Manager for the Disney Parks Blog, shared the newest Disney Park happenings complete with their creative marketing campaigns.  I have to say watching the videos made us all dream we'd walk outside and end up on Main Street USA.
One of my favorite marketing campaigns that they shared was for the new Seven Dwarfs Mine Train.  It was great to watch their  "Behind the Scenes" blog series about the making of the now open crowning jewel of Disney's Fantasyland Expansion Project.  The Seven Dwarf Mine Train is categorized as a Family Coaster and I can't wait to ride it with my family! If you're a Snow White and the Seven Dwarfs fan, get in on the personality fun at http://bethe8thminer.com/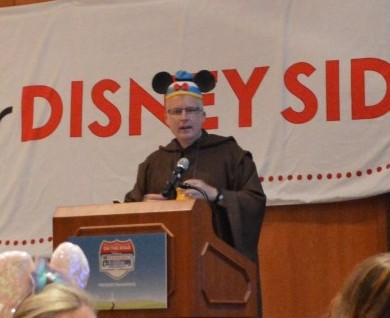 After being doused with the perfect amount of pixie dust, Noah Lomax of Hewlett-Packard took the stage next to teach us about the company's latest and greatest offerings for the crazy busy people in our lives. Stay tuned – I'll be filling you in on these great products in the near future.
Victoria Lim, multimedia expert with the Disney Parks team, spoke next and I have to say, I learned SO much from her.  I wish she could have spoken for hours.  She shared all kinds of doo-dads (technical term) to get me moving towards an important goal I want to conquer in this second year of blogging – VIDEO tutorials!  I never thought I could be capable of doing it, but with the knowledge I gained from Victoria I'm confident I can!  Thank you Victoria!
Maria Bailey of BSM Media ~ Marketing With Moms! ( http://www.bsmmedia.com/ ) presented an amazing panel of Mom Entrepreneurs that shared their success stories.  These women have guts to take chances.  They all moved full steam ahead until they achieved their dreams.  I think Walt would be proud to know Maria partnered with the Disney company to bring these women to speak with us.   One of the entrepreneurs, Jen Grover, creator of the Butler Bag ( http://www.jengroover.com/ ) said something I won't soon forget.  It applies in all aspects of our lives and therefore, I'll share it with you.
We should have more fear of regret than a fear of failure!
Last but not least Debi Silber, The Mojo Coach ( http://www.themojocoach.com/ ) took to the stage AND floor.  That woman has energy!  She motivated us all to take better care of ourselves and urged us to get rid of our limiting beliefs.
Do you have a limiting belief that is holding you back from fulfilling a dream?  "Let It Go!"  I glad that one year ago today I didn't let my doubts stop me from starting this blog.
Thank you again for following me on my Disney-Inspired journey in life.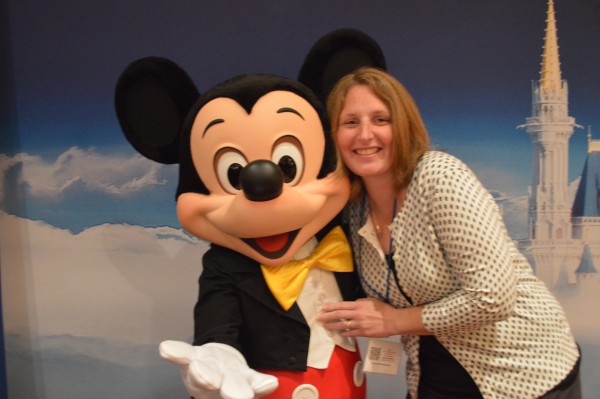 A big thank you to On-The-Road Disney Social Media Moms Celebration!
#DisneySMMoms