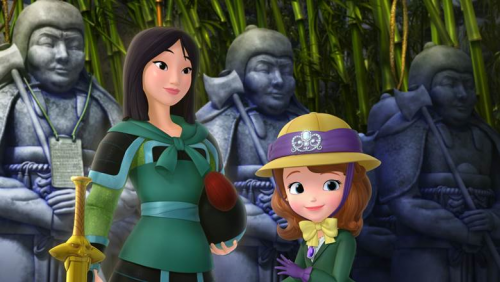 Is there a "Sofia the First" fan living in your home?  If the answer is YES, then lock your television sets on Disney Channel now!  
This morning, Friday, August 15 at 9:30 a.m.ET/PT, Disney Channel will air a brand new "Sofia the First" episode that's perfect for every Disney Princess fan that's ready for adventure! As a special guest on Disney Junior's hit Emmy-nominated series, Mulan, will make an appearance this episode of "Sofia the First".  
The Disney Princesses always know just the perfect moment to help!
During this episode, Sofia and her family take a trip to the Kingdom of Wei-Ling.  While there, Sofia's brother Prince James and Prince Jin run off in search of the treasure of the Jade Jaguar and when King Roland and Emperor Quon go off to rescue the boys, they all find themselves trapped in the jaguar's den, so it's up to Sofia, Amber and Princess Jun to save their families.  Mulan appears to offer some strategic advice to the young princesses on how to rescue their dads and brothers. 
Take a look at a sneak peak just for you!
http://youtu.be/-Xt9Z9BH_Dk
I'm certain that once this episode is complete, it is going to be watched on repeat in our home!  Thank you DVR!
Will you be tuning into see this special episode?