Add a touch of magic to your child's birthday portrait this year by incorporating their birthday party theme into the photo.
It's your baby's birthday!  You've started planning his birthday party months in advance.  You've fretted about things like the color of the plastic spoons.  Pinterest has become your best friend, as you spend hours every evening pinning party décor ideas.  Have you given this much time and thought to your child's birthday portrait?
The party day has arrived and you're running around making sure there is enough ice in the ice bucket.  Then you blink your eyes and somehow the day is over.  Everyone had a blast and you sit down to look at the photos you've taken…or didn't have time to take.  If you're lucky enough to have a friend or family member that is willing to help, and has a good camera, assign her to photography duty.  Believe me, you'll be pleased that you did.  However, with all the activity at the party, there is no way to get a portrait of your child that symbolizes this unforgettable year of their life.
Take some time to think about why you chose your child's birthday party theme.  Most likely it was because your child lights up the moment he sees Mickey Mouse or maybe she goes running to the TV the second she hears the voice of Mickey Mouse and starts dancing to The Mickey Mouse Clubhouse theme song.  These are moments that I know I never want to forget and I'm certain you don't want to either.  Incorporate those "magical moments" into your child's portrait.
For example, if you read my blog post yesterday I shared with you my daughter's first birthday party. It was themed Mickey and Minnie's Flower and Garden Birthday.  At the end of the party Victoria handed out Minnie Mouse Inspired "Now Sew" flowers to all of the female guests.  I'll never forget how she loved the flowers and enjoyed handing them out.  She had more fun doing that than participating in any activity that I had planned for her that day.  Since I had her portrait taken after the party, I made sure I brought a few of them along for her to play with during the photo shoot.
After your child's party is over, look around at the décor that you purchased or made for the special day.  Before discarding think about selecting a few key items for your child's birthday portrait.  The Minnie Mouse prop showing her name in her birthday portrait, was used as part of directional signage at her birthday party.  For my son Gavin's second birthday, he had a Mickey Mouse Clubhouse party and his love of airplane started that year too.  The toy airplane, that can be seen in his portrait, was his favorite toy during the entire second year of his life.  Gavin is six now and still loves planes.  The toy is no longer in our home, but because of this portrait I will never forget that was the year his love for Mickey Mouse and airplanes began.
Every photography studio that I've used has welcomed extra props, especially if they engage your child.  I've taken props into places like Portrait Innovations and Picture People and they've easily used the props in the pictures.  However, the most special moments in my children's lives, like the ones you see here, I bring Gavin and Victoria to a Fine Arts Studio.  The quality of the prints are archival and the individual attention that my children have received make a huge difference in the sincerity of the image.  The photographs in this post are courtesy of Kaiser Fine Photography.  Owner Cheryl Kaiser has been my "go to" photographer for very special moments in my children's lives.  Her ability to capture a moment in time and have it speak volumes is amazing.  I'll forever cherish these photographs.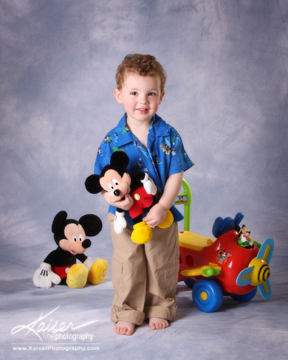 This year when planning your child's birthday party remember to plan out their birthday portrait too.  You probably already have the props and they are ready to create Portrait Magic!
To see more Kaiser Fine Photography portraits, visit Cheryl on Facebook! https://www.facebook.com/KaiserFinePhoto