You Might Be Wondering How This Theme Came To Be.
My nephew and my daughter's birthdays are only two days apart.  So when my sister-in-law, Karen Enke Wheeler suggested we throw a dual birthday party for my daughter's 1st birthday and her son's 2nd birthday, we instantly knew it had to be a Minnie and Mickey themed party.  Mickey and Minnie birthday parties are super popular, so we thought we'd give it a twist.  Both of our children love the outdoors and we knew from visiting Mickey's home in Magic Kingdom that Mickey loves to garden and Minnie loves flowers.  That's how our idea of a Mickey and Minnie's Flower and Garden Party was born.  Today I'd love to share with you some of the unique items that we created for the party and some of the themed food that we served.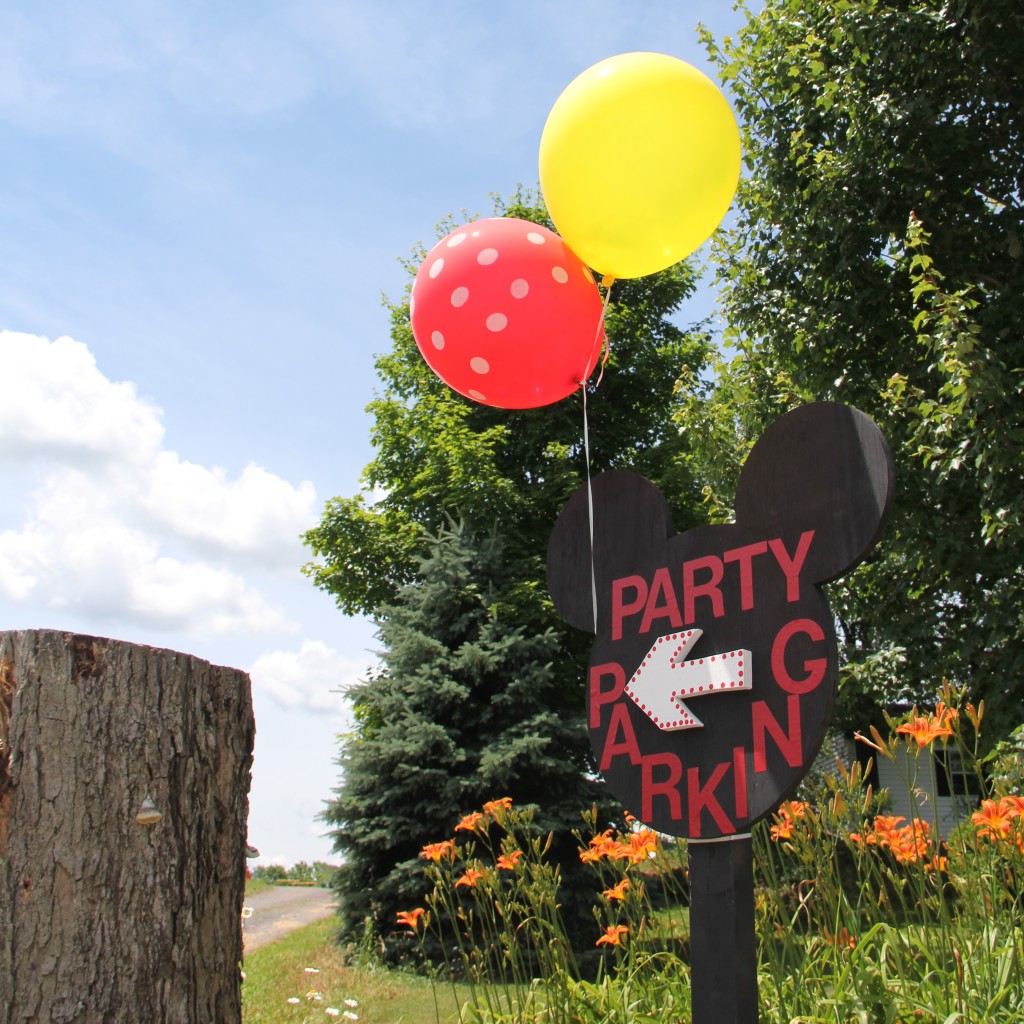 Since this was a party for both of our immediate and extended friends and families, we knew that we were going to have guests attending the party that didn't know where to park.  I created this Party Parking sign out of wood, spray painted it and then used vinyl lettering to complete it.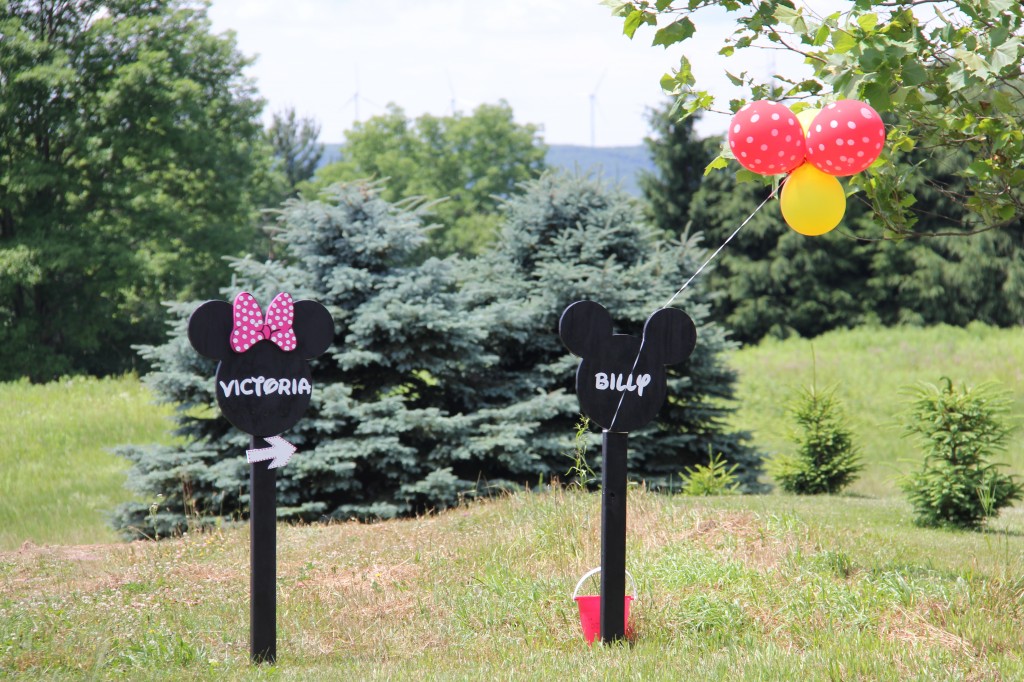 These two signs, featuring the birthday girl and boy's names, were also made from wood.  I wanted to make sure that even if it rained the signs would withstand the weather.  The Minnie sign has a separate bow, which I glued on.  To do the lettering, I found the font style on-line, printed out how Walt Disney might have written their names and used it as a guide to paint their names on the signs.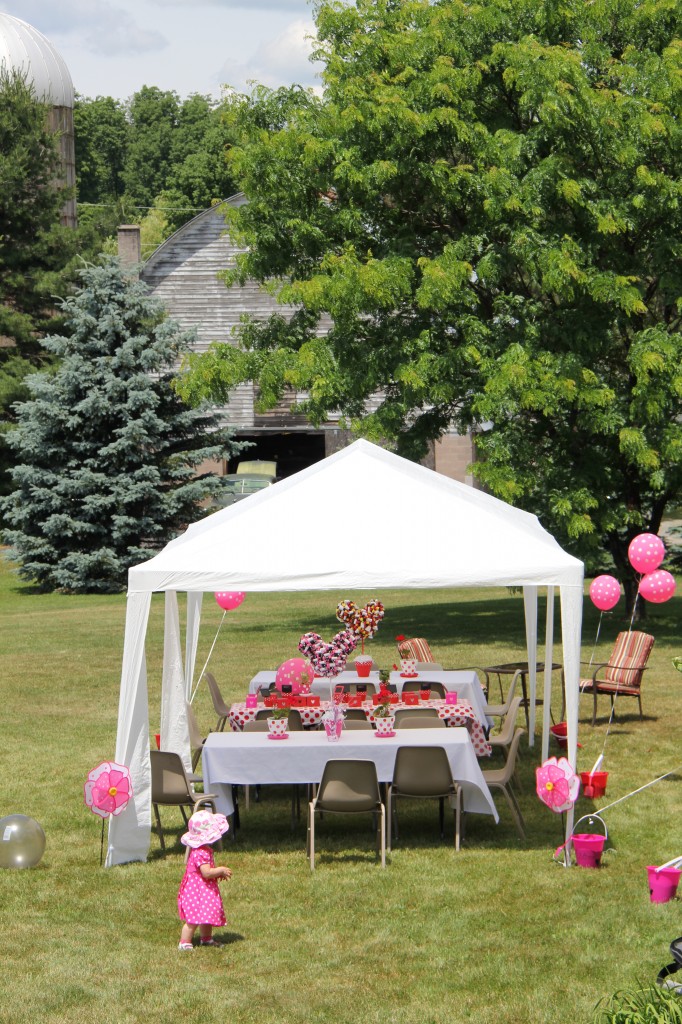 Here is a photo of our guests' seating area.  The day was a bit windy, so the balloons were a challenge.  Unfortunately, all of the polka-dotted red and white balloons blew away during party set up.  With my daughter walking through the area the tables looks like Minnie Mouse put on the finishing touches.  Each pail, used to hold the balloons down, has a name of a little party guest painted on it.  They were filled part way with dirt for the children to use later during the children's flower-pot activity.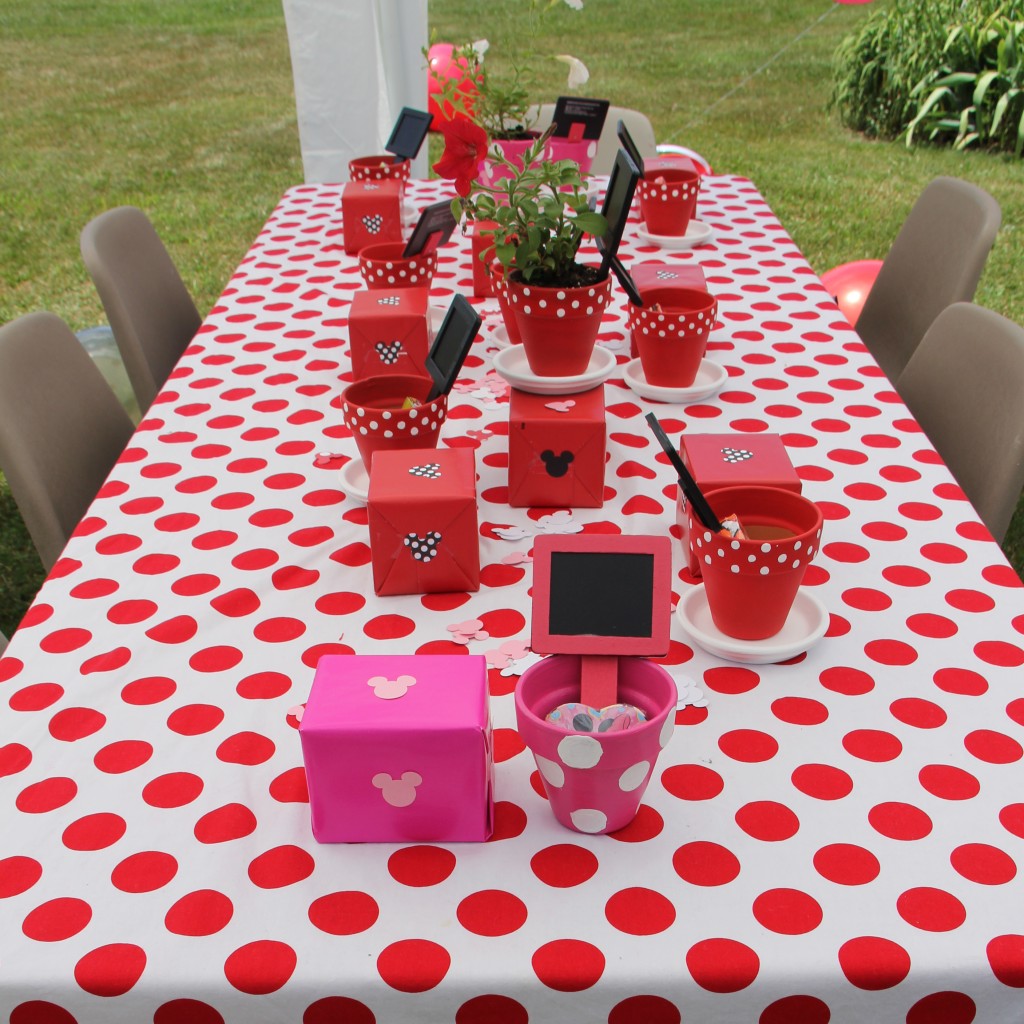 The kids table featured tons of polka dots.  All the boys' place settings were red and white for our pal, Mickey and pink and white for the little girls' spots representing Miss Minnie Mouse.  Karen and I purchased the terra-cotta pots at a local craft store and painted them.  Inside of the pots we gave each child a Minnie or Mickey magic towel that they could use to clean up their hands after they were done planting their flower.  The garden markers that they used to write their names on, I found in Target's dollar section.  The small gift, a Mickey Mouse vinylmation, was a surprise for them to take home.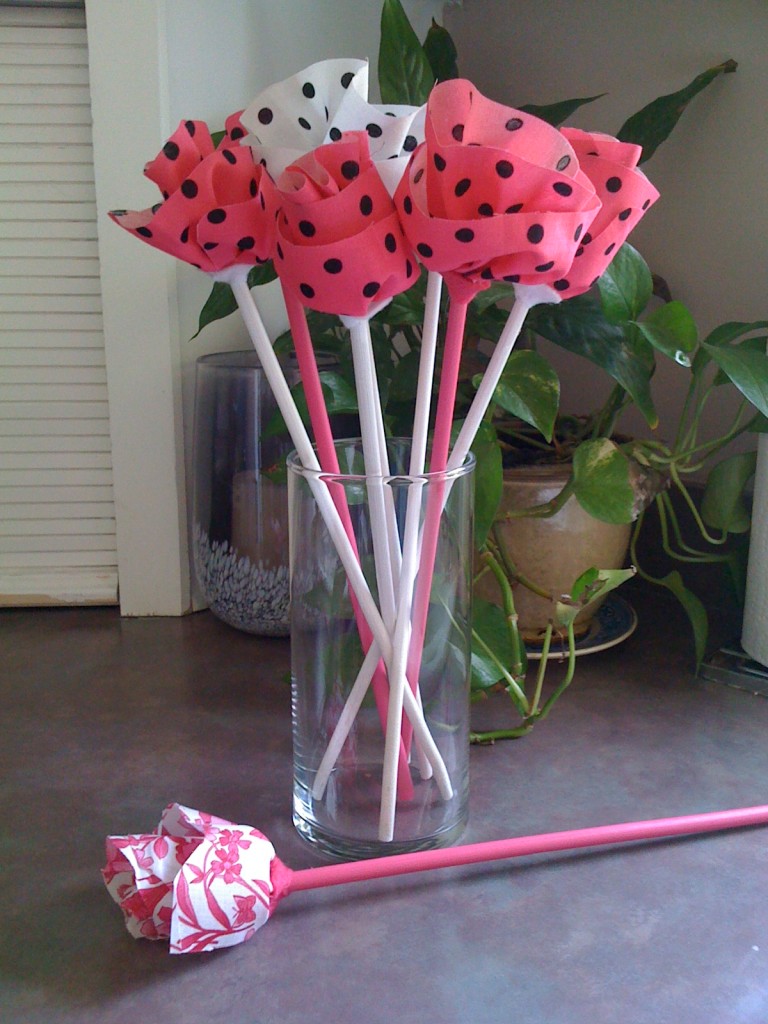 When hosting a birthday party I like to have thank you favors for the adults who attend the party too.  I made these "No Sew" Minnie Mouse Inspired Flowers which were from Victoria and given to her guests.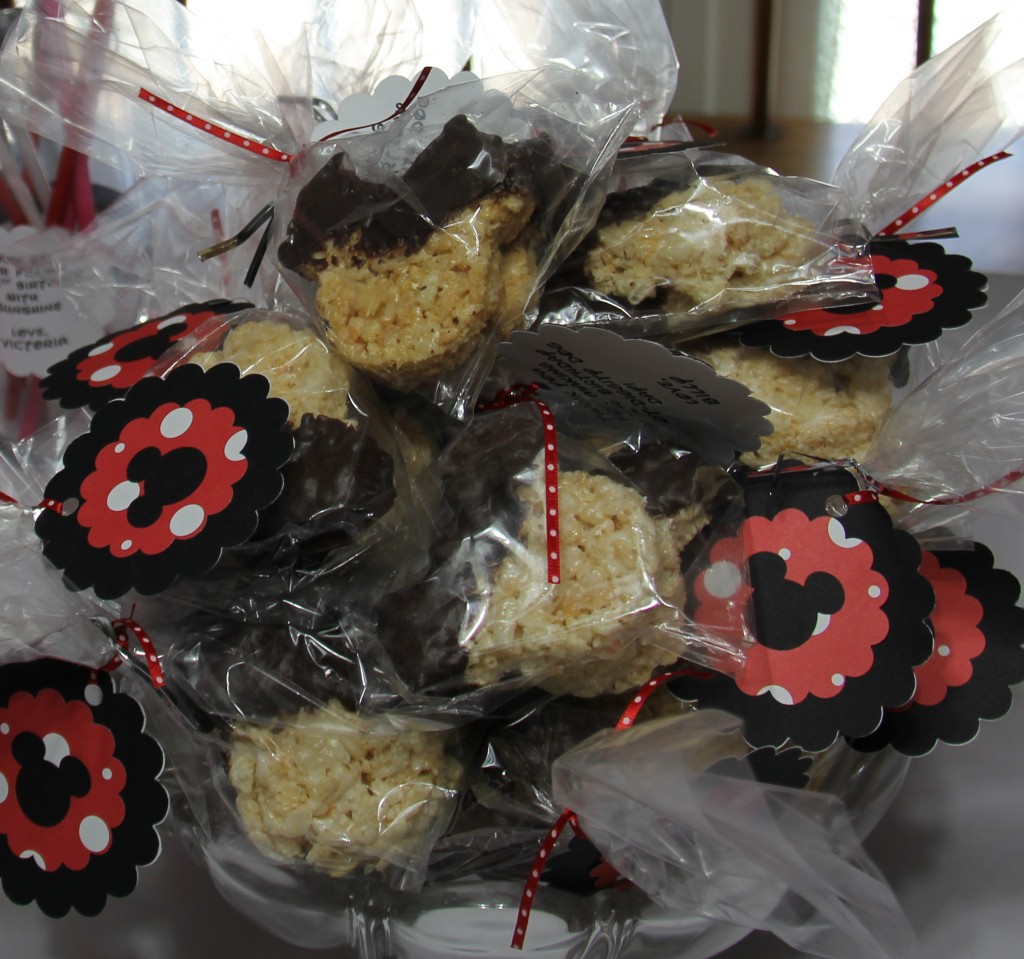 Karen made these adorable Mickey Mouse chocolate dipped Rice Krispie treats for my nephew to give his guests.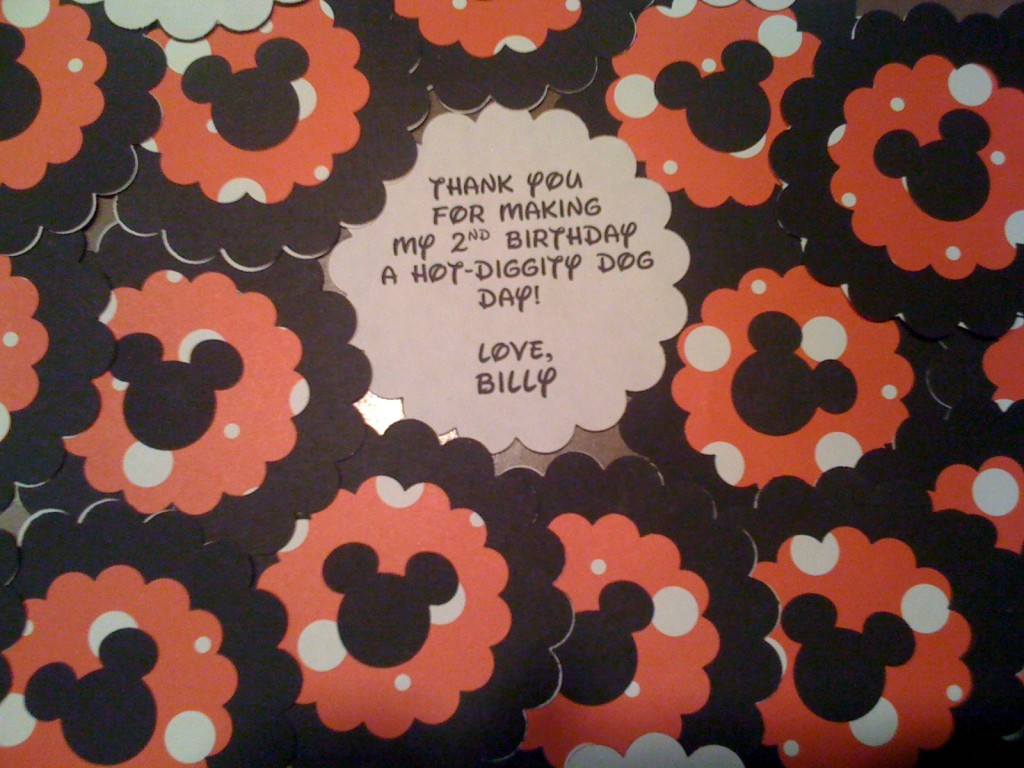 Here is a close up of the gift tags that I made for the Rice Krispie Treats.  Once again I used my trusty Mickey Mouse punch.  LOVE that thing!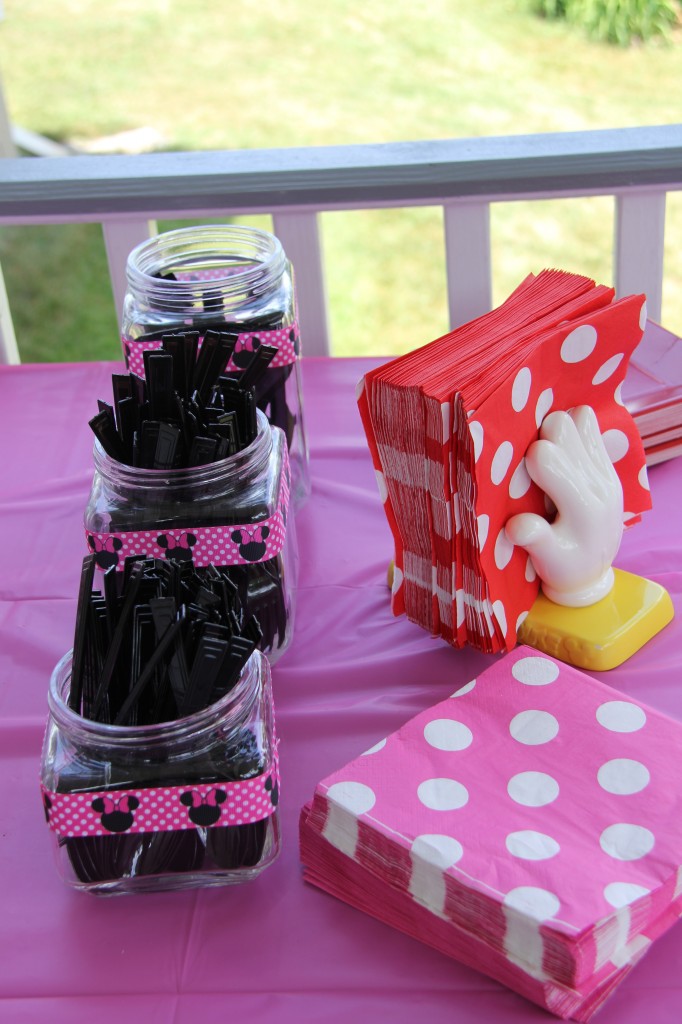 The following photos will show you some of the food offerings that we had for the party guests.  We kept it really simple, as most of our little guests preferred to play in the yard with the oversized balls, that polka dotted the lawn, than eat food. In addition to the items that are featured here, we had Pluto's Hot Diggity Dogs, Pete's Pizza and Daisy's Drink Station, to name a few.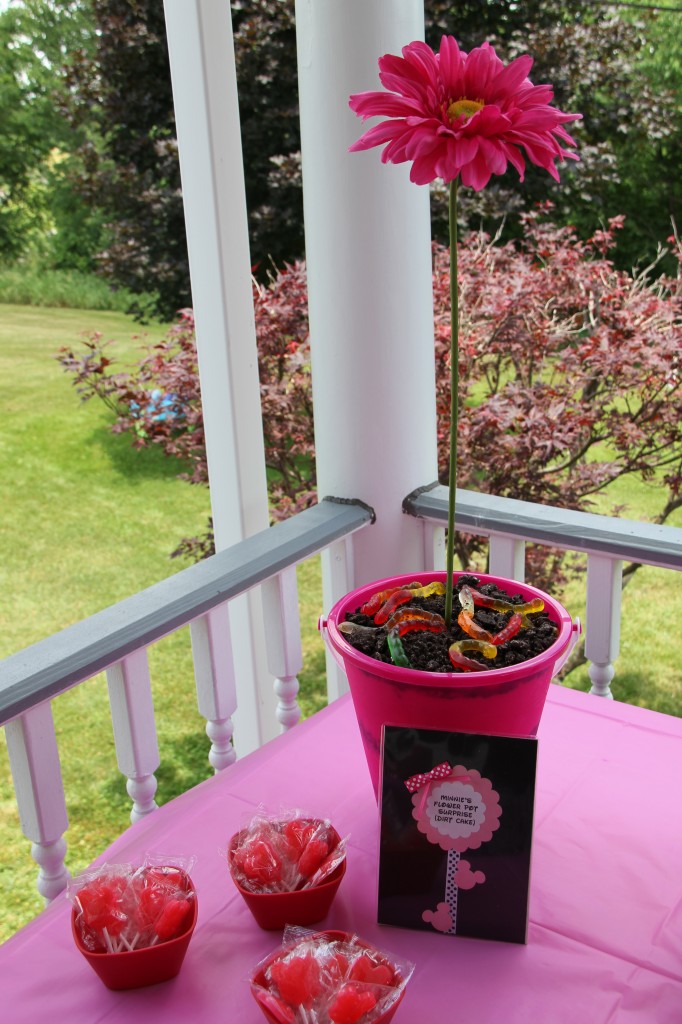 Minnie's Flower Pot Surprise was yummy Dirt Cake!
Last But Not Least The Birthday Cakes and Cupcakes!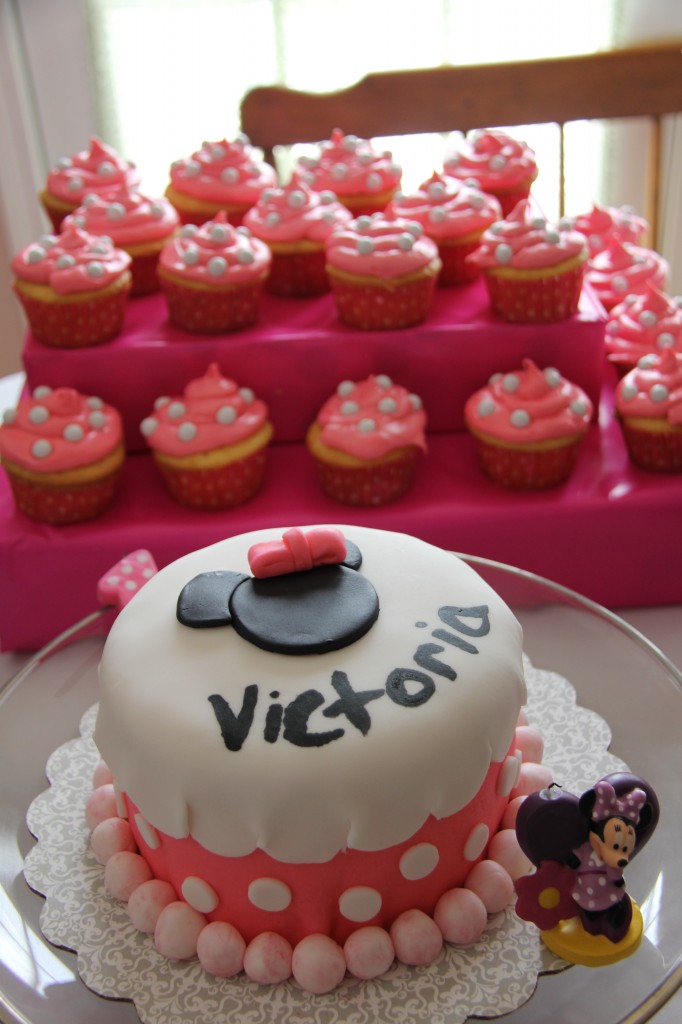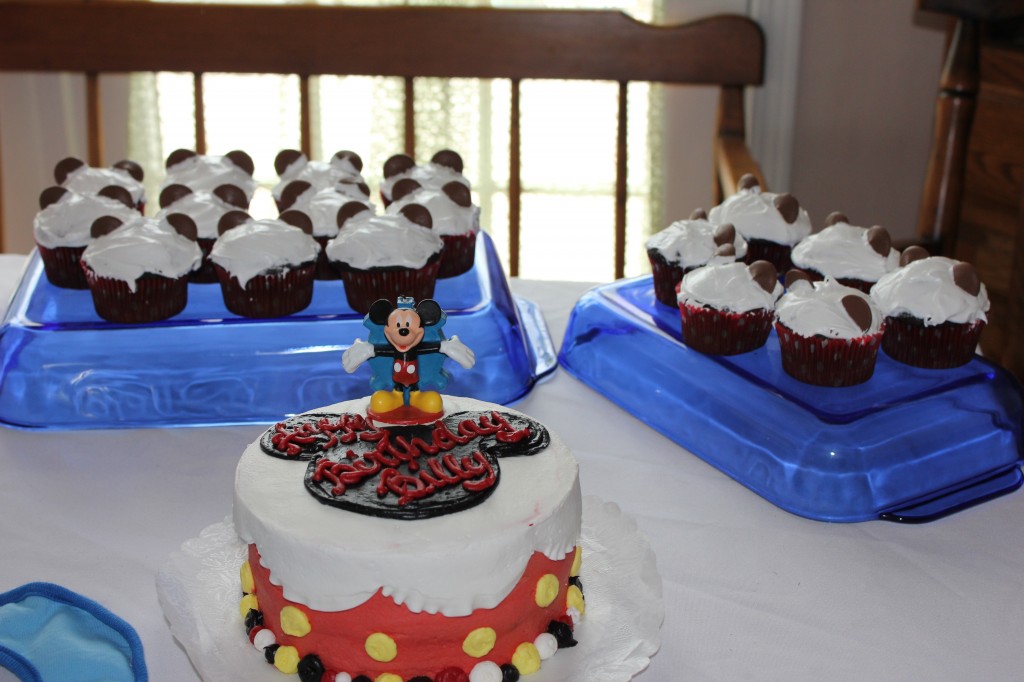 Karen and I had a wonderful time creating this party for our little Mouseketeers.  I'd like to thank Tia Maiolatesi Welsh for taking the beautiful photos that I shared with you today!