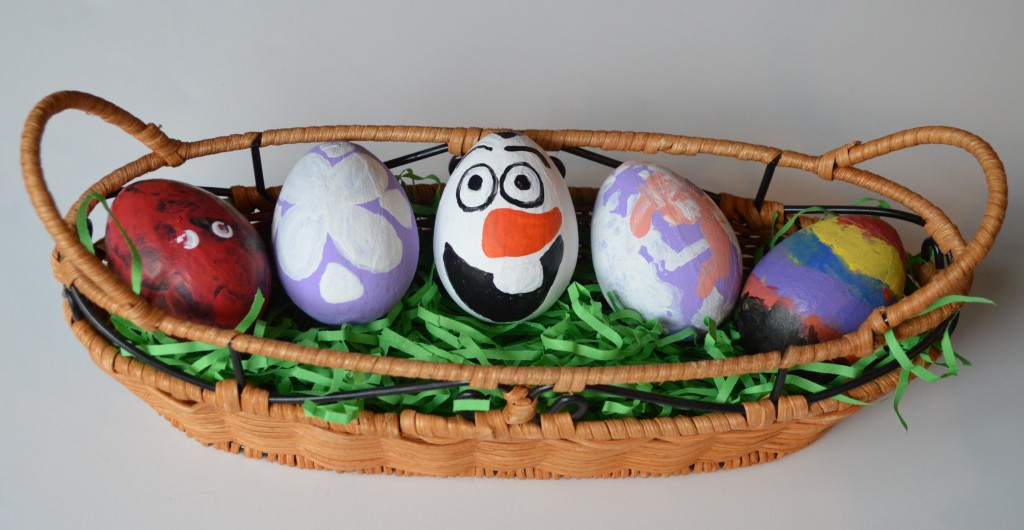 Today, many kitchens are filled with families preparing for Easter by dying hard-boiled eggs.
Yesterday, my children and I followed the tradition of decorating eggs, but this year we decorated eggs two different ways, of course both showcasing our #DisneySide. For our usual way of decorating eggs, I purchased a packaged dying & decorating kit to use at Grandma's house for some hard-boiled egg fun.  I purchased this Monsters University Easter Egg Dye Kit at Target for $3 US.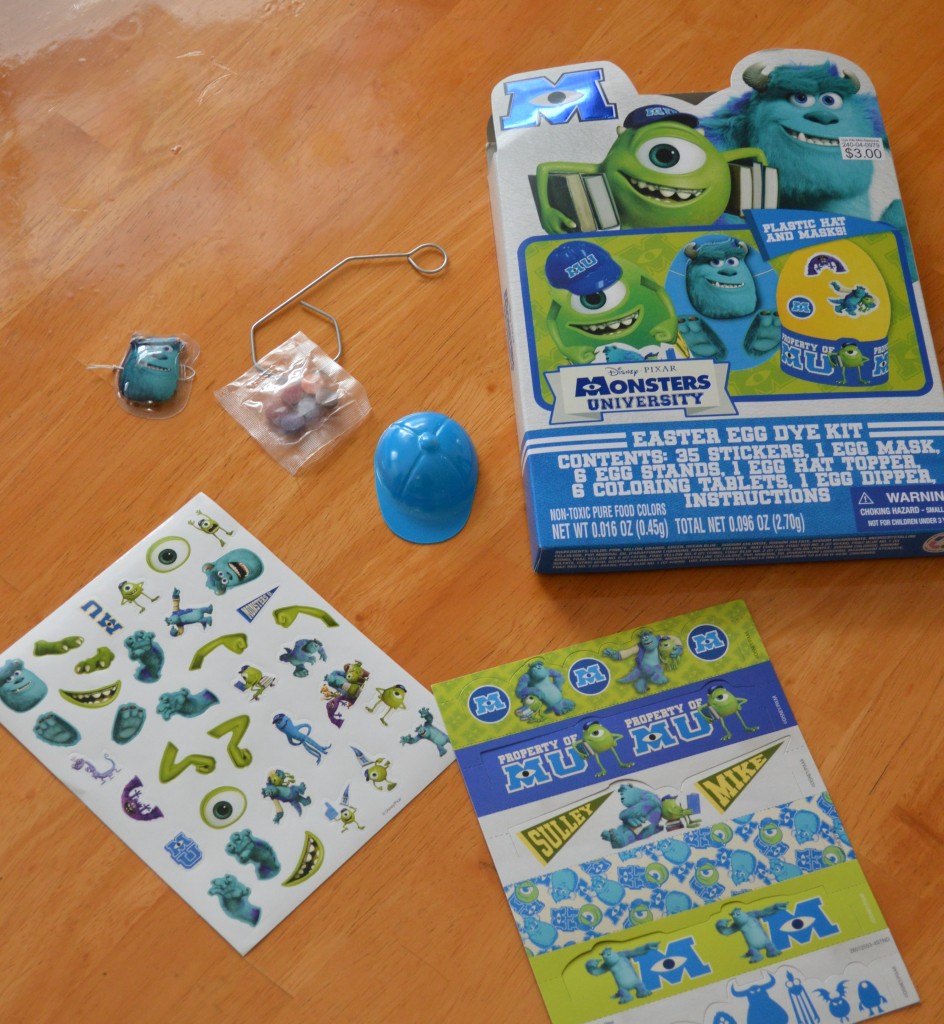 Gavin's favorite part of the kit was the little blue hard hat that he used for his Mike egg.  I'm thrilled to report that he made this adorable egg for his Mommy!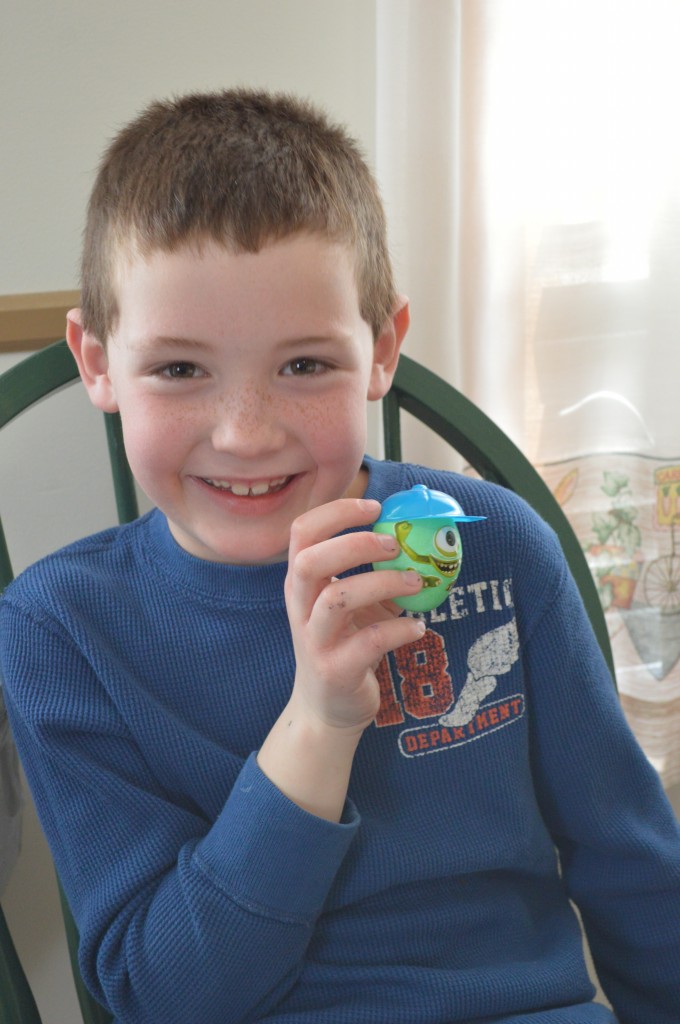 As with previous years, the kids and I had a blast dying eggs with Grandma.  It's a shame that despite all the hard work that went into decorating the eggs, they will be gone in a few short days.  So this year I scheduled an additional egg decorating activity for the kids to make eggs that we will be able to keep for years.  I purchased these craft eggs at our local Michael's Craft Store.  I laid out some newspaper, wax paper, paint and Q-Tips and let the kids have some fun.  Having small children work with non-breakable eggs really is a great idea.  The eggs fell on the floor a few times and it saved quite a few tears when my son saw that they had survived the multiple falls!
This Q-Tip project is perfect for young children, like my 6-year-old son and 2-year-old daughter.
Here are the reasons that I love to have my children paint with Q-Tips.  First, LESS MESS.  Painting with kids is messy.  Giving a child a tiny little cotton swab to use for painting alleviates the potential mess that could come with having a regular paint brush in the set of destructive little hands.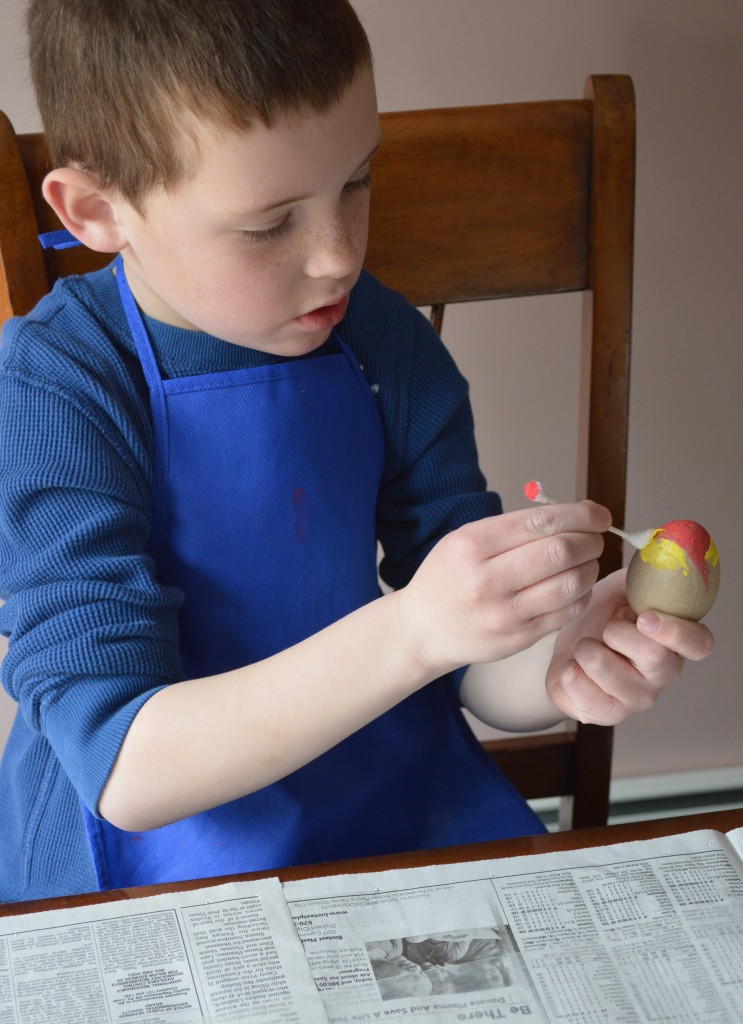 Second, painting with Q-Tips allows for QUICK CLEAN UP…if there is such a thing with kids.  Once the kids were finished, I simply picked up the Q-Tips and threw them away.  I  enjoyed not having to clean the brushes after the project was over.  Take a glimpse of just some of the Q-Tips that were used in decorating six eggs!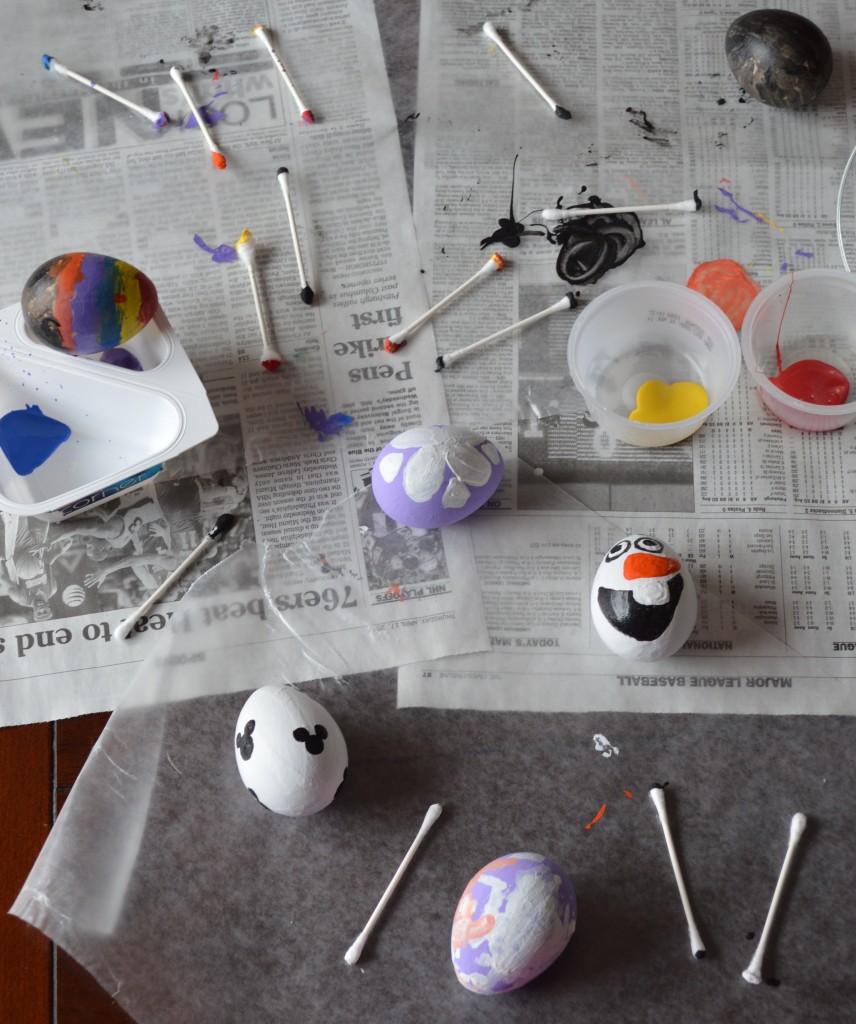 Have you figured out what characters we've modeled our painted eggs after? Victoria worked on a pretty Sophia the First purple egg.  She tried her best to draw the white on her dress, so the other purple dress is my attempt to make a Sophia dress design.  Gavin's red and black egg is a Mickey Mouse inspired egg.  Any guesses as to whom the silly one in the middle is themed after?
Happy Egg Decorating!