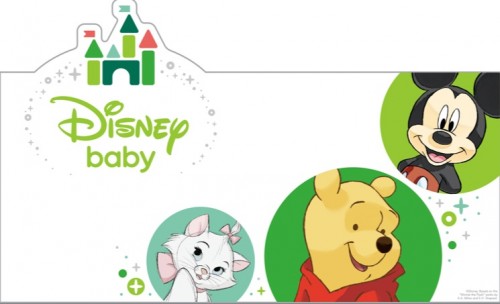 In my family, Disney is introduced at birth!
From Disney character nursery room décor, to adorable Disney themed outfits,toys and books, my children started their lives surrounded by Disney magic!  My babies are now seven-years-old and three-years-old and it's my goal to keep sprinkling a daily dose of Disney in their lives.  Disney Baby products, available at Walmart, have helped me do this. They easily take everyday moments in our life, such as snack time, and add a touch of magic that can only be expected from Disney.  My daughter, Victoria is three-years-old and I still pack Minnie Mouse and Doc McStuffins insulated sippy cups to take on errand runs!  (She loves the characters and I appreciate going through the store knowing she won't drip milk on their floor!)  Needless to say, our family loves Disney Baby products.
Talking about Disney moments, I'm preparing for my family's upcoming trip to Disneyland! YAY! The other day I was writing one of my many packing lists, when I received an email asking me to write a post about some pretty awesome new Disney Baby products.  A few of the items jumped right out at me because I wanted them for this upcoming trip!  I had no idea that Disney character booster seats existed, so of course I wanted to share them with you.
I love that these booster seats celebrate Disney Pixar's film, "Cars", perfect for my son and my daughter's favorite mouse, Minnie.  As an added bonus, each booster seat has a built in cup holder and a super convenient pull-out storage drawer!
Here's my legal disclosure:  This post was sponsored by Disney Baby and I was compensated to write it. Regardless, I'm sharing my opinions and experiences with Disney Baby products with the hope that you find the information useful in adding a touch of Disney into your daily life.
Prepare and Pack for Transportation!
Transportation planning for a trip to Disneyland is incredibly important if you have children!
Disneyland does not offer Magical Express service from any airports.  If you're flying to California and choose to rent a car, keep in mind that in the state of California all children under the age of 8 years old must be secured in a safety seat to ride in a vehicle.  Don't forget to add car seats to your packing list!  Good news is that most airlines will allow you to check your children's car seats or boosters FREE of charge.
Pack your child's stroller!
Yes, you can rent a stroller at Disneyland or Walt Disney World for $15 per day, but why not use your own for free? During our past ten trips to Walt Disney World with children there was one occasion where we rented a stroller at the park and we've decided to stick with our own strollers.  My husband and I found that our children took naps much easier in their stroller from home.  It's where the kids feel most comfortable to sleep and airlines allow strollers to be checked at the gate for FREE!
Also on my packing wish list is this ADORABLE Mickey Mouse Umbrella Stroller.  Could it be any cuter?  I was surprised to see that it's only $22.59 at Walmart.com with free in-store pickup!

Here's a Stroller Tip for touring a Disney Park with your own stroller: Attach a stand out luggage tag on the handle or tie a bright-colored ribbon to your stroller.  This will make finding the stroller a bunch easier.  Why all the fuss you might ask?  Disney Cast Members rearrange the strollers while you're enjoying an attraction.  Sometimes this can make finding your stroller within the sea of strollers challenging.
Although my children have outgrown infant seats, I just had to share this set with you. I love the polka-dots!  For the littlest Mouseketeerette in your family, this is the Disney Baby Minnie Mouse Coral Flowers Travel System.
 Pack the Pack-n-Play (if you have room!)
Rest assured, if you're flying and have no intentions on bringing your child's Pack-n-Play, Disney Resort rooms provide you with one free of charge.
Here's a Pack-n-Play Tip:  Disney provides you with one cover for the base of the unit.  I recommend bringing extra sheets so you have extra if they get soiled and possibly pack a sleeper sack.  I have found that the air conditioning gets really cool for infants, so my children used sleeper sacks.
However, if you're driving or your child favors her own Pack-n-Play, add it to your list!  Check out this stylish Minnie Mouse themed Playard. This is the Disney Baby Minnie Mouse Coral Flowers Care Center Playard!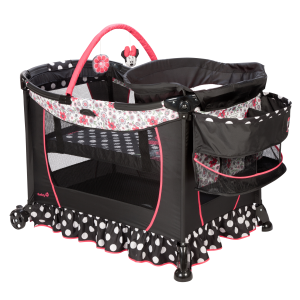 Last but certainly not least~ Pack Empty Sippy Cups!
I learned very quickly that a toddler's carton and/or jug of milk will spill just about instantaneously in the parks without a sippy cup.  Therefore, about five years ago, I started packing the take and toss cups by Disney Baby.  The sippy cups are available in Disney brands Princess, Minnie Mouse and Cars and can be purchased at Walmart!  The image below is of the "Cars" insulated cups I used for years with Gavin.  They're fabulous for around the house- NO LEAKING!  But for storage purposes, I would recommend the Take and Toss cup styles.
Here's a Sippy Cup Tip:  Purchase a set of three Take and Toss Disney Baby cups and place them inside a gallon size Ziploc bag (without drinks).  Then put them in your backpack to take to the parks.  Also pack an additional empty gallon size Ziploc bag.  As the day progresses, purchase milk for your child from the quick service food locations and pour the drink into a clean sippy cup.  When he's done drinking, just rinse the cup in a drink fountain and then put the cup in the Ziploc bag to be washed that evening in the resort. When he's thirsty again, just use another clean one from the backpack. I found that the Take and Toss cups are great space savers and they have beautiful Disney Princesses on them so my daughter enjoys using them.  I have to admit, the cups are a time saver too!  Without the cups I'm certain my daughter would have many more wardrobe changes!  A princess can't be seen in milk drenched ensemble, you know.

Whether you're planning a vacation to a Disney Park or planning a trip to the local park, Disney Baby products are a perfect way to add a dash of Disney magic into your child's everyday moments!   I won't overload you with all of the cool Disney Baby products available at Walmart.  Instead I invite you to explore Walmart's Disney Baby product line on your own.  Visit Disney Baby here!  Have fun shopping!  Now it's back to packing list writing for me!