When You Wish Upon a Star
Ok, so that's a different movie.  All kidding aside, from Magic Wand toppers to Peter Pan's 2nd Star to the Right, there are so many ways to use a star-shaped cookie cutter to make fun Disney Inspired food creations.  This week on the blog I'm keeping our Summer fun around a little bit longer, by showcasing how to bring our memories of the Beach to our homes, Disney Inspired of course.
Today I'm showing you a super easy tutorial on how to bring a touch of the Disney Ocean to your kids' dessert plates  Below is the tutorial on how to make a cookie of our Nemo Friend, Peach the starfish.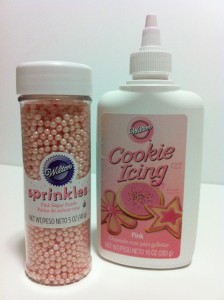 Supplies: sugar cookies mix, star cookie cutter, Wilton candy eyes, black icing, Wilton Sprinkles~ pink sugar pearls, and pink icing.  I've included the photo of the Wilton products that I used for this cookie project.  The sprinkles are fantastic!  They're worth the money.  The cookie icing is not my favorite product to work with but used it for convenience.  I purchased this product for a quick royal icing result.  The icing was really runny and hard to work with at first.  I had to mix the icing outside of the bottle and then use a funnel to get it back into the container.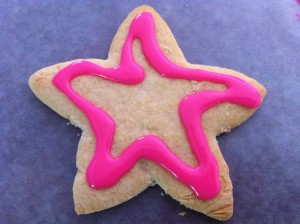 Before you start icing your sugar cookies, make they've cooled.
If you choose to use the icing that I used, begin by outlining the star with your icing. Don't start too close to the edge.  The icing will spread and will go right off the side of the cookie if you've gotten too close.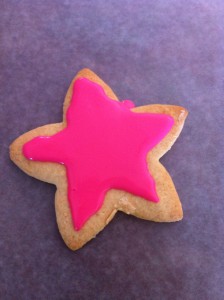 Fill the inside of the cookie by adding a little bit of icing at a time.  If you shake the cookie as you're doing this you'll see the icing spread easier and it will take out the air bubbles.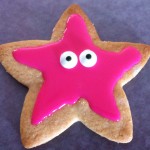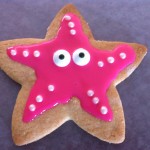 While the cookie icing is still liquid, add your eyes and the pearls. Then leave your cookie icing harden for about an hour.  Add the star fish's mouth after the cookie icing has solidified.
Make a wish on your Peach Starfish before your first bite!