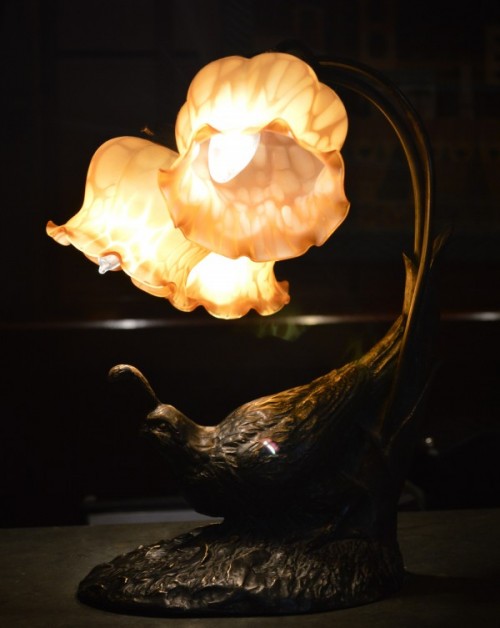 A warmly lit quail lamp greeted me at the check-in desk of Disney's Grand Californian Hotel & Spa. To my back the Great Hall welcomed my family with its massive fireplace, over-sized couches, rocking chairs and stained glass light fixtures all saturated in rich hues of yellow, green, orange and brown. Disney's Grand Californian Hotel & Spa is an architectural beauty, inspired by the Arts and Crafts movement of the 1900s.
The Craftsman theme and Disney's celebration of California's grand natural beauty can be found in every corner of the hotel.
The Villas at Disney's Grand California Hotel mirror the same Arts & Crafts motif as the original hotel rooms, but depending on the size of the villa, Villa rooms also provide guests with additional in-room amenities. There are four types of Villa rooms, Deluxe Studio, 1 Bedroom, 2 Bedroom and Grand Villa. Here's a look inside, and outside, of my family's "home away from home" during our stay at the hotel. The room is categorized as a Deluxe Studio room.

This is the headboard of the queen-size bed.  Notice the Craftsman theme continues in the Deluxe Studio furnishings .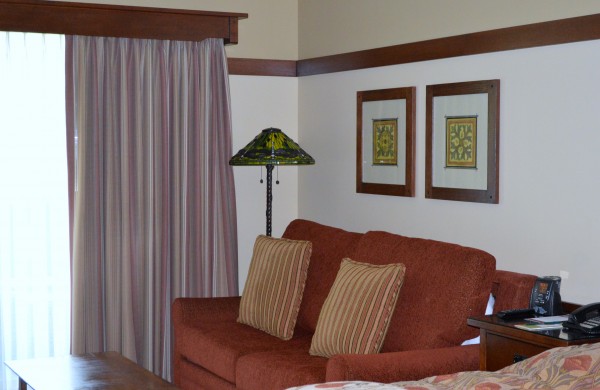 The couch is a queen-size sleeper sofa and the window to the left is actually a door leading out to the balcony.  I LOVED the light fixtures in this room!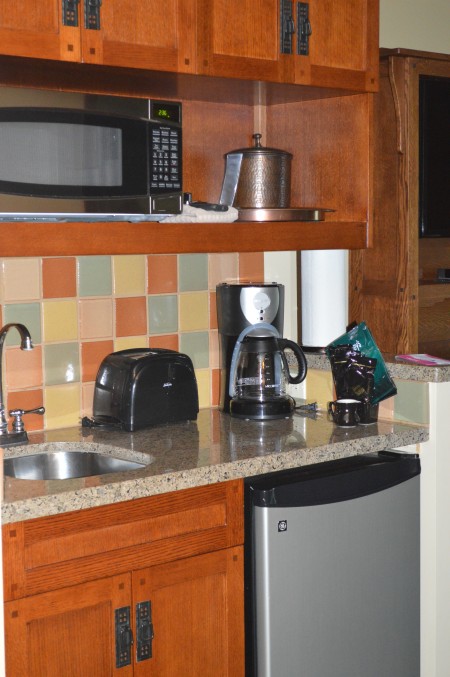 The kitchenette provides a sink, microwave, toaster, instant coffee maker, ice bucket, four drinking glasses, four coffee mugs, an under-the-counter refrigerator, a variety of disposable utensils, travel-size dish washing liquid, paper towels, garbage can and pantry storage.  Use this convenient space and be prepared to save some money!

The bathroom at Disney's Grand Californian Hotel & Spa is themed after one of Disney's most beloved films.  Can you see what character is hiding out in the forest print shower curtain?
There's no detail that's too small for Disney.  Even the complimentary bath products carry the nature theme with sea marine scented Disney Resorts SPA H2O brand shampoo & conditioner and sea salt body wash, body lotion and facial soap.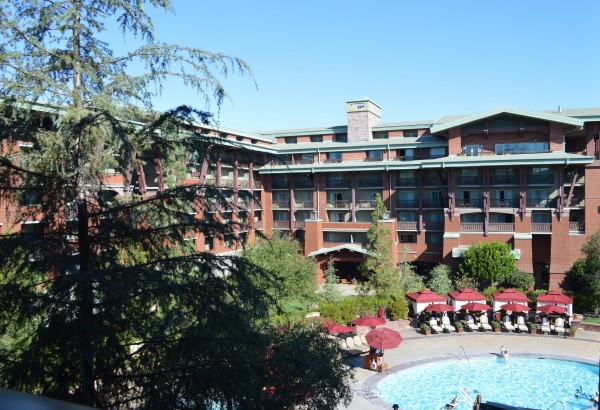 Each Deluxe Studio room has a balcony that provides exquisite views.  Our room had a view of one of the hotel's three pools.  The pool pictured above is the Mariposa Pool.

My parents also stayed in a Deluxe Studio at Disney's Grand Californian Hotel & Spa.  I like to describe the view from their balcony as an obstructed view, but I think it gave them a nice view of two pretty amazing sights!  When standing on the balcony and looking to the left guests can see obstructed views of the Fountain Pool and the Redwood Pool, as pictured above.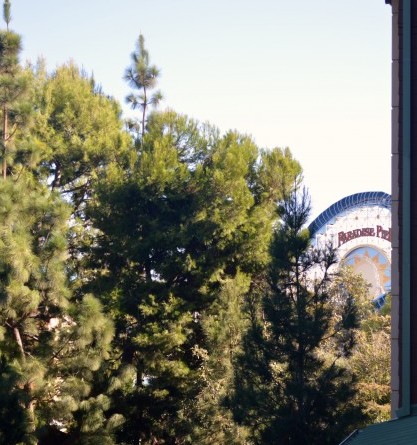 Standing on the same balcony, when looking to the right, guests can watch the "Screamin' Over California" roller coaster. Cool, right?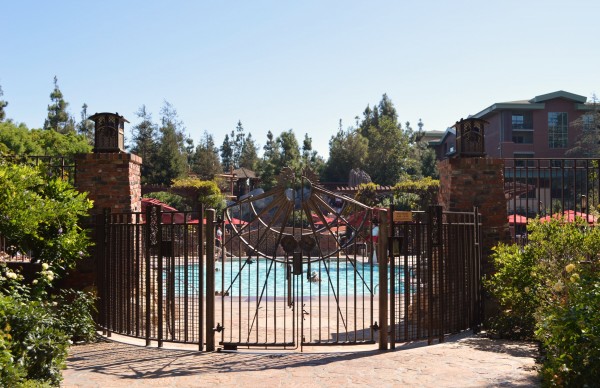 Want a closer look at the pools?
Disney's Grand Californian Hotel & Spa is conveniently positioned a few steps away from the Downtown Disney District and has an exclusive entrance into the California Adventure Park. Due to potential non-hotel guest visitors walking by the pools, guests of the Grand Californian that are eager to jump into the glistening pools can do so by using their room keys to open this beautiful gate.
 Looking for the slide?  Redwood Pool is ready to deliver!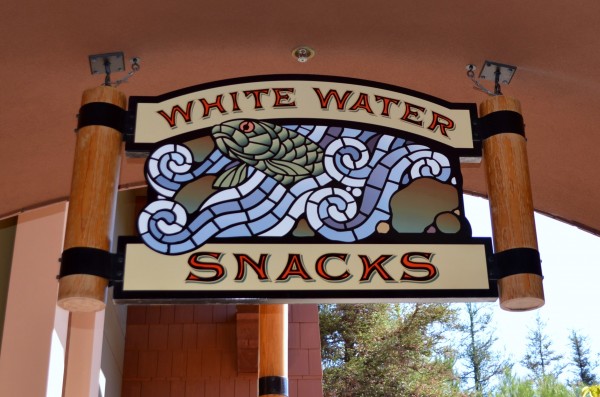 After some hard-core playing hours at the pool, hunger is bound to set in.  There are four themed dining options that deliver guest experiences which continue to pay tribute to the beauty of California and Craftsman art motif.
Although, I'm not going to review the restaurants in this post, I will say that White Water Snacks is the perfect place to stop by for a quick snack after a dip in the pool.  Or if you're looking for a special place to eat with your spouse, try Napa Rose.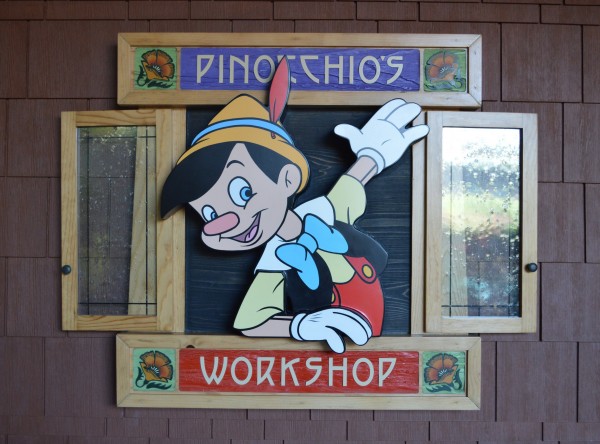 All Disney restaurants are "kid friendly." However, if you and your spouse would like to plan a "date night" at Napa Rose, Pinocchio's Workshop is ready to help make your wish come true.  Located at Disney's Grand Californian Hotel & Spa, Pinocchio's Workshop is a child care facility that offers a variety of fun activities to keep kids active while Mom and Dad play.
As each night concluded during our five night stay, the soft glow provided by the Craftsman designed lobby area welcomed us home as we waited for the elevator to take us to our room.  It truly was a beautiful sight.Disney's Grand Californian Hotel & Spa offers its guests more than just its beautifully themed hotel and pools.  Experiences at the hotel is what truly makes a stay at the West Coast's "Grand" magically GRAND.
Visit https://disneyland.disney.go.com/hotels/grand-californian-hotel/ to find out more about the outstanding spa services, award-winning restaurants and magical experiences just ready for your family to experience at Disney's Grand Californian Hotel & Spa.
I hoped you enjoyed this look inside Disney's Grand Californian Hotel & Spa and thank you for stopping by the blog today!