Disney Vacation Club's Newest Resort is Almost Done!
As some of you may already know, at one time my husband and I worked for Disney Vacation Club and we are also very happy Disney Vacation Club "Members".  We own points at Disney's Saratoga Springs Resort and also own points at our favorite place to stay, Bay Lake Tower at Disney's Contemporary Resort.  On August 8th, DVC members were offered a special on-line "First Glimpse" to see "Behind the Grand Design" with Samantha Brown.  After viewing the video, now I want stay there too!  It's simply stunning.  I'm not going review the resort at this time, as I haven't stayed there yet, but I do want to tell you about a couple things that really stood out during their presentation.
The Disney character touches found throughout the resort feature Dumbo or Mary Poppins.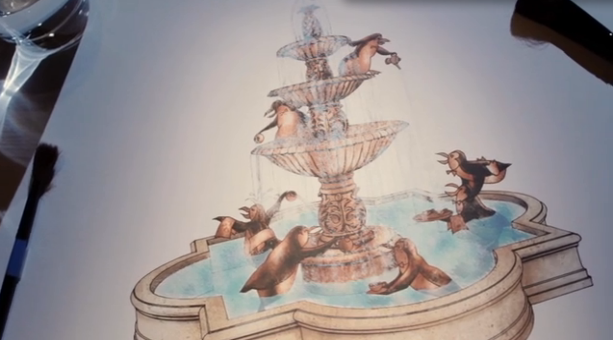 Located in the Grand Atrium Lobby of The Villas at Disney's Grand Floridian Resort & Spa, you'll find this Mary Poppins' Penguin Fountain.  I can't wait to see it in person!  I found this image on WDW News Today.  They have a few other images you could see of the fountain. This link will take you to their site to view the other photos.
http://wdwnt.com/mary-poppins-penguin-fountain-to-grace-the-villas-at-the-grand-floridian/
The sleeping arrangements are a bit unique in this DVC resort.  They sleep an additional person!  There is a pull down bunk size bed in a studio, so it sleeps five and the 2 bedroom sleeps 9 people.  Check out Disney's website to see their floor plans.
http://disneyvacationclub.disney.go.com/destinations/resorts/grand-floridian-villas/
The Villa's at Disney's Grand Floridian Resort & Spa are scheduled to open October 2013.  Here are some additional photos of the current state of it's construction.  My friend, Jodi Diamond, took these photos a few days ago and she so kindly said that I could share them with you!