One of the Most Magical Moments in a Woman's Life is Finding Out She's going to Be a Mom.
As the summer days become shorter, I've been reflecting on magical summer vacation moments.  If you're like me, you treasure those moments and hold them close to your heart.  How do you and your family preserve those special moments?  Do you collect sea shells?  Make a scrap-book?  Buy a special T-shirt?  Have you ever thought about theming a room in your house?  That's what my husband, Gary and I did, with some help from my father.
Seven years ago, Gary and I had a very special beach vacation that we'll never forget.  We were staying at Disney's Vero Beach Resort when we found out that I was pregnant with our first child.  When it came time to decide on the theme of the baby's nursery, I knew it had to be a water theme with a touch of Disney to pay tribute to that special day.  I found the perfect unisex nursery concept aboard Disney's Cruise Line.  Their nursery is called Flounder's Reef Nursery.  I printed out some photos of the murals that I found on-line and went to work on Gavin's nursery.
Here is a break down on how we created the mural in his room.  Please excuse the quality of the next few photos, as you can see, they were taken six and a half years ago with a point and shoot camera.
If you look close, you can see where I began the project by drawing the underwater scene on the wall. Then I used tracing paper to transfer the fish images onto a piece of wood.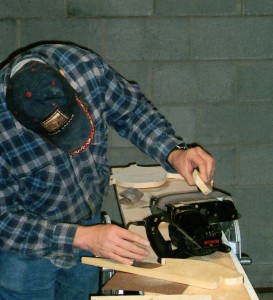 My Dad cut the fish out of the wood and adhered the fins of the fish at different angles to make the mural come to life.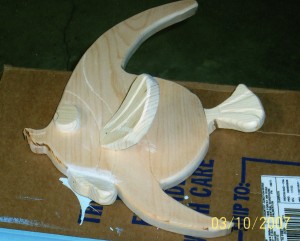 I painted each wooden fish and we hung them on the painted "Ocean" wall.  After they were all hung, I added some bubbles and friendly starfish.
My dad added some lighting to create a cool effect where it looks like the sun shining through the water.  Here's what it looks like in the evening.

The finished nursery was a hit with my now, six-year-old fish in water!  I offered to change out his fish and convert the wall to a pirate or plane scene.  I was surprised to hear him say, "No Mommy, I like my fish".  Not only has he enjoyed his room, but I love the reminder of our special beach vacation.
Have you ever themed a room after your favorite vacation spot?  Could that possibly be called your Disney Room?