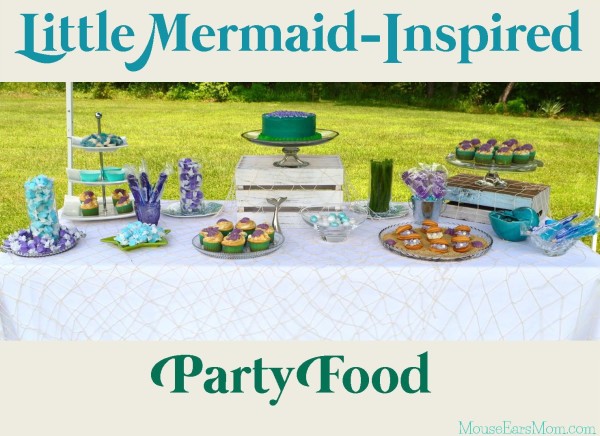 Today I'm continuing the recap of my daughter's Little Mermaid-inspired birthday party by sharing the food menu….which, I think, has the perfect touch of "nautical nonsense."
The party took place during a hot day in the middle of July, so although I originally wanted to offer a variety of seafood, I decided to offer food that wouldn't spoil as easily. To keep with our theme, I gave each food option a fun Little Mermaid-inspired name.
Lunch Menu
Ariel's Seashell Pasta
Under The Sea Sub Sandwiches
Skuttle's Starfish Salad – red grapes, strawberries, blueberries and watermelon. Star-shaped cookie cutters were used to transform our watermelon into Starfish.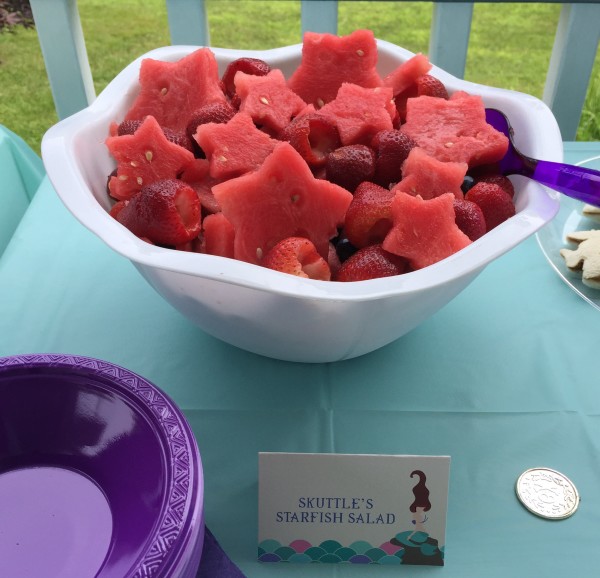 Sea Salt Chips
Pirate Booty snack bags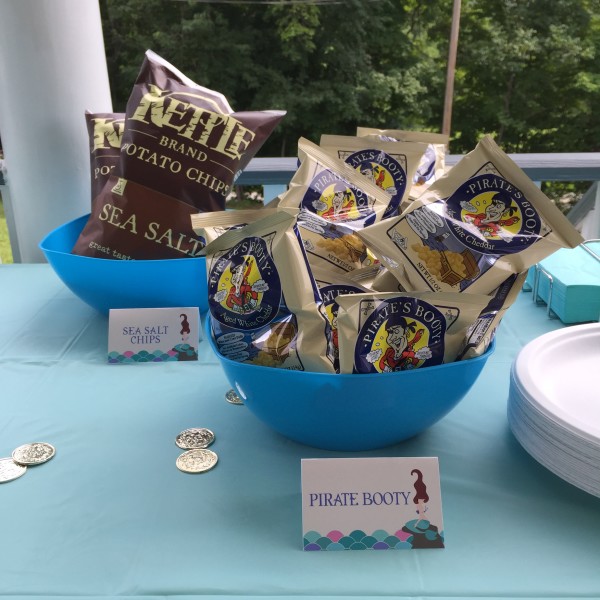 Sebastian's Jumpin' Jellyfish Sandwiches (Again, I simply used cookie cutters to make the shaped sandwiches.)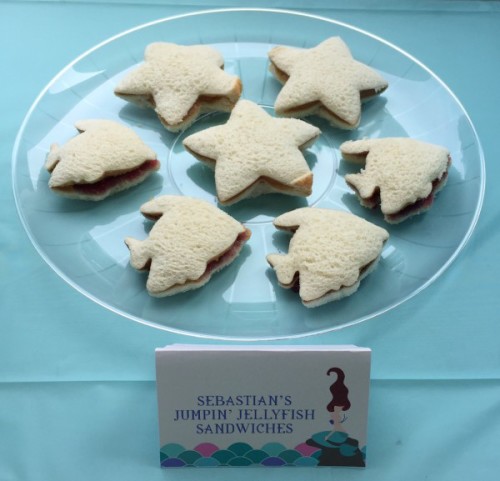 Beverages
I offered the typical non-alcohol beverages- milk, grape juice, water and a variety of sodas. There was one themed drink- Flounder's Blue Ocean (Blue Hawaiian Punch and Sprite.) I saw variations of this type of blue drink all over Pinterest, so I thought I'd try it.  It was a big success with the kids!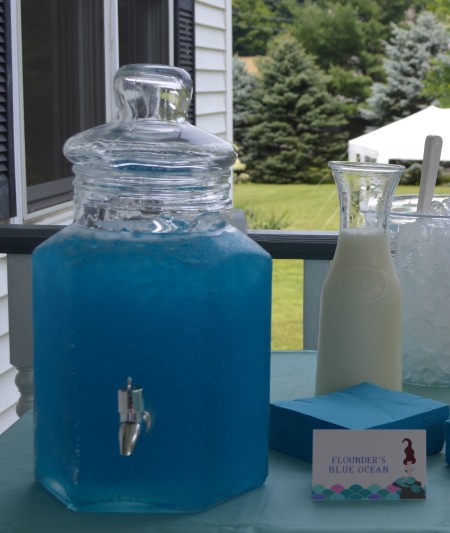 Dessert
For the treat table I kept with the party's color scheme of a variety of blues, greens and white when choosing treats that complemented our theme.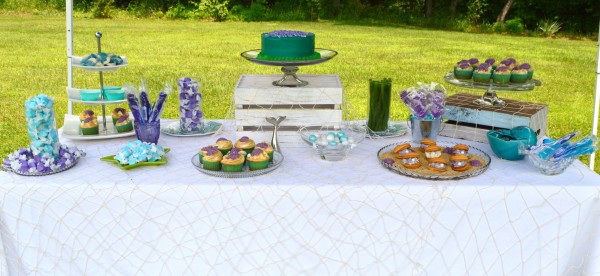 Here's a rundown of the treats available to the party guests:
Raspberry and Grape Salt Water Taffy
Gummi Blue Raspberry Rings
Shimmer White Gumballs
Blue and Purple rock candy sticks
Oyster Cookies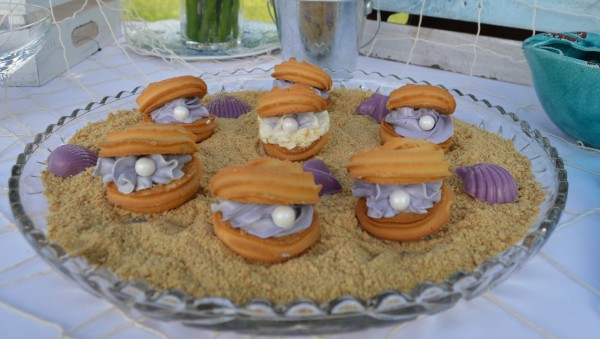 I used S-shaped store purchased cookies to make the Oyster-like cookies. Each S-shaped cookie I snapped in half, which I then connected the two halves with icing and placed a white Sixlet in the center as if it was a pearl.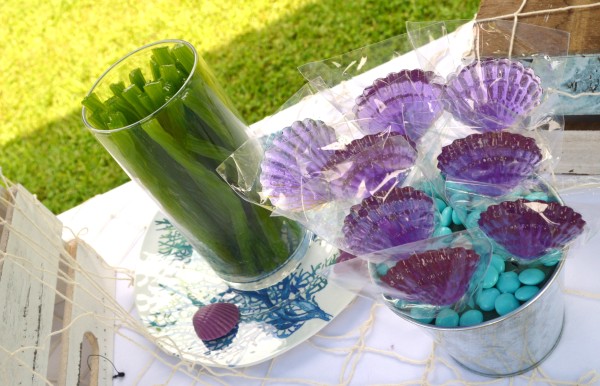 Green Apple Licorice
Turquoise Wegmans Gems (M&M look-a-likes but cheaper)
Clam Shell Lollipops by Etsy Shop Candied Cakes  https://www.etsy.com/shop/CandiedCakes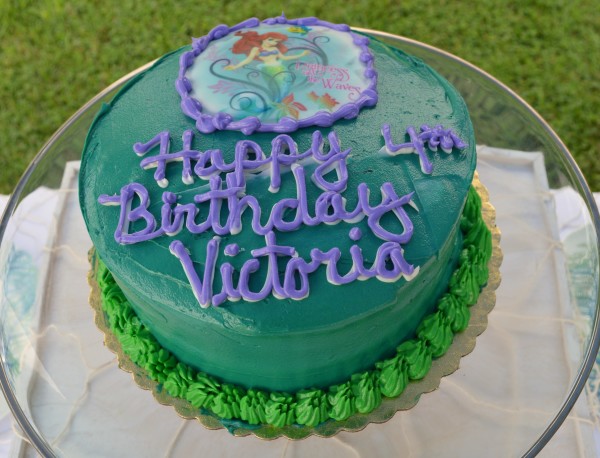 Last, but not least, is Victoria's requested "Mermaid" cake.  Per her (everyday for a month) request, she wanted a Mermaid cake- "chocolate on the inside, green on the outside." A bit less dramatic than I wanted, but Wegman's bakery department did exactly as she wanted and Victoria was happy. That alone made the entire day perfect for me!
Thanks for visiting the Mouse Ears Mom blog today.  If you're planning a Little Mermaid-inspired party, stop by the blog next week for a closer look at the vanilla beach and Ariel-inspired cupcakes I made to go with her chocolate cake.  The post will include a simple three step tutorial too! I promise it's just a few simple additions to an average cupcake and… YUM!!!
Until then, I hope your days are MAGICAL!