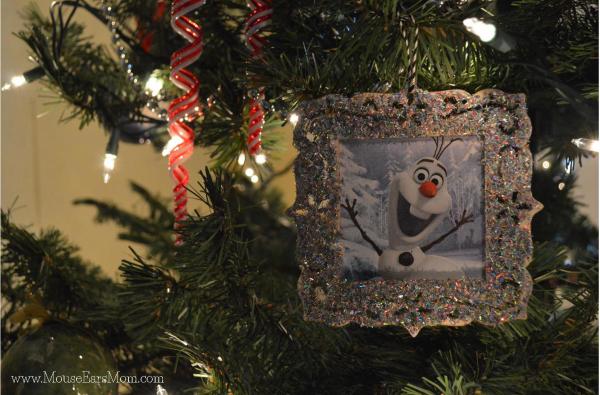 I found the cutest little Disney's Frozen tissue boxes at our local Dollar Tree store. I can honestly tell you that I was shocked to find ANYTHING Frozen branded that cost only one dollar bill! Of course, I snatched up six boxes! The artwork is so adorable that I decided to re-purpose a now empty box to make today's super simple ornament!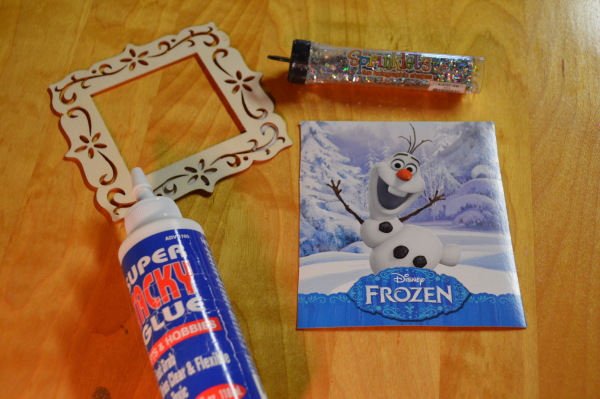 Here are the supplies that I used to make the Olaf ornament:
Tacky Glue
Sprinklets (or any glitter you'd like)
Small wooden frame (I found these 3″ x 3″ frames for 29 cents on clearance at a local craft store.)
Disney Frozen Tissue Box (Dollar Tree store is where I found mine!)
Bakers Twine
OPTIONAL: Spray Adhesive
Tutorial
To make this ornament, pick up an Olaf tissue box from your local Dollar Tree store and cut off one side of the box.
Brush the Tacky Glue on the front of the unfinished frame. (I used Tacky Glue because it dries clear, so it's not as easy to see the Boo-Boos.)
Dump that glitter on!
OPTIONAL: Once the glitter dried, I sprayed the frame with Spray Adhesive and then allowed it to dry again. This step helps the glitter stay put!
Cut the Olaf artwork out of the side panel just slightly larger than the frame's opening.
Glue the panel on the back of the frame and allow to dry.
Add your twine for hanging purposes.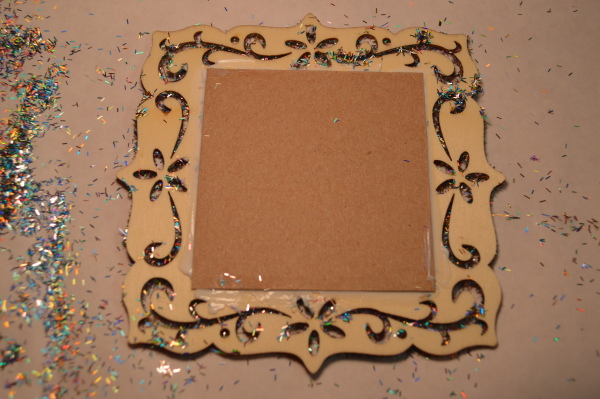 If you can't locate any Frozen tissue boxes, you can use wrapping paper!
I found this great wrapping paper at Hallmark!  Speaking of Hallmark, I'm certain you've seen the beautiful Disney Frozen ornaments that they had for purchase this holiday season.  Our local stores are completely sold out!  This ornament is a great alternative if your store is sold out or if you've already purchased a gift and didn't want to spend an additional $15 per ornament.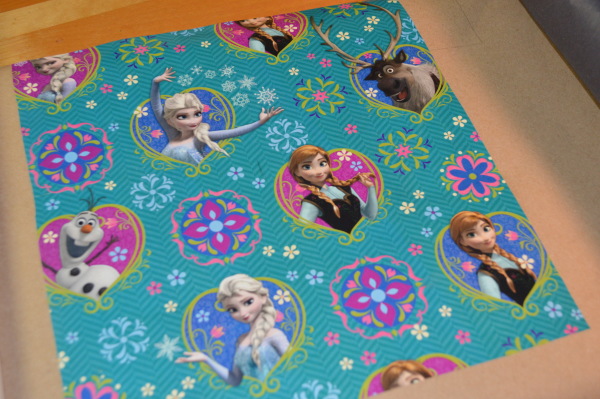 The key to using wrapping paper for the ornament's center image is to use spray adhesive (I used Scott's brand.) to attach the wrapping paper piece to thicker material for backing.  As you can see in the photo above, I used brown heavy-duty craft paper. It's actually the center of a used up roll of wrapping paper.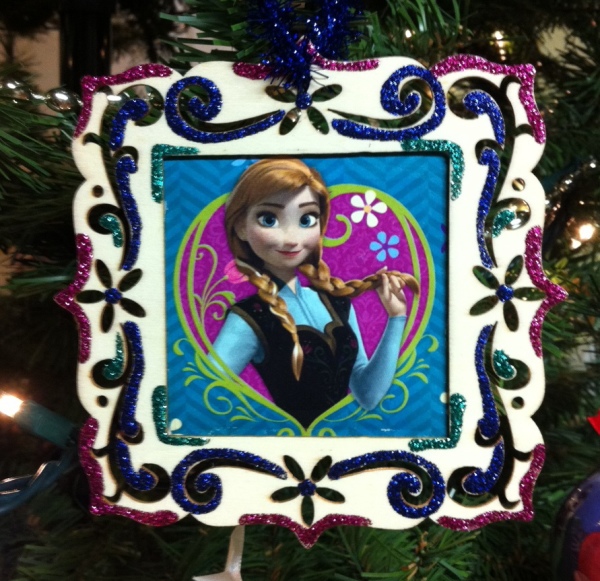 Adorable- right?  My three year old little girl loved the ornaments and I hope you did too!