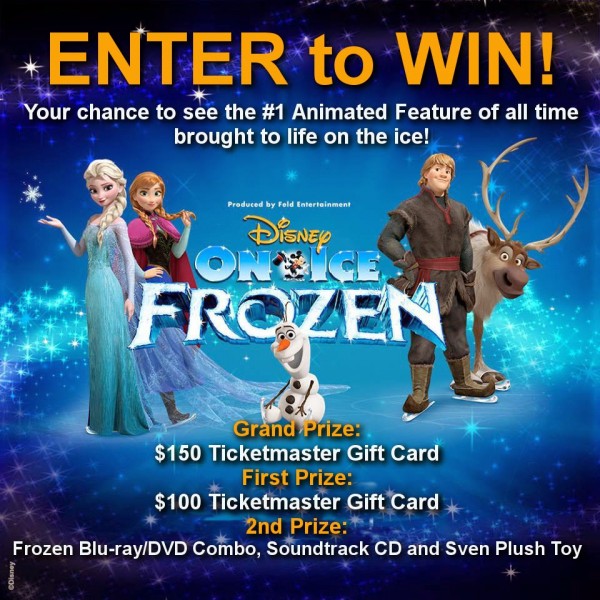 Disney on Ice Presents "Frozen"!
Beginning September 2014, Disney's world famous animated film, "Frozen" will take to the ice across America.  Can you imagine your little ones eyes as they light up at sight of Elsa and Anna magically gliding on the ice?  Or the giggling you'll hear as Olaf sings "Summer"? This show is sure to be amazing!
Mouse Ears Mom has partnered with a wonderful group of Disney-loving bloggers to give you an opportunity to ENTER TO WIN tickets* to see Disney On Ice "Frozen"!
* Prize is for Ticketmaster Gift Cards which can be redeemed for tickets to Disney On Ice, 
or any number or shows/events.
Here are the details!
Giveaway starts Friday, May 23, 2014  and end at 11:59 pm on Sunday, June 1, 2014
The Giveaway is open to all residents of The United States of America and Canada, 18 years of age or older.
All winners will be announced on Mouse Ears Mom's Facebook page and right here on the blog after the winners have been confirmed.
Enter Below!  Good Luck!
Win a Chance to See Disney On Ice Presents "Frozen"!

Below is a list of the current locations that Disney has announced will be offering the Disney on Ice "Frozen" show.  Check it out to find the closest location near you!  If you don't see a location that is close to you, don't worry yet. Disney will be adding more locations soon!
I'd like to thank the following fabulous Disney -loving bloggers for teaming up to offer this Frozenly (yes I made that word up) Fantastic Giveaway!
Big Fat Panda
CanDoItMom aka Mouse Fan Diane
Disney Day By Day
DisTherapy
Dixie Midwest
Homeketeers
Jackie's Magical Moments
Mouse Ears Mom 
My Pixie Dust Diary
Personalized Gift Express
Special Mouse Podcast
Temporary Tourist
I'd like to say a special thank you to the blog, Home Is Where the Mouse Is.  James organized this giveaway and did a wonderful job putting our graphics together.  Please stop by the Home Is Where The Mouse Is blog, I'm certain you'll love their blog too!  Here's a link to take you straight to their home page! http://www.homeiswherethemouseis.com/
Have you had the opportunity to see any of the other Disney on Ice shows?  What is your favorite show to date?  I have a feeling this one will be our favorite!