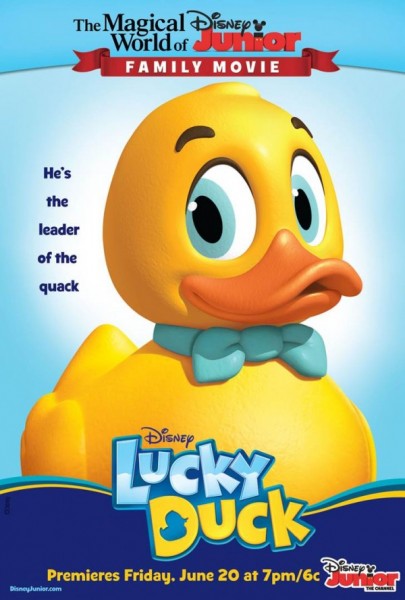 On Friday, June 20, Disney Junior will debut "Lucky Duck," the first Disney Junior Original Movie, about a group of misfit tub toys in search of the kids who will love them just the way they are.  Leading the voice cast are Broadway and television stars Christian Borle, Megan Hilty and Tom Cavanagh.
The story introduces an unflappable rubber ducky with a broken squeaker named Lucky (voiced by Borle) and two kindred spirits – an extroverted hippo with mis-matched eyes named Flo (voiced by Hilty) and a timid turtle named Snap (voiced by Cavanagh) – as the they find themselves stranded at sea when the cargo ship they are being transported on is caught in a storm.
Showcasing its musical theater cast, "Lucky Duck" features six original songs, including the ballad "I'm a Lucky Duck," the up-tempo "Tub Toy Twist" and the heartfelt "Friends Will See You Through."
Here's an exclusive first look at the new movie, "Lucky Duck"!
"Lucky Duck" premieres Friday, June 20 on Disney Junior (7:00 p.m., ET/PT) and Saturday, June 21 on Disney Channel (9:00 a.m., ET/PT).  It will be available for verified users on the WATCH Disney Junior app for smartphones and tablets and on WATCHDisneyJunior.com beginning Friday, June 6.  On Monday, June 16, DisneyJunior.com/LuckyDuck will launch with the online puzzle game "Tub Toy Tumble."
Adorable, isn't it?
Each weekend, our family picks one evening to call Disney Movie Night.  Since our family has a two-year old and a seven-year old, sometimes it's difficult to find a film that catches the interest of our littlest one.  After showing this preview to her FOUR times, "Lucky Duck" was written on our calendar for Friday night, June 6th!  I'm thrilled that Disney Junior will be having their first of hopefully many "Magical World of Disney Junior" nights!  Gavin and Victoria have already said that Lucky is their favorite of the lost toys.  I particularly like Snap the turtle.  He's ADORABLE!!
So what do you think?  Will you be watching The Magical World of Disney Junior on Friday June 6th too?