I'm so excited to give one of you my FAVORITE craft punch!  Of course, it's a Mickey Mouse Icon Punch!
From the 4th of July flag garland, to the summer watermelon place mat, to yesterday's post tutorial on how to make Mickey Mouse pocket-sized flash cards,  I'm certain its obvious to all of you that this crafting tool gets a lot of use in my house.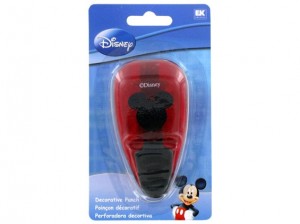 This is a photo of what you will receive in the mail, if you're the lucky winner!  To enter this giveaway, please click on the link below that says "a Rafflecopter giveaway" .  If you're not familiar with Rafflecopter giveaways, don't be scared, it's relatively easy to enter.  There are a series of ways to enter to win, such as liking Mouse Ears Mom's Facebook page, following on Pinterest, commenting on a post and more.  With each thing you do, you'll be adding up your entries.  The contest is open to all United States residents and you must be 18 years of age or older to enter.  It will run for one week and I'll email the winner within 48 hours of it's completion.  Good Luck!
 Don't forget to share this contest with your friends on Facebook!