Have you ever visited Disney's Vero Beach Resort?
This week on the blog I tried to help you extend your summer vacation a little bit longer, by showing you creative ideas to remember your summer beach vacation with a touch of Disney.  Today I'd like to close the week by telling you about a beautiful pearl of a Disney vacation resort, that is sandwiched between fields of orange groves and the foaming blue waters of the Atlantic Ocean.  Sounds heavenly, doesn't it?  Well, it truly is.
The Walt Disney Resort is my family's favorite place to vacation.  So much so, that we call it our home away from home.  For how much fun it is to vacation at Disney, it's also equally exhausting.  Adding a couple of days before or after our WDW vacation is a relaxing treat. The resort sincerely exemplifies all that I love about The Walt Disney Resort.  The cast members are some of the most "Disney" people I have met.  The resort's cleanliness is exceptional and the beauty of the resort is breathtaking.  There are even Hidden Mickeys you can find!  The difference is Vero Beach is quiet.  Unless you are visiting in the summer months, it's possible that there will be times that your family may only be sharing the beach or pool with a few other people.  These photos were taken in the month of April.  As you can see, we were the only one's on the beach!  One of the best features of the resort is it's literally right on the beach.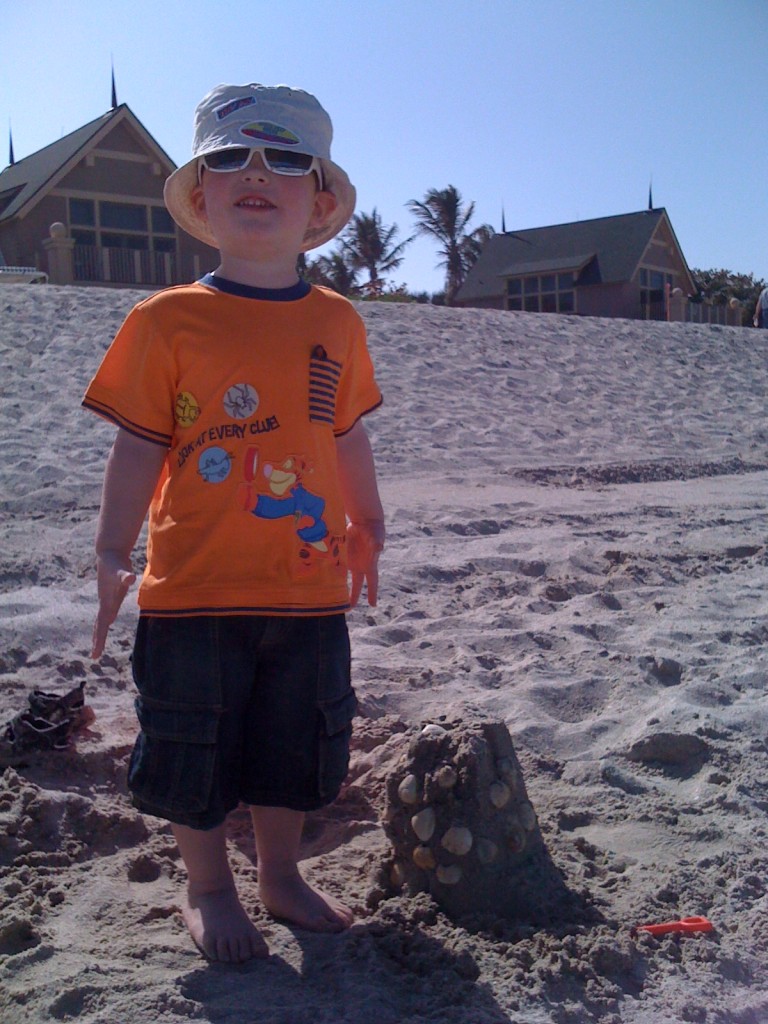 Your trip can be as relaxing as you'd like, or full of adventure with fun family activities that are organized and run by the resort's cast members.  Here are some of the resort's amenities that your family can use during your stay.
Soccer fields
Tennis courts
Port Holes miniature golf course
Bocce ball court
Playground
Arcade
Campfire pit
Horseshoe pit
The Tiger Lily Wet Play Area was my son's favorite place to play.  I think it had something to do with the water canons!
The accommodations at Disney's Vero Beach Resort can sleep parties as large as 12 in their beach cottages.  The smallest rooms are referred to as Studios and there are two different types, an "Inn" or a "Villa" room.  Although the "Villa" room is an additional 15 square feet, we prefer to stay in the "Inn" rooms, otherwise known as in the Main Building.  It's nice to be close to the store, restaurants and guest services.  Since the resort is part of the Disney Vacation Club family of resorts, each room offers at kitchenette or a full size kitchen and a bunch of other features.  You don't have to be a DVC member to stay at this resort.  Check out the link below to Disney's site to learn more about the resort's accommodation offerings.
http://www.disneybeachresorts.com/vero-beach-resort/accommodations
Here is the view from an "Inn" room.  The buildings in the photo are the three bedroom cottages.
There are four different types of dining offerings at the resort and they are all delicious!  They even offer a character dining experience on Saturday mornings, Goofy's Beachfront Breakfast.
  If you're one for dining in, of course they offer in-room dining, complete with Mickey shaped butter!
If you've ever visited Disney's Vero Beach Resort, what's your favorite thing to do there?