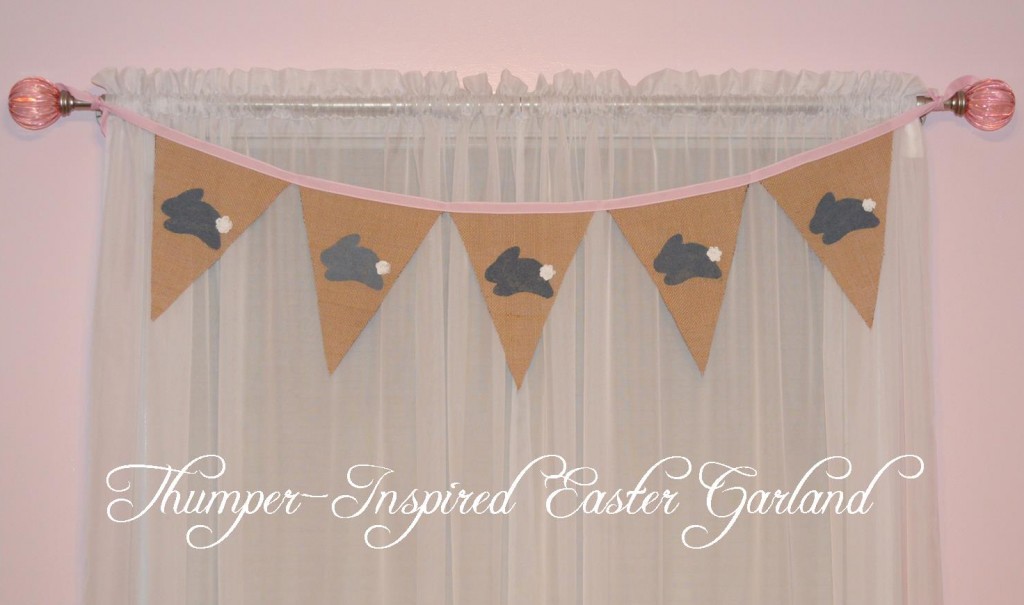 When I think of Spring and the Easter season, I think of my favorite Disney bunny, Thumper.  His thumping feet, big fluffy tail and twitching pink nose made me fall in love with him as a little girl.  He's so adorable!  Couldn't you just squeeze him?
I'm not the only bunny fan in our home.  My daughter, Victoria, loves rabbits, aka "Hop Hops".  She has a couple Thumper books that we enjoy reading. Our favorite one is a sweet "Touch-and-Feel" board book, called Thumper's Fluffy Tail.  To say the least, she's pretty taken by Thumper too.  Today I decided to make Victoria a "Thumper-Inspired" Easter garland for her bedroom.  Her room is filled with a variety of pinks and whites.  I thought the brown of burlap and the gray and white of Thumper would coordinate nicely in her room and I knew she would love to see little bunnies hopping across her window!
This garland is an easy, quick and inexpensive way to add a touch of spring, Disney-Inspired of course, to any room of your house.  Here's how I made it!
Supplies
You'll need burlap toile, a marker, black and white paint, a Wilton bunny cookie cutter, adhesive, and ribbon.  I used Fabri-Tac for my adhesive and a 5/8 inch grosgrain stitch ribbon for my garland.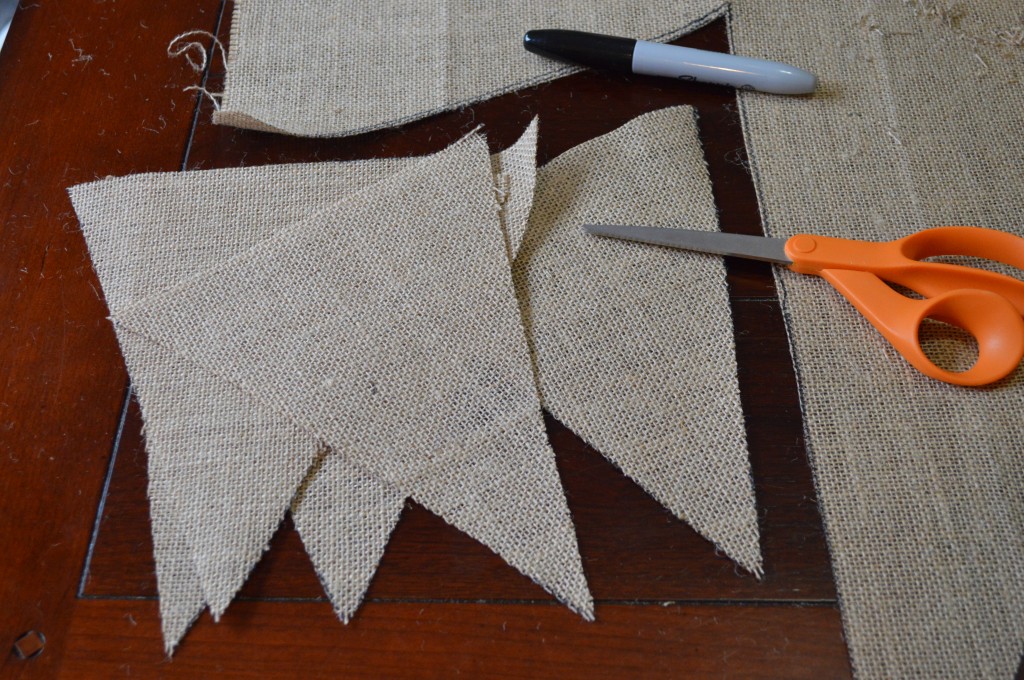 Iron the burlap, measure, mark and cut out five triangle flags.
The burlap toile that I purchased was 18″ x 24″.  I had enough material to cut all five, 8″ wide, triangles and have material left over.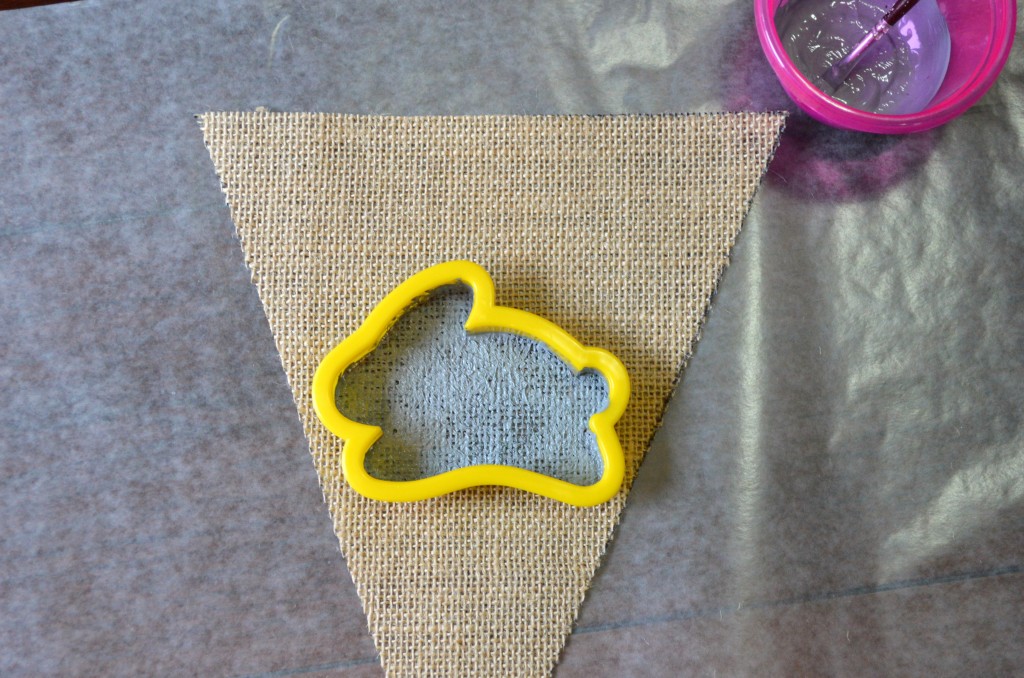 Using a rabbit cookie cutter for a template, paint the gray-bodied rabbits onto the burlap.
This cookie cutter is a Wilton cookie cutter.  Wilton sells at least one other rabbit cookie cutter.  I chose this one because it reminded me of little Thumper.
In addition, when you're looking at my photo you can see I used wax paper underneath the burlap while I was painting.  Just a bit of hard knowledge that I learned, double up on the wax paper because the paint can seep through onto your work surface.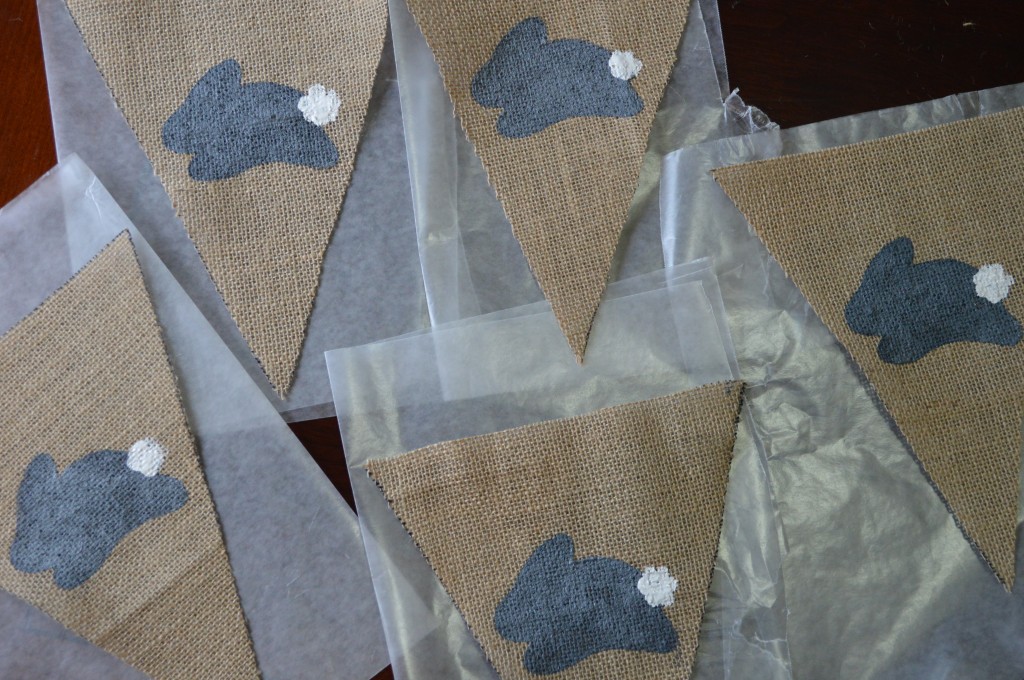 After the gray paint has dried on all five flags, add Thumper's white tail to each.
I have to tell you that I got a bit impatient and brought out the blow dryer to move the project along.
Once the paint has dried, glue ribbon to the top of each flag to create your garland.
  It's that simple!
I'm really pleased with the results, especially for the minimal amount of effort it took to complete this craft.  It looks great in my daughter's room and I think it would work perfectly in a baby's nursery and especially on a dessert table for Easter! Don't you agree that there's something about a dessert table that screams "I need to be decorated!"?
Thanks for stopping by the blog today and remember, "Eating greens is a special treat.  It makes long ears and great big feet."