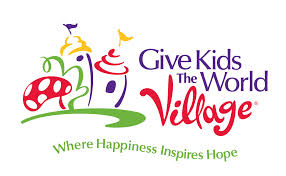 Have you heard about Give Kids the World Village?
The blog has been quiet for the last week and a half.  Why you might ask?  I've been planning and prepping for a community yard sale that had a perfect touch of Pixie Dust!   If you're looking for a way to beat summer boredom with your kids, believe me, this project will keep you and the kids busy for quite a few days!  
This summer, my son Gavin has asked me at least two dozen times to have a yard sale.  He loved the idea of making a few extra dollars that he could use for purchasing souvenirs during our upcoming Disneyland vacation.  Honestly, I have to tell you that I cringed at the idea of having a yard sale and pushed the thought aside for almost the entire summer, until one day he asked if he could have a bake sale to raise money to "help people".  How could I say no to that?  In that moment, my heart had melted, so I told him we'd have his yard sale to make money for Disneyland, and at the yard sale he could have a bake sale to help people. 
Gavin's first big task was choosing which organization to support.
He decided on helping sick kids go to Walt Disney World.  Having worked for Walt Disney World, I'm familiar with an organization that provides children that have life-threatening illnesses with a week-long Central Florida vacation at no cost to their families.  This magical organization is called Give Kids the World Village.  Gavin and I did a quick web search to find out what we could do to help the Village and found a "Wish List" for the Village. After reading the list, Gavin decided it was pretty important that sick children have sunblock "or they're going to feel worse!"  His mission was set!  
Gavin's Mission:  Raise as much money as possible to purchase lots of sunblock and a few DVDs (because watching a movie always make you feel better)!
After that important decision was made, it was time for Gavin's baked good requests.  Yes, it was his yard/bake sale, but Mom was brought in to make the goodies!  Of course, with any good Disney-themed event, I went right to work putting a Disney themed spin on his food choices.
Give Kids the World Village Fundraiser Food Menu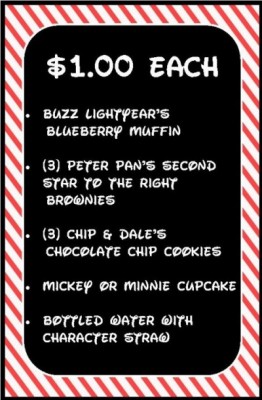 We found some fun Mickey Mouse themed tableware at the dollar store and paired it with a few vintage 1980's Walt Disney World Resort trays to put together his table set up.
I'm so proud to tell you that once the yard sale started, Gavin was 100% focused on raising money at the bake sale.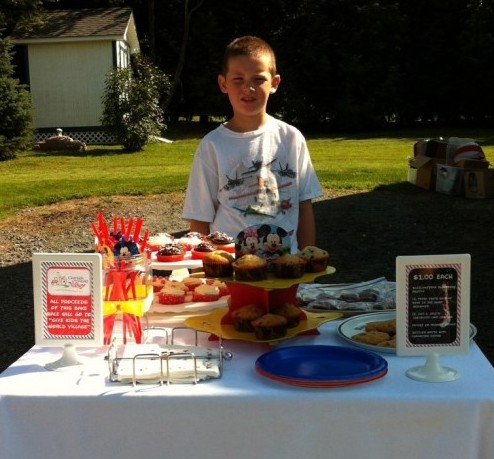 Gavin's not too keen on me taking his picture anymore, but he allowed me to snap this one.
At the end of the day, Gavin had sold just about everything!  He raised $69!
This week, we'll be purchasing a bunch of sunblock and a DVD or two.  Then they will be on their way to Give Kids the World Village!  The time spent preparing for his yard sale and bake sale fundraiser was significant.  It was truly a summer boredom buster for the kids and me, but more importantly, the bake sale had my son choosing to put others first.  It was evident in his sales: $18 dollars yard sale ($15 purchased from Grandma) and $69 bake sale.
Do you know a child who has a life-threatening illness that would love to experience a trip to Walt Disney World?
 Please contact your local wish-granting organization.  They can arrange a Central Florida vacation with the help of Give Kids the World Village.