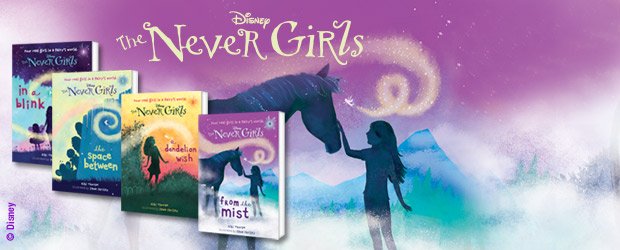 Disney Releases From the Mist, Book #4 in its popular series, The Never Girls
If there's a little girl in your life then you most likely already know about this adventurous series and have been patiently waiting for today's special release. If not, allow me to introduce it to you.  The Never Girls books are an early chapter book series, perfect for young readers ages 6 to 10 years of age.  The series tells the story of four best friends and their adventures in Never Land with Tinker Bell and her fairy friends.  I was lucky enough to read From the Mist in advance and can tell you first hand this enchanting story will not disappoint young readers. Author Kiki Thorpe has made every little girl's dreams come true in this book.  She transports young readers through a magic portal into Tinker Bell's Pixie Hollow, where they begin an adventure filled with fluttering pixies and beautiful, magical horses!   In addition, the storyline is truly complimented by charming illustrations that will keep a young reader engaged.
I'm so excited to share with you that as a Mouse Ears Mom fan you can enter Random House's 5 boxed sets giveaway of The Never Girls series, which includes newly released From the Mist! I'd love for one of you to win!  To enter, just click on the Rafflecopter below.  The giveaway ends on Tuesday, October 8th, so make sure you enter to win today!