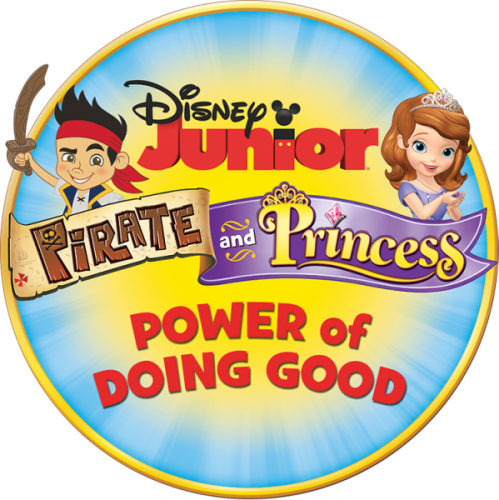 On Thursday, my family had the opportunity to attend Disney Junior's touring event, Pirate and Princess Power of Doing Good.
Disclosure:  I have no affiliation with Disney Junior or any division of The Walt Disney Company.  All opinions and views are mine.
Last month, Disney Junior announced an exciting, free-to-the-public, event that's currently visiting seven cities across the United States.  Let me begin by saying, unfortunately, the free-to-the-public tickets "sold out" the day it was announced!  Don't be too disappointed yet! During the first stop on this tour (Philadelphia), Disney Junior cast members lessened that requirement on that specific day's "ticket required event" and decided to offer the event to all families by the afternoon.  Let me clarify, this event is still SOLD OUT in the remaining six cities.  However, if you live in close proximity to any of the upcoming tour stops, it's worth a visit to the event.  You never know, Disney Junior may open those events to non-ticket holders by the afternoon too.  Remember, there's no guarantee that this will happen!
Interested in learning more about Disney Juniors Pirate and Princess Power of Doing Good event?
Disney Junior's event is focused on introducing kids age 2-7 to the value of doing good, including caring for nature and animals and helping others.  The tour began on THURSDAY, JULY 17 in Philadelphia, with upcoming stops at Washington D.C., New York, Chicago, Houston, San Francisco and Los Angeles.  Designed for kids and families, the tour is sponsored by Disney Junior, ASPCA, Youth Service America (YSA), National Wildlife Federation and First Book.
 Here are the event locations and times:
·         Monday, July 21 (8:30 a.m.-6:00 p.m.) in Washington D.C. at The Yards Park
·         Friday, July 25 (8:00 a.m.-6:00 p.m.) in New York City at Riverbank State Park
·         Wednesday, July 30 (8:30 a.m.-6:00 p.m.) in Chicago (Joliet, IL) at Joliet Memorial Stadium
·         Monday, August 4 (8:30 a.m.-6:00 p.m.) in Houston (Sugar Land, TX) at Oyster Creek Park
·         Monday, August 11 (8:30 a.m.-6:00 p.m.) in the San Francisco Bay Area (Hayward, CA) at Kennedy Park
·         Friday, August 15 (8:30 a.m.-6:00 p.m.) and Saturday, August 16 (11:00 a.m.-6:00 p.m.) in Los Angeles (Pasadena, CA) at Kidspace Children's Museum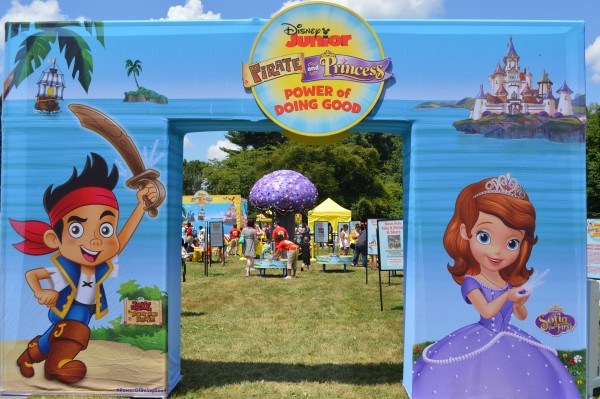 The event will engage kids in positive actions that benefit others through the benevolent characters and stories in Disney Junior's popular series "Sofia the First" and "Jake and the Never Land Pirates." Each tour stop will include fantastic interactive experiences where children will learn the importance of "Doing Good" in the world around them.
Here's a peek at the events different learning experiences.
"National Wildlife Federation's Jake's Beach Treasures"
Lesson learned:  Treasure Nature
Children care for Jake's beach by recycling garbage and placing nature's treasures in the treasure chest.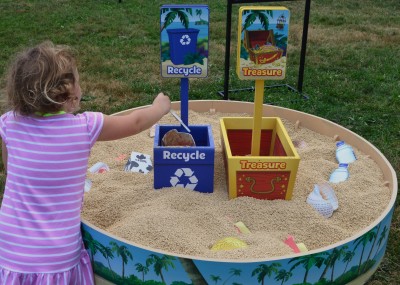 Jake & Sofia's Storytelling Maze
Lesson Learned:  Discover the Power of Storytelling
Children explore through the maze and complete their own Jake or Sofia storybook adventure.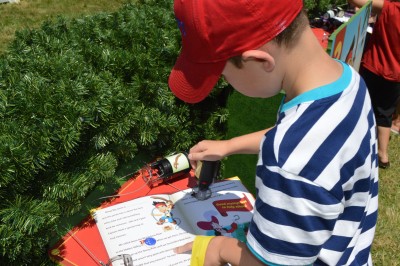 The Enchancia Castle
Lesson Learned:  Lend a Helping Hand
Little Pirates and Princesses share what they do at home to help out.  They choose a magnetic stone and place it on the castle wall to help build the community of Enchancia.

"ASPCA's Sofia's Animal Friends"
Lesson Learned:  Care for Animals
Children care for Sophia's animal friends by giving them food, a nice brushing and lots of love.

The Forever Tree
Each child makes a power promise to do good by signing their name on a bracelet and adds it to the The Forever Tree promise chain.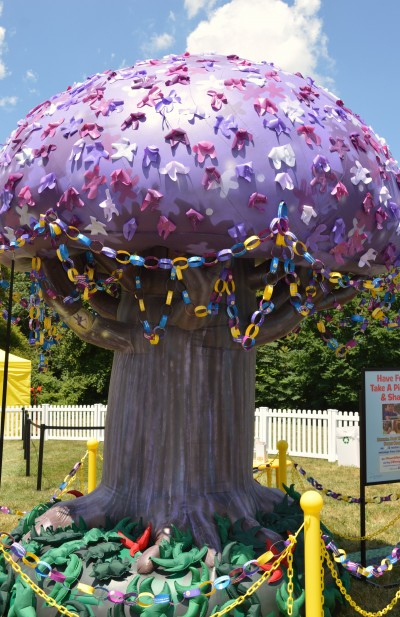 Each "Pirate and Princess: Power of Doing Good" event concludes with a musical celebration, hosted by Radio Disney, featuring special live appearances by Jake and Sofia.
Please Note:  This experience does not include a meet and great with the characters.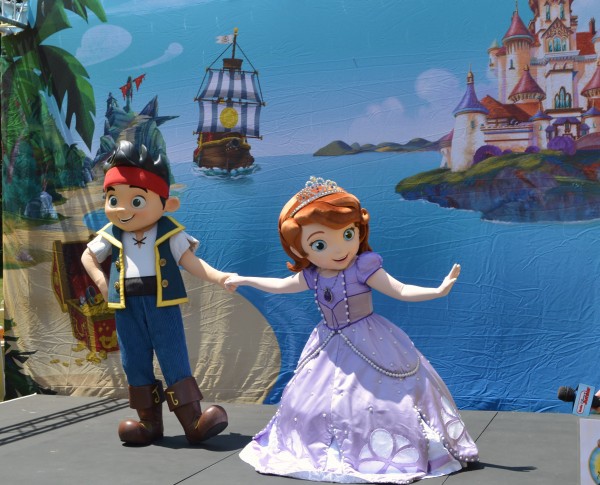 If there isn't a show location close to you, you can still participate in similar activities through Disney Junior.com.
Parents nationwide can visit DisneyJunior.com/powerofdoinggood to download activities inspired by the event and educational materials, including "Get Out & Get Moving" nature guide and YSA's "Families in Action" kit. Families are then encouraged to make a pledge of service within their community and post about it on Twitter and Facebook throughout the summer using the hashtag #PowerOfDoingGood.
Disney Junior's "Pirate and Princess: Power of Doing Good" tour is part of Disney's Summer of Service. The 2014 Service of Summer Awards, in collaboration with Disney Friends for Change, is an initiative that inspires kids and their families to make a lasting, positive change by helping people, communities, and the planet. Winners receive a $1,000 award to assist them in continuing their good work. To learn how you can apply for a Summer of Service award visitwww.YSA.org/beinspired.
Don't miss out on Disney Junior's Princess and Pirate Summer!