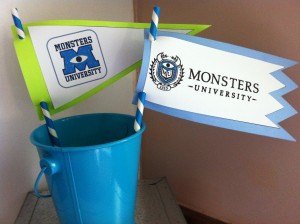 If you're planning a Walt Disney World Resort summer vacation, you might be wondering if recent blockbuster stars, Mike and Sulley of Monsters University will be meeting with their fans at Disney's parks. To coincide with Disney Pixar's newest film release, Disney Parks has launched their Monstrous Summer event.  Although the word Monstrous is used in the event's name, the event is not specifically to celebrate the new movie.  I was surprised to learn how little the event has to offer guests that are hoping to learn more about Monsters University and its scary students.
Here is a list of everything "Monsters" available for any Montrous Fan's to experience this summer at Walt Disney World:
Magic Kingdom– Monsters Inc. Laugh Floor attraction located in Tomorrowland is a fun show for the whole family.  This location is NOT a formal photo opportunity spot, however Mike has been known to pop up for a meet and greet.  Note: Monsters Inc. Laugh Floor is not specific to this event, as it has been open since 2007.  This attraction should be available for experiencing beyond  this summer.
Epcot- The Monsterail can be found riding the monorail track.  Although the Monsterail is not a new attraction it is super cool to see.  In actuality the Monsterail is a working monorail with a very creative wrap on it.
Disney's Hollywood Studios– Near the Backlot Tour on the Streets of America, your little Monsters can meet Mike and Sulley for a photo opportunity.  Please be prepared that Mike and Sulley only pose for photos and do not sign autographs.  In addition, each evening this summer Disney's Hollywood Studios will be hosting The Monsters University Homecoming Celebration.  This will take place in the heart of Disney's Hollywood Studios in front of the Sorcerer Mickey Hat beginning at 6 pm.  The celebration will involve Mike and Sulley busting moves with a monster of a DJ and fun activities for the family.
To find out more information regarding additional magical offerings during this summer at Walt Disney World, I'd recommend checking out Disney's site to help you prepare for your visit.
http://disneyparks.disney.go.com/let-the-memories-begin/monstrous-summer-walt-disney-world/
If you do visit the Walt Disney World Resort this summer, I hope you have a magical vacation!  I'd love to hear how you enjoyed Disney's Monstrous Summer event.