Mickey Mouse Watermelon Placemat
If you're a Friend of Mouse Ears Mom on Facebook, then you already know that this week I'll be talking about a few of the most delicious things to enjoy during the heat of summer and sprinkling them with a touch of pixie dust!
My children's favorite summer fruit (and mine too) is Watermelon.  July is National Watermelon month, so I'm guessing that our family is not alone when choosing this fruit as our favorite healthy summer treat.  Despite how wonderful watermelon tastes, it's the messiest of messy.  So, I decided to make this little preschool size Mickey Mouse Watermelon Placemat for my two-year old.  It was super easy to make and I've even included a printable stencil to help you.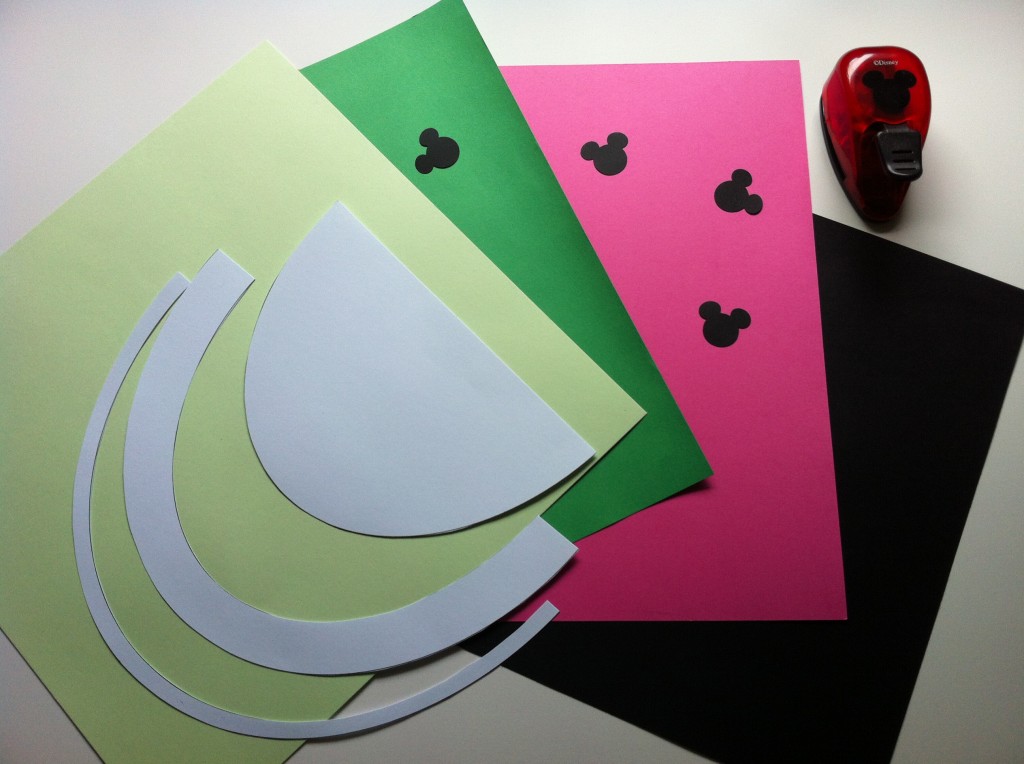 All you need to make this placemat is four pieces of scrap-book cardstock, black, hot pink, green, and I chose light green for the watermelon rind.  The paper pictured to the left is 12″x12″.  You'll also need scissors, a glue stick and the trusty Mickey Mouse puncher that is pictured in the top right corner of the image.  I purchased this punch at A.C. Moore craft store.  Last but not least, you'll need one sheet of card stock to print out the watermelon template.  Just click on the file below for the printable watermelon template.
OK, now after you've printed that out, you're ready to get started!  Here are the quick steps to complete you're little one's placemat.
 Cut the black scrapbook paper to 11″ top to bottom and leave the width at 12″.  The remaining one inch black strip you can use to make your Mickey seeds and place them off to the side.  If your little Mousketeer is nearby, they can help with that part.  The puncher is very easy to use.
Cut out the three parts to the watermelon template.
Trace each part onto the pink and green papers, cut each out and then glue them all together, including those Mickey seeds you placed to the side earlier.  Since it's probably your Mouseketeer's glue stick you're using, she can help you with this part too!
Glue your colorful watermelon onto the black scrapbook paper.
With your left over pink paper, punch out a few Mickey Mouse seeds and add that final touch to your placemat.
To complete- Laminate.  I do not own a lamination machine, so I asked Staples to help me with this part.  When asked what type of lamination I would like, I chose the heavier weight lamination, due to the depth of the final piece.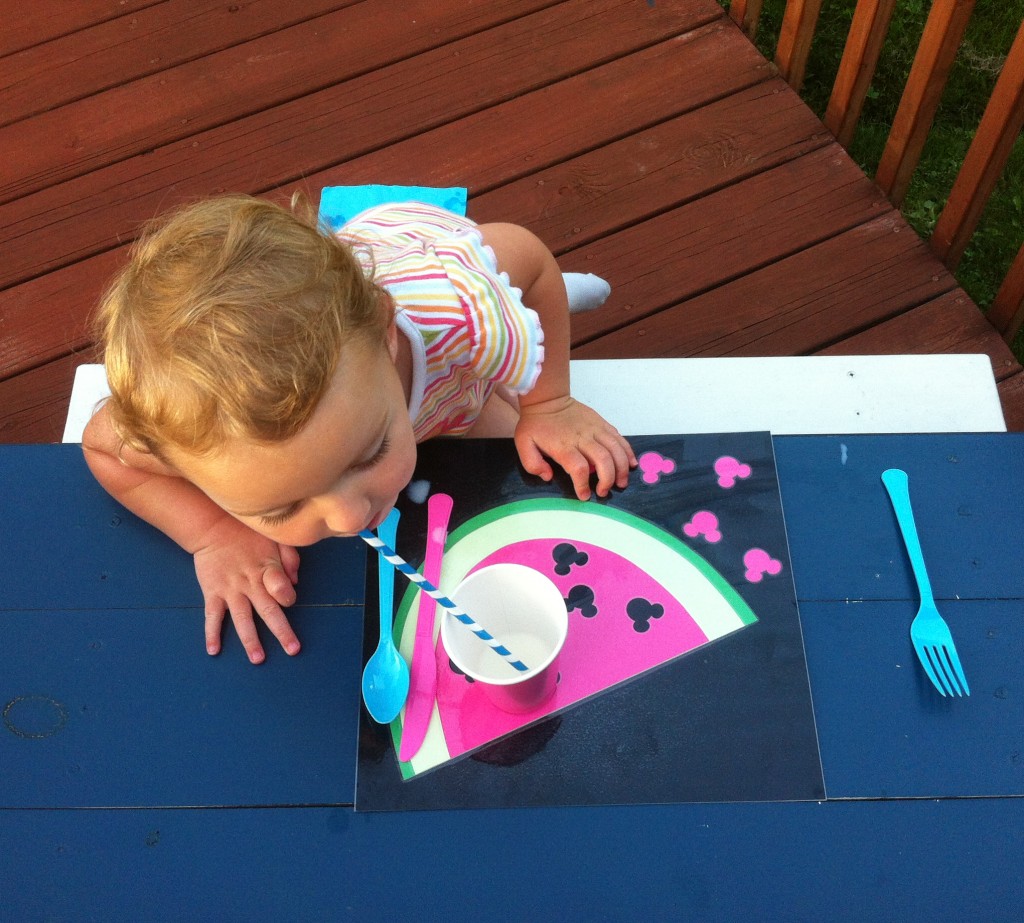 Now all those little drip, drip, drops are an easy cleanup.
Now, where's the watermelon?