Can we agree that Disney's Villains have a sense of style and beauty?
You may not be aware that your local Walgreens carries an evil line of beauty products inspired solely by Disney Villains, Cruella De Vil, Maleficent, Ursula and the infamous Evil Queen.  With products priced $7.99 to $9.99, I thought it would be simply wicked of me not to share this info with you!  Here are some photos of the product that I purchased and the product that is still available of this very popular line.
From Eyelashes to Fingernails, the Villains are ready to bring out the villainous side of you!
As shown in the photo above, the products produced for this line are Makeup "Look Books", "Ponytailers", nail kits, fake eyelashes, and makeup travel bags.  Each beauty item has four different styles representing each villain.
This is a photo of the Evil Queen Look Book.
It includes 1 eyelid primer, 6 eye shadow colors, 1 brightening eyeliner, 1 liquid eyeliner, 1 mascara, 1 lip color and 1 eye shadow brush.  The cost is only $9.99.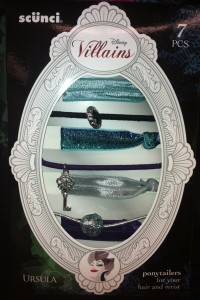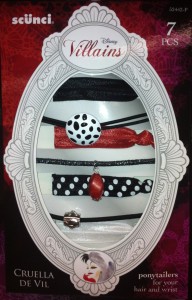 The Ponytailers, advertised as "for your hair and wrists" are priced at $7.99 and come as a 7 piece set.
The featured photos are of Ponytailers inspired by Ursula  and Cruella de Vil.
Villain false eyelashes are sold for $7.99 per each wicked set.
I fell in love the artwork on the cosmetic cases.  Notice on this Cruella de Vil inspired bag the London landscape camouflaged on the right side of the bag and the puppy paw prints on the left side that morph into flowers.
Check out the inside lining of the bag- Puppies!  The costs of the bags are $9.99.  I think anyone traveling to a Disney vacation NEEDS one of these bags.  Don't you think?
If you like these products, stop by your local Walgreens to check out their supply.  I spoke with Walgreen's management and the Villains beauty products were stocked for the Halloween season and will not be reordered!
Which Disney Villain products would fit your personality?